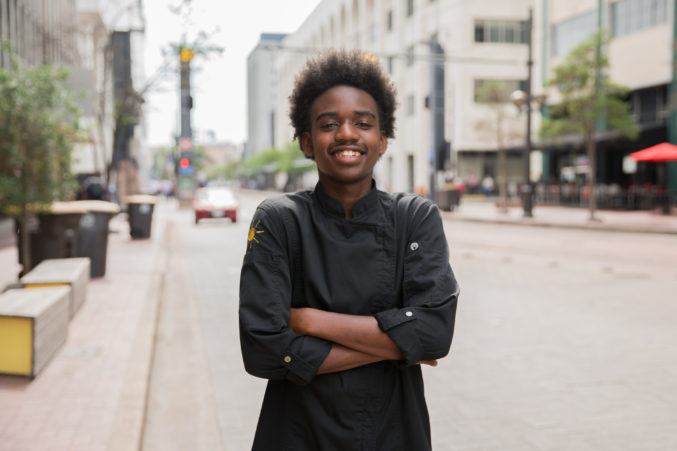 Introducing D Gives, Our Holiday Initiative To Benefit the City's Charities
You have six weeks to give as part of our initiative, which we've launched alongside Allie Beth Allman & Associates.
That young man you see in the above photo is JeDarrian Jones, one of the many people who fill the kitchen and the dining room of downtown's Café Momentum. Launched by chefs Chad Houser and Janice Provost in 2011 as an itinerant popup, the organization pairs with Dallas County to identify young offenders and break the cycle of crime by teaching them skills for success in a restaurant. Fast forward six years, the nonprofit has brought about 200 adolescent teenagers through their yearlong internship and saved the county upwards of $8 million by reducing their recidivism rate to 11 percent.
Café Momentum is one of more than 70 charities that D Magazine is highlighting as part of our D Gives initiative. For the next six weeks, you'll have the chance to learn more about the nonprofits in our city and, ultimately, donate.
Along with our partner Allie Beth Allman and Associates, D Gives is our effort at bringing a majority of the city's 501(c)(3) organizations together in one place. Allie Beth Allman's agents highlighted their own "Charities of Choice," which provided them the opportunity to add their voice as to why these are important organizations. Each week, participating nonprofits will send us their donation updates, and we'll be sure to let you know the impact you've had by the time this wraps. D Gives will last through December 31.
How it works: We verified the 501(c)(3) status of each of the 70-plus nonprofits. The money must also go directly to a local entity, or the local chapter of a national nonprofit—think Planned Parenthood of Greater Texas or the National Autism Association of North Texas. There is a huge variety of charities here—medical research and homeless advocacy and youth programs and women's shelters, to name a few—that can do terrific things with your generosity.
You have through the end of the year to participate. Welcome to D Gives.