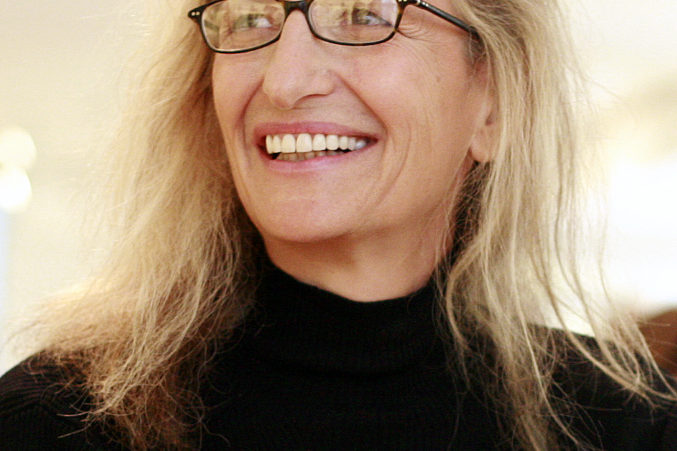 A Tearful Meeting With Annie Leibovitz
These things happen. Nothing to be ashamed of.
For my money, Elizabeth Lavin is the best photographer working in Dallas. I'm not just saying that because she's our staff photographer. There are better specialists in town, to be sure. But when you consider her versatility — portraiture, product shots, fashion, food, environmental work, studio shots — she wins. Have a look for yourself. I've worked with Elizabeth for more than a decade and can tell you some wonderful stories about how she has embarrassed herself over the years in the course of her work. There was the incident with the jeans. There was the time, when she was pregnant and suffering morning sickness, that she struggled through a shoot, retreated to her car, then proceeded to vomit all over herself as the subject of the shoot walked past her car and waved. But nothing tops this. Yesterday Elizabeth got to meet her hero, the photographer Annie Leibovitz. I'll let Elizabeth take it from here:
***
I met Annie Leibovitz and I cried. I cried a lot. My eyes are still puffy.
Leibovitz is in town signing copies of her new book, Annie Leibovitz Portraits 2005-2016. She spoke to a small group at the Downtown Neiman Marcus yesterday. I arrived there 90 minutes early. I wanted to have the closest possible chair to her. She came out to greet the crowd and there she was. In the flesh. A living unicorn. I was so close. My eyes started to well up. I was not expecting to get this emotional. I bit my tongue. I managed to keep it under control.
For me, nothing is better then Leibovitz. NOTHING. I look at her work like an athlete listens to a song to pump herself up before a big game. One time I called her studio in New York City and even secured permission from my art director at D Magazine to take a leave so I could pursue a summer internship with her. The studio manager found out I didn't live in NYC, and that was the end of that. But she remains my go-to for inspiration.
Yesterday at Neiman's, she talked about some portraits in the new book, including the one of Harvey Weinstein with his mother and brother. How time and circumstance have changed our perception of a portrait like this. She joked that she would start a series on creeps. She also talked about the portrait she took of Donald Trump and the pregnant Melania. Trump posing in a Porsche on the tarmac at Palm Beach Airport with the pregnant Milania in a gold bikini. Leibovitz did a phone interview with the DMN. When asked if she ever expected Trump would be elected when she took that photo of him, she said, "No, that's impossible. I had photographed him before, and he was always an amusing character. But this … this was never supposed to happen." She went on to say that if she started as a photographer today, she would be a photojournalist.
I cried some more. I wish I could take this picture for you: me, in a small room of about 45 people at Nieman's. Immaculately dressed Neiman's PR people looking on nervously. Me, in the front row, openly weeping. For 15 minutes.
Leibovitz talked about some memorable Texans she has photographed. Ann Richards, Barbra Jordan, Willie Nelson. Photographing Willie in a very smoky room in Dripping Springs when she was pregnant. And she was lovely.
Sitting next to me at the Neiman's event was Blake Stephenson. I know Blake from her days when she sold ad at D Magazine. She told me that she was collecting books from inspiring women like Leibovitz and having the authors sign the book to her daughter. She is working on the collection now and will give it to her daughter when she grows up. I thought it was such a wonderful idea, so I borrowed it. I would have Leibovitz sign my book to Elle, my 2-year-old. One day, I will give Elle the book and tell her that I met my hero.
Leibovitz finished talking and invited us to form a line. I was nervous. And still crying. But I was confident that I could keep it under control and shake her hand. But when it came my turn to get my book signed, I totally lost it. I handed her my book with my daughter's name on a Post-It. I couldn't even get my own name out, I was blubbering so hard. But I told her I was a photographer and thanked her for inspiring me. I mean, I ugly cried. This went way beyond weeping. This was scrunch-faced, snot-crying. I'm not kidding. Here is a picture of me losing my brains when I met Annie Leibovitz: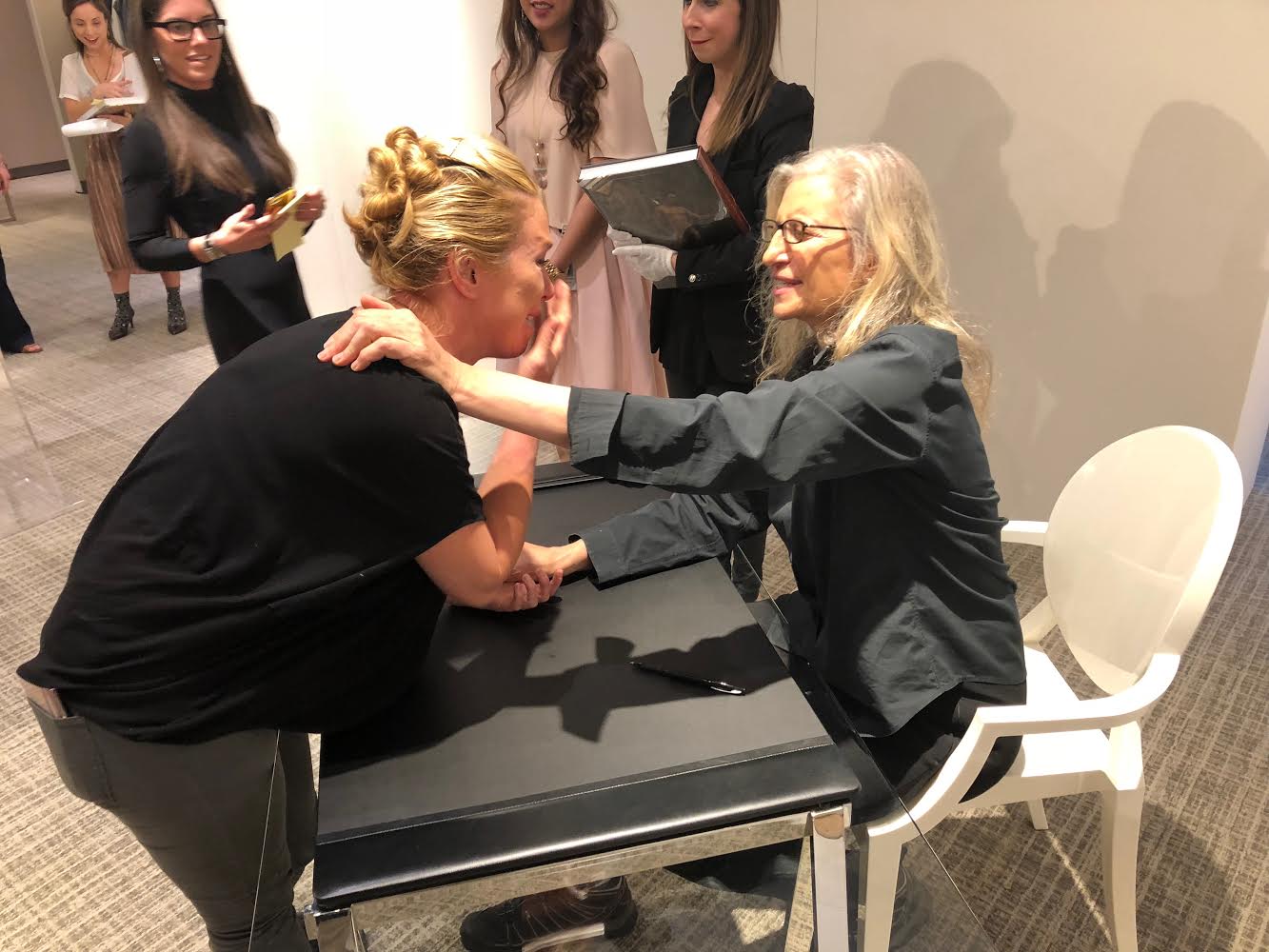 I don't know who grabbed who. I'm pretty sure I grabbed Leibovitz and hugged her. I think I was hoping to absorb some of her power. Maybe I shouldn't have touched the unicorn, but I did. She was wonderful and gave me the best hug. She said something like: "Never give up, Elle." I was too overwhelmed to correct her on the name and just laughed.
Last night, my good friend Kimmi Peacock took me to see Leibovitz speak to a sold-out crowd at McFarlin Auditorium. I saw so many familiar faces from the Dallas creative scene. Thank God it was dark in the auditorium because I cried some more.
You can pick up her new book at Neiman Marcus, which carries a special edition Annie Leibovitz "Portraits" book. Its numbered editions, 1 through 3,000, retail for $125. I snagged No. 897. This book is the follow-up to Annie Leibovitz: Photographs, 1970-1990 and A Photographer's Life, 1990-2005. You have to buy this book. Buy it for your 2-year-old and give it to her when she grows up. Maybe you can even get it signed. Tonight Leibovitz will appear one last time at a public event at the downtown Neiman's starting at 6. I'll be there. I'll be in the back, crying.