It's been a long time since I've encountered a phone booth in the wild, but I can't recall ever seeing a payphone menu that looked this one: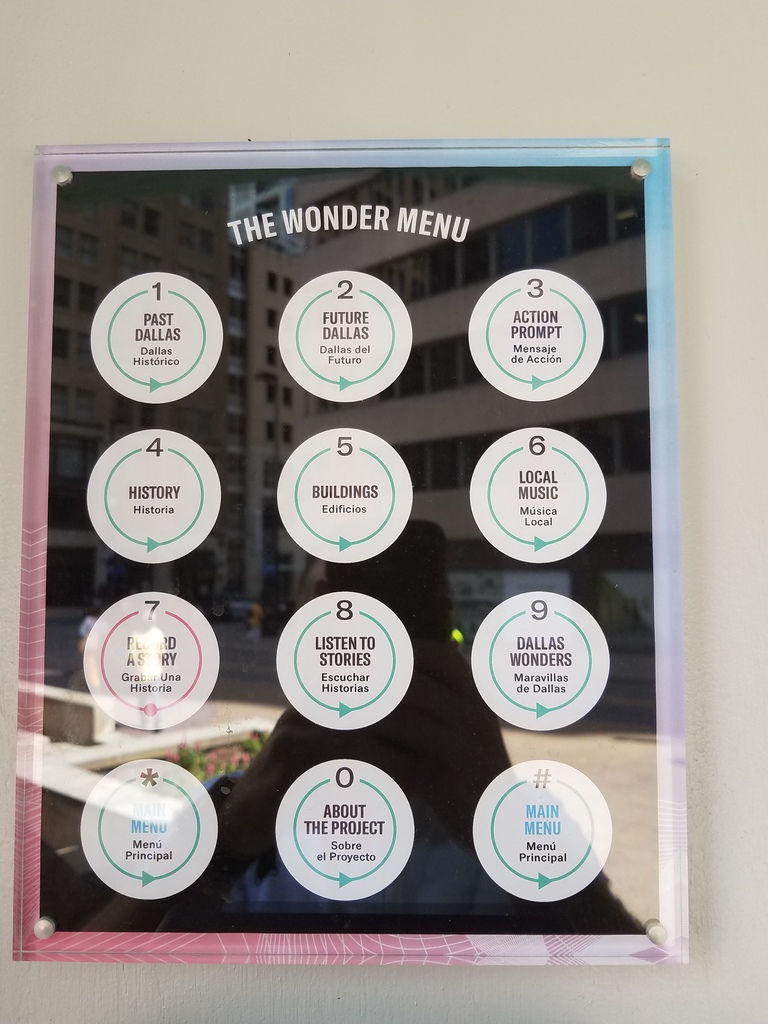 The Wonderphones, three of which arrived downtown over the weekend, are less phone booth than neighborhood time machine, each one built to share notes from the past, visions of the future, and directions to savor the present. It has stories to tell, relaying messages left into its receiver. Press 7, and it will listen to your story, assuming you don't freeze, hang up, and walk back to the office after being given the prompt, "What are your aspirations for Dallas?"
There's one at Main and Akard and two at Commerce and Browder. All of the Wonderphones were commissioned by the nonprofit community design firm bcWorkshop and Downtown Dallas Inc. as part of the Activating Vacancy Downtown Initiative. It's one of two art projects, funded partly by a grant from the National Endowment of the Arts, that will debut this fall to "explore the cultural, social, political and economic life" of downtown Dallas, as bcWorkshop puts it. The Wonderphone installation was cooked up by Rickey Crum, Gray Garmon, Katie Krummeck, Edward Li, and Justin Childress.
The anachronistic phone booth, rewired with current technology, comes loaded with messages. Press 2, and students at CityLab High School downtown will tell you about their hopes for a greener, more walkable Dallas. Press 9, you'll be directed to the new Museum of Street Culture at Encore Park. But the most intriguing part of the project — also, unfortunately, the part with the most potential to go sideways if people don't behave themselves — is the ability to share and listen to stories recorded by other people who have come across the Wonderphone. The "Record A Story" prompt, which asks for your "aspirations" for downtown Dallas, seems like a democratic and novel way to get at the issues of urbanism and community-building this project is intended to address. I was therefore a little disappointed when I pressed 8 to "listen to stories," and heard silence. I am probably part of the problem: given the opportunity to record my own story, my mind went blank and I hung up.
Curious downtown passersby should be drawn to the Wonderphone, and hopefully some of them will have more to say about their hopes for Dallas' future. The pre-recorded messages for "Past Dallas" and "Dallas Wonders" were limited on the Wonderphone placed at Pegasus Plaza. But if it gets people to pick up the receiver and, even for a moment, think about how they interact with the neighborhood around them, then it's served its purpose.
The phone booths will be up throughout the month, and two mobile phones connected to the installation will pop up somewhere, sometime. Follow along here for more information.
Get the D Brief Newsletter
Dallas' most important news stories of the week, delivered to your inbox each Sunday.