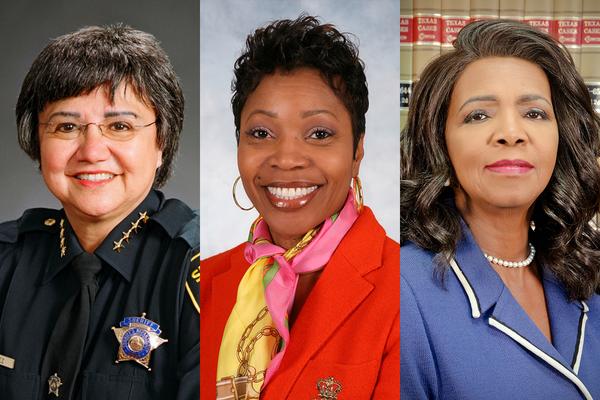 Join me, Dallas County Sheriff Lupe Valdez, Dallas' new police chief Renee Hall, and Dallas County District Attorney Faith Johnson for an informal panel discussion about the future of law enforcement in Dallas. There's plenty to talk about, from the impact of the pension crisis to the state of Dallas County detention centers. Have a beer or a glass of wine, bring friends and questions, and get to know your city leaders a little better. The next Happy Hour With an Agenda will be on Monday, October 16 from 6 to 8 PM at 750 N. St. Paul St., Ste. 2100. It's free. You can visit D HQ. There's a great view. If you don't want to ask questions yourself, submit them in the comments below. Reserve your spot here.
Meet the panelists:
Sheriff Lupe Valdez was elected Sheriff of Dallas County, Texas, on November 4, 2004, and has been reelected three times. She is the only Hispanic lesbian sheriff in the United States. Her first name is Guadalupe.
Chief U. Renee Hall will be Dallas' 29th police chief, and the first woman in the position, when she is sworn in. Her career began in Detroit, where she commanded the largest bureau in the Detroit Police Department. The "U" stands for Ulysha.
DA Faith Johnson served as a felony court judge for 17 years before being selected to fill the vacancy left by Susan Hawk. She is the first African-American female to serve as the DA of Dallas County. She is the youngest of 13 children, and her father lived to be 100 years old.
Get the D Brief Newsletter
Dallas' most important news stories of the week, delivered to your inbox each Sunday.