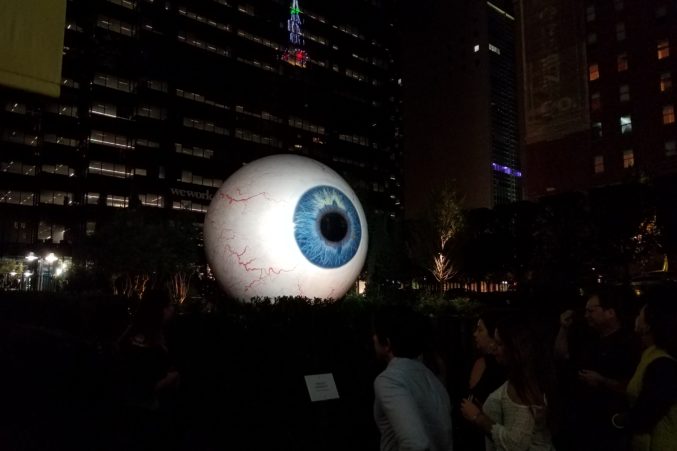 I Went on a Downtown Dallas Ghost Tour and All I Got Was This Lousy Hangover
Nightly Spirits' tour of spooky downtown bars combines a pub crawl with a paranormal investigation.
At first glance, the lower level of Frankie's, a downtown sports bar whose "underground" semi-successfully emulates a speakeasy, doesn't look particularly haunted. A second and third glance do nothing to change this impression.
But I am a good sport, and I enjoy imagining faint specters flitting around the corners of the room as I look for the "Sheriff" or "Saloon Madame" my companion and I were told to find here on a Friday night a couple weeks before Halloween. It turns out to be a Saloon Madame, a mischievous Boston native who will serve as our guide to downtown Dallas' haunts. I do not know why Nightly Spirits, the ghost tour company that operates similar spooky pub crawls around the country and started up in Dallas this summer, dresses its women guides as Saloon Madames, seemingly a polite way of saying "frilly 19th century Western frontier town prostitutes."
We mill about the bar and size up our fellow paranormal adventurers. I learn later that the rest of our tour group are members of a singles' club, a fact that retroactively explains the air of dread and desperation I feel for much of the night. Dating is terrifying. I order a bourbon and a vodka tonic and get my first big scare of the night when the bill arrives. If the ghosts don't get me, these drink prices will, am I right? (Any ghost tour guides reading this, feel free to borrow this material.)
The cost of a Nightly Spirits tour is $25 a head, but you're on your own for drinks. Drinking is encouraged. So we are already drinking when our Saloon Madame starts her spiel by the pool tables in the back room.
Without spoiling too much of the script, there are bits of mostly accurate Dallas history sprinkled in with the dubious tales of haunted activity: playful kid ghosts, prudish old women ghosts, morose teen ghosts. There are cameos from service workers with their own personal brushes with the dead, detours into bathrooms, and ample opportunities to drink. We are set to stop at four bars before the night is done, all within a mile's walk of each other, and were told to anticipate a two and a half hour tour. We're well into hour three by the time we head to our final stop.
Some of the scripted material works. Our tour guide is funny, profane, and knows her stuff. In a dark back room at the Press Box Grill, I'm enchanted by stories about the historic Wilson Building, and I appreciate the sinister aura projected onto a stray old dresser that has a habit of knocking off tour guests brave enough to sit on it. I do find myself wishing we could visit some of the city's other haunted locales that our Saloon Madame invokes, including Sons of Hermann Hall and the Millermore Mansion.
As might be expected on a tour that places so much emphasis on spirits, however, we find ourselves at times veering deliriously off script. I have not been monitoring the singles' alcohol intake, but by the time we make it to our third stop, the Rodeo Bar at the Adolphus, I worry that some of our fellow guests are well on their way to drunkenly hallucinating their own ghosts. I may not be far behind.
Our guide, suddenly possessed by giggles, has a hard time regaling us with tales of the reputedly extremely haunted hotel right next door. The singles have grown restless and rowdy, and seem more concerned with flesh and blood than the ectoplasmic residents of the spectral plane. A man seated near me at the Rodeo Bar is throwing out pickup lines so horrifying they might as well be written in gore on the wall of an insane asylum. Someone orders chips and salsa for the group. I make several return trips to the bar.
Growing increasingly antsy as the minutes tick by without any thrills or chills or historical information, I strike off on my own, assuring my companion that I will be right back. If this were a horror movie, those would be my ironic last words, and this would be the part where I get gruesomely murdered, which I figure would be a welcome respite from having to listen to any more strangers' flirting.
Our tour guide warned us that the Adolphus, which seems to have a complicated relationship with its haunted reputation, does not allow ghost tours to enter the hotel or its lobby. I remove the glow stick wristband identifying myself as a ghost tourist, and mosey about the Adolphus, newly renovated and as impressive as ever, for a while.
I think about how a city like Dallas, which takes a sort of perverse civic pride in forgetting its own history, needs more ghost stories. There's some danger in myth-making, but the best ghost stories help preserve the past, putting a supernatural sheen on the dry facts of life. Walking around downtown on a Friday night, I'm comforted thinking of change and rebirth, the permanence of death and the impermanence of memory. I think I've had too much to drink.
When I rejoin my companion and the group, we've apparently joined forces with a second Nightly Spirits tour that came in hot on our heels at the Rodeo Bar. But the fellowship is broken. It's been almost three and a half hours since we came together at Frankie's. Our guide is rounding up a few stragglers at Rodeo Bar, goading them on to City Tavern, the last stop of the night. I'm ready to pack it in. I pull a disappearing act and hope that later one of the tourists, in a warm drunken haze, will remember me as a ghost.