DART Has To Make Up Cartoon Characters To Say Nice Things About It
DART wants you to meet Kevin, a fictional SMU student who simply loves public transit in Dallas.
Has anyone at DART ever even met an SMU student, much less one who happily uses the agency's services? Why else would it invent Kevin, who describes himself on DART's website as a model of youthful good cheer and public transit enthusiasm?
As far as cartoon mascots go, Kevin seems likable enough. A 19-year-old SMU student from San Diego, Kevin has eagerly embraced Dallas living.
Moving from San Diego was a big deal after graduation. Student loans were expenses I was willing to take on, but paying for a car and auto insurance was not. Luckily, SMU is right off of the Blue, Red and Orange lines. Access to public transit was definitely an item on my check off list for my dream school requirements. I decided that having a part-time job would give me a little income during school. Luckily, at SMU I can easily hop on DART and get to my job in the city as a barista at a local coffee shop.

I chose to pursue a business degree at SMU because North Texas is a great place for employment opportunities. Part of that comes from businesses relocating their headquarters from other states to North Texas. In fact, twenty of the biggest business relocations from 2015-2017 created more than 7,600 jobs in North Texas alone!

Living in a city that is also home to business opportunities makes job searching after graduation a whole lot easier. Plus, I can depend on DART to get me to class on time, shuttle me to my part-time job, and drop me off at my internship downtown. DART has been part of my college experience, giving me the ability to access the region I hope to call home even after graduation.
This elides many of DART's pitfalls and failures, devastating in their city-wide effect on poverty and inequality. That's fine. We shouldn't expect it to. DART gets enough bad press. It's marketing. DART should be branding itself, selling itself to a North Texas population that often seems either antagonistic or apathetic about public transit.
But nothing in Kevin's description, or an accompanying animated video, really gives any sort of detail about what DART does, specifically, to move people efficiently around the region.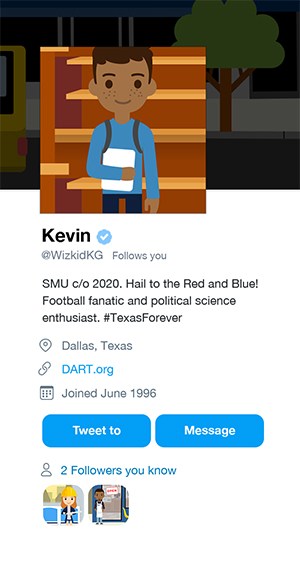 SMU is indeed sort of "right off the Blue, Red, and Orange lines" — Mockingbird Station is on the other side of the highway from the university, which is not the most pedestrian-friendly jaunt, although a shuttle does run directly to campus. The rest of the copy, some vague mumbo-jumbo about business opportunity that reads like a high school presentation on the "North Texas economy," doesn't tell us how long it takes Kevin to get from school to his job at a coffee shop "in the city," or how many transfers that trip takes, or how long he waits in between transfers.
Who is Kevin supposed to appeal to? More critically, what does it say about DART that it apparently couldn't find a single real SMU student that enjoys using DART?
Kevin's page on the DART website also shows an image of his nonexistent Twitter account, under the name "WizkidKG." I know the Twitter account is was nonexistent because I just registered it, and promptly tweeted out several song titles and lyrics with the word "heart" replaced by "DART." Getting some studio musicians together to record those songs would be better promotion of the DART brand than a cartoon SMU student. Just handing out this marketing advice for free.
Don't tell my DART, my achy breaky DART.

— Kevin (@wizkidkg) October 27, 2017