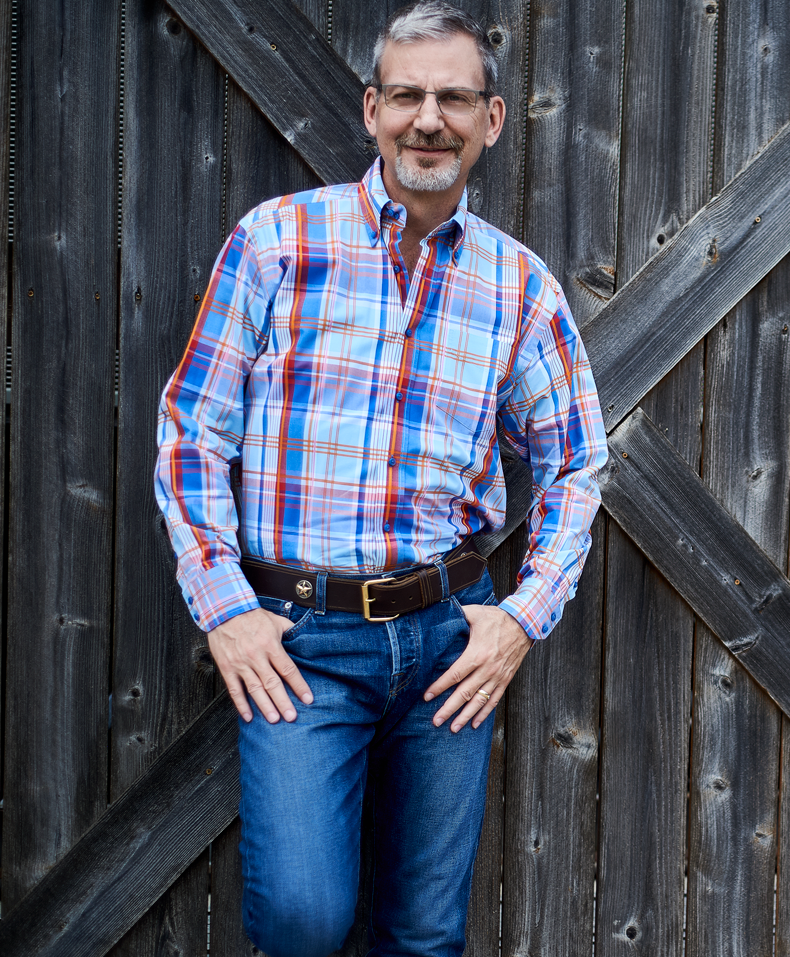 Where would the movie of Jeffrey Payne's life even begin? On the steps of a Louisiana orphanage as his stepmother drops him off at the age of 5, telling him they are going to get ice cream? On the driveway of his next-door neighbor's house in New Orleans, water pouring up out of the sewers as if in a horror movie, as he climbs into his neighbor's two-seater sports car, a dachshund under each arm, to escape Hurricane Katrina? On the top of the podium of International Mr. Leather 2009, as he bests Mr. Leather Ottawa and Mr. Atlanta Eagle, the unexpected underdog shedding a tear or two as he is presented with the coveted leather sash? Or, as Payne hopes, sitting with his Brazilian husband on the porch swing of the Texas Governor's Mansion in Austin, surrounded by their pack of rescue dogs and enjoying a lemon ice?
For this week's BraBurner, Holland Murphy and I sat down with the Democratic gubernatorial candidate, at the Front Room Tavern in the Hotel Lumen, to talk about his plans for political office and the long and twisted and sometimes inmate-covered road that led him to this point. Here's a streaming player and the show notes:
An editrix is a female editor; a dominatrix is a woman who dominates. A domineditrix is a female editor you don't want to mess with.
There is the equivalent of petfinder.com for kids.
Jack Modica is credited with starting the trend of leather bars using "Eagle" in their names, when he converted a longshoreman's pub called the Eagle Open Kitchen into a gay leather bar called the Eagle's Nest in 1970.
International Mr. Leather is an annual competition held in Chicago. More similar to Miss Universe than Miss America in that there is no talent competition, contestants are judged on physique, stage presence, public speaking ability, and a private interview. Jeffery Payne was the winner in 2009.

Miles Bartholomew, a court reporter, invented the first successful shorthand machine in 1877 and is considered to be the "Father of the Stenograph." The first paperless stenograph to utilize a floppy disk didn't come along until 1987.

During Hurricane Katrina, prisoners from the Orleans Parish Prison were evacuated to one of the only high-ground options—the elevated Broad Street overpass. Guard boats dropped off close to 3,500 inmates, who sat on the hot asphalt for four days while being watched over by hundreds of guards with dogs.
A Bichon Frise (BEE-shawn FREE-say) is a crossed descendant of the Water Spaniel and the Standard Poodle. It is also a refreshing cocktail at the Front Room Tavern made with vodka, St. Germain, and grapefruit soda.
Chris Pratt is an actor best known for his role in Guardians of the Galaxy. He usually wears a full beard but has been recognized for his "high-end hillbilly" stache.
Get the D Brief Newsletter
Dallas' most important news stories of the week, delivered to your inbox each Sunday.