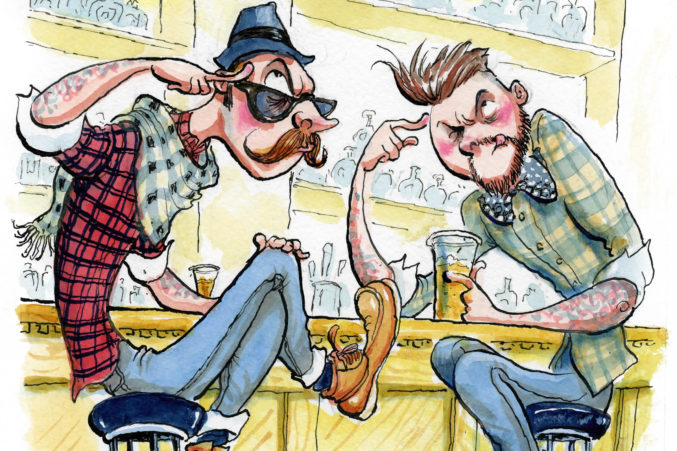 Bourbon & Banter: How Joints Get Named in Dallas
Throw words into a hat! Pick two!
For the October issue, I did a thing for the back page about the rut into which many Dallas restaurateurs seem to have fallen when it comes to naming places. Because these things sometimes don't translate well when we put them online, my little ditty was confined to paper and ink — until now! I bring it to you because I learned this morning that a new bar in the Statler Hotel will be called Bourbon & Banter.
Whiskey & Whispers? Too feminine. Vodka & Valediction? What? Sazerac & Soliloquy? Rum & Rumination? Pimm's & Palavering? Gin & Glossolalia? I could do this for another 5,000 words.
Anyway, here's a playlet I wrote about how people name restaurants and bars in Dallas. I invite you to read and enjoy it:
***
"We don't file all this DBA paperwork tomorrow, we're screwed."
"I know, I know. But getting those hand-blown Edison bulbs was way harder than I thought it would be, and it took up almost all of last week. Plus, I had a thing with my mustache."
"What's the name?"
"My mustache doesn't have a name. You name yours?"
"The restaurant, you clown. Hit me with some names. No bad ideas in a jam session. Come on, man."
"All right, all right. I've got one of those ideas. I'm just psyched out of my mind about it, you know? It's one of those ideas where you're like — yes! OK, you ready? Seed and Pantry."
"I know I said there are no bad ideas in a jam session, but I was lying. That's a really bad idea. Like, insanely bad. 'Seed' makes me think of a rocky place that offers no purchase. Besides, there's already Proof and Pantry. Proof plus Pantry. Whatever. We can't do 'pantry.' "
"What about Bowl & Barrel and Stock & Barrel? And that soup place, Stocks & Bondy?"
"Do you want to go back to prepping salads at Applebee's? Seriously."
"I'm trying."
"No, you're not."
"Wait. OK. Don't think about this too hard. Just let it sink in. Plaid and Plantation."
"…"
"See, it's timely. All that debate about what to do with the statue in Lee Park?"
"…"
" 'Plantation' evokes all those emotions about the Old South. Scarlett and Rhett, Garden & Gun, Chip and Joanna, that huge pecan at the courthouse in Seguin. It's very romantic. Then you've got plaid. It's classic and trustworthy and rhymes with 'plantation.' "
"Alliteration."
"Alliteration and Plantation. It's kind of a mouthful, but maybe that's good. I could –"
"No! The 'pl' of 'plaid' is the same as — never mind. We're not doing Plaid and Plantation."
"Plaid plus Plantation?"
"Stop it. I mean it. We're not doing anything with 'Plantation' in it. And how does 'plaid' suggest artisanal, conflict-free pickles?"
"You've got a point. Pickles are more green than plaid, for sure. Can't argue. How about Grass and Hammer?"
"…"
"Hair and Anvil? Rake and Knuckle? Shelf and Bearing! It's got a real steam punk vibe. Or Rivet and Petcock. A petcock is like a drainage valve thing. It sounds kind of dirty but it's not. Hang on. Wait! Petcock and Titmouse. Two words that sound dirty but aren't. Because, you know, we'll be doing the artisanal pickle bar. Remember the Spread Eagle Saloon downtown?"
"What does the Spread Eagle Saloon have to do with this?"
"It was suggestive but didn't cross the line. So they got their DBA. Spread Eagle. I mean, it's no One Eyed Penguin. That bar on Main Street? I guess they never check these things in the Urban Dictionary. So, like, what about Caulk and Coccyx?"
"That's actually not bad. That might work with the leather aprons."