[Update: ticket prices have been reduced to $41  for adults and youth, and Mark Cuban will match the proceeds up to $2 million to benefit families and children affected by Hurricane Harvey. Newly announced participants include Mike Modano, Tommy Haas, and Donald Young.]
Dirk Nowitzki says he's always been a huge tennis fan, and his dream was to host a tennis event. Last year he held the first ever Dirk Nowitzki Pro Celebrity Tennis Classic at the SMU Tennis Center. "We didn't know how the turnout was going go be, but we really had a blast," Dirk says. "And thanks to all of the sponsors, we raised a lot of money for the Dirk Nowitzki Foundation. So we thought we'd do it again."
This year's event will be on Saturday, September 16, from 10 a.m. to 2 p.m. Ben Stiller, who competed last year in the round-robin competition, is out, but Owen Wilson is in — along with Andy Roddick, Mark Knowles, and fellow Mav J.J. Barea. Tickets are $41 for children and youth (free for children 3 and under), and proceeds benefit the Dirk Nowitzki Foundation.
I took the opportunity to talk to the power forward about his thoughts on Pharrell's knee socks, J.J.'s on-court sex appeal, and retirement.
Where will the proceeds for the event go this year?
I think since Hurricane Harvey happened down in South Texas, we're going to pick foundations that are working in Houston or locally down there. Last year we donated all the money to different projects here in Dallas and North Texas that work with kids. This year we might try to find a good organization in the Houston area that's working with kids and taking care of them until hopefully everything gets restored.
What do you think J.J. Barea's weak spot is going to be?
J.J. is actually a really good player. His mom was a tennis coach, so he grew up just like me, playing tennis his entire life. After the season, sometimes he came over to the house and we'd have some good battles. He's a good, feisty, sexy little player, for sure. You saw that last year. He had some good hits.
Roger Federer is known to have a bit of a basketball shoe fetish. He has said that he likes Nike Air More Uptempos, Scottie Pippen's shoes, and he's also a fan of the Air Jordan 3. What's your tennis shoe of choice?
Oh man, that's a tough one. Nike tennis shoes don't really go up to 16. That's a problem, so I usually play more in cross trainers or sneaker kicks. Just whatever fits.
You were nationally ranked as a 15-year-old. Why'd you switch to basketball?
I'm more of a team sport guy, and I was always tall so basketball came a little easier for me. I started sort of late at 12 or 13, but once I started basketball just grabbed me. My friends were there. I was around taller people, which was important to me because kids were making fun of me growing up because I was so tall. I think I was more confident in the basketball circle because I was around taller people all the time, whereas in tennis the kids were so small.
Do you think you'll teach your kids tennis or basketball first?
Tennis is easier to start. I started when I was 4 years old. My oldest daughter, she's already having a few lessons and she loves it. She's 4 now, which is pretty early to start, but she just loves to hack around a little bit at those soft balls. It's a blast. I kind of handle it like my dad. I don't want to push my kids too early. Whatever they want to do—besides football—I'm game. I'm not a huge football fan with all the head injuries, so I might have to say no on that for my boys. But other than that, they can do and try whatever they feel like.
Ad side or deuce side?
When I serve, I like the ad side more. But returning, I take the deuce side.
Best shot?
Forehand or serve. That's really my game. Big serve, hope the opponent comes a little short, and then I move in with my forehand. If there's any movement involved, or my backhand, the point is pretty much over.
Who has the better serve, you or John Isner?
He's a little shorter than me, but his serve is incredible. A couple of times he unleashed it for us at the event last year, because obviously us amateurs want to see it or be able to return it once. I mean it's unbelievable the power he brings, the spin he brings. Just incredible. Not only is he one of the best servers on tour, but he might be one of the best ever. Really good dude. We couldn't get him to confirm this year because he's in the middle of competing at the U.S. Open, but I would love to have him back.
Old school Bjorn Borg-style elastic Adidas headband or Federer's tied Nike headband?
See, I'm sponsored by Nike so I can't wear anything but. Whatever Federer is wearing is good for me. He actually had a nice warm-up jacket on the other day. I watched him win in five sets against the young U.S. guy. He was really playing well.
Frances Tiafoe had the match of his lifetime. He was just at the Irving Tennis Classic in March.
Yeah, we invited him, too. We'll see if he's coming out. The roster is still open because they are still competing at the U.S. Open, so we'll see in the next two weeks who we can get.
Favorite Grand Slam?
That's tough. I've been to Wimbledon two times now. I grew up watching Boris Becker win when I was like 17. That was unbelievable. My least favorite site is the French Open, all that grinding on the clay. On my bucket list for sure is the Australian Open. I love Australia. I spent six weeks one time traveling there. Beautiful country. And those night sessions in New York are an absolute classic. Once I retire, those two are definitely on the bucket list.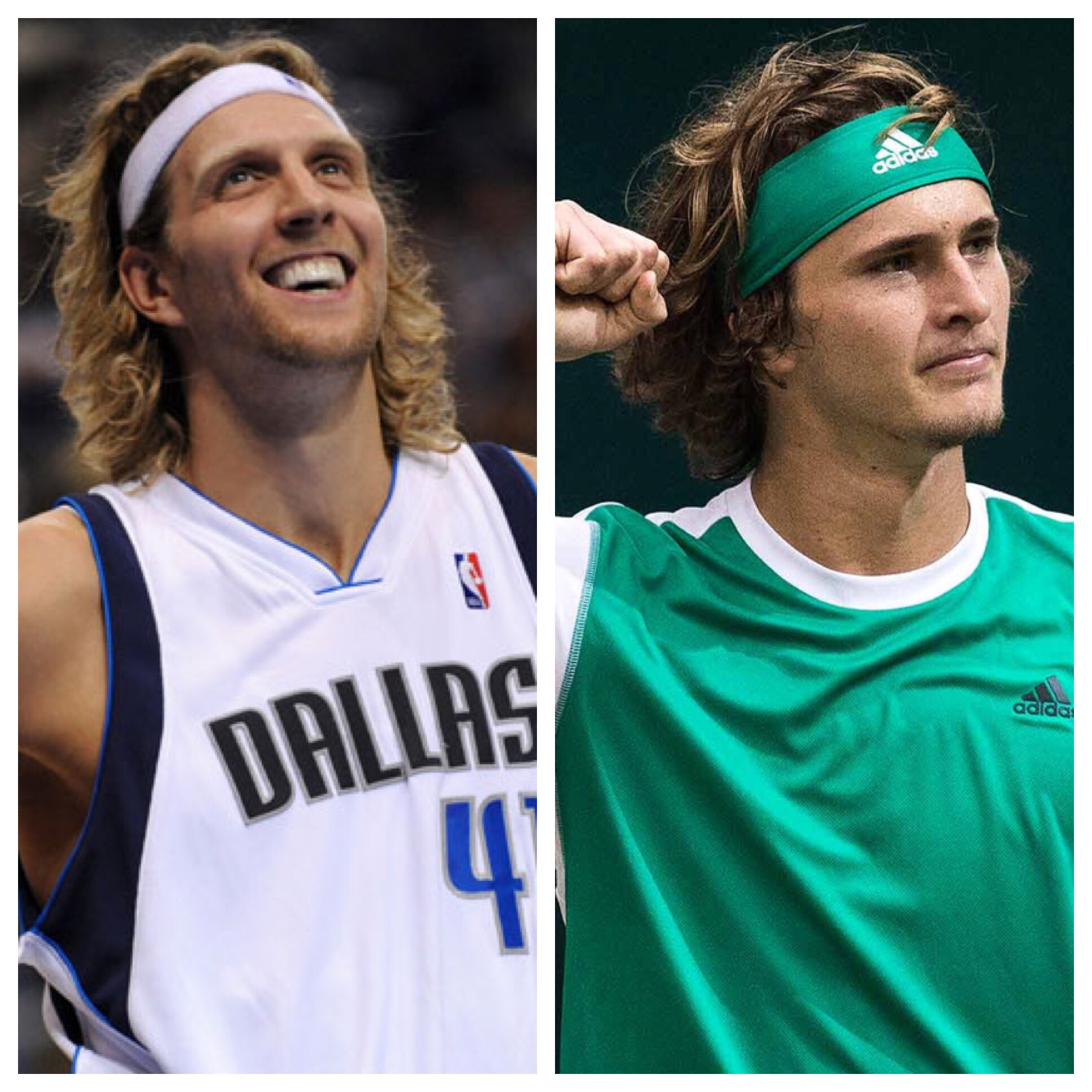 Have you been watching your fellow German compatriot Sascha Zverev? 
Yeah, so we've obviously known about Sascha for a couple years now in Germany. We've actually known his older brother Mischa, and they said hey, he's got a younger brother who's going to be unbelievable. We've been watching him for a couple years and seeing him develop. He played here in Dallas at the Irving Tennis Classic one year. What an amazing talent. Tall, can move—he's got all the hits. He's got a big serve, big groundstrokes. Somebody said a bunch of years ago when he was 15, 16, he might be the next top men's player, and I think he's already top 10 at like 19, 20. He's had an amazing summer.
He's bringing knee socks back.
I thought he was going for the Bjorn Borg look or something, and then I looked it up and they showed Pharrell Williams in his box—apparently he designed the clothes for Adidas. It was a good look for Sascha.
Another fellow German, Angie Kerber, knocked Serena out of the No. 1 slot last year when she won the U.S. Open, but she's been off the rails ever since. She just lost this year in the first round to American Naomi Osaka. As someone who has made it to the top and stayed there, what advice would you give her?
She had such an amazing year last year. She won two slams. Sometimes it's tough to follow that up. You're emotional, a little drained. Maybe you're physically a little drained. Then you have a subpar start to the season, the next thing you know you're in a little bit of a funk. She's a warrior, and she'll fight her way back out. In every sport, there are going to be ups and downs, but you have to take the downs in stride. It's the same thing with the ups. You never want to get too high with the highs and you never want to get too low with the lows. You just want to keep working. Try to keep it at an even keel and try to get back on track.
Do you yell at your box like Murray, yell at the chair umpire like McEnroe, threaten the line judge like Serena, or smash rackets like Ryan Harrison?
Amateurs don't have umpires, otherwise I'd yell at them for sure. Usually I am a little emotional on the court, but mostly it's fun. I love tennis. I love everything about it. I think it's something I'll continue to play when I'm done.
How often do you get out to play?
I have a court in my backyard, so we play all the time. Wifey [Jessica Nowitzki] is a big player. She grew up playing in Sweden, so we are both huge fans of the sport. Actually, Wifey couldn't play last year because she was pregnant. This year she might play a bit because she loves it and wants to be part of it. We haven't played much this summer. We were traveling and my older body needs a little rest in summer. But once I retire, I plan to play more. What's so great about tennis is you can play until you're 60, 70 years old. My dad still plays once a week with his crew, and he's almost 70 years old. He plays some doubles. It's just a sport you can play as you grow older, and it's a lot of fun.
Last question. The Texas Open tennis tournament is coming up the first weekend in October at Kiest Tennis Center, and my doubles partner has won it for the last few years. I think it's time for me to take her down. Want to play with me?
In October, unfortunately, I'm busy. I wish I could help you out. Maybe in a couple years. When I'm retired, I'll be there.
Get the D Brief Newsletter
Dallas' most important news stories of the week, delivered to your inbox each Sunday.