Just about every neighborhood in Dallas is showing a little leg right now, trying to catch the eye of Amazon as the company makes plans for a second headquarters. Deep Ellum, North Oak Cliff, Trinity Groves, I think I saw something about the zoo jumping in — I honestly can't keep track of them all.
It's time for my neighborhood, Lochwood, to throw our collective hat in. We have a library and a Home Depot and a gas station that used to have a Blimpie sandwich shop inside but doesn't anymore and they just spray-painted over the sign, so I believe we meet the stated requirements. What else do we bring to the table? Oh, man, I'm glad you asked.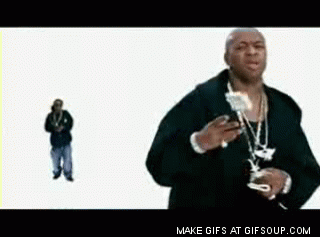 INCENTIVES.
• We don't have much in the way of money. Sorry. That gif was maybe misleading, and I apologize for that. BUT! That gas station that used to have a Blimpie but doesn't anymore has a weirdly good wine selection. I don't really drink wine, but the Amazon folks probably do. Maybe they don't? I don't know. I'm picturing like a mid-30s guy who should be cool but looks way too comfortable in khakis and has one hobby that you initially don't mind hearing about — it's a little interesting — but you end up dreading any mention of. Like, OK, you collect vintage cigarette ads. Great. I don't need to hear every in and out of a weekend eBay bidding war, Dave.
• The area around my house — especially my side yard — is sort of a natural animal sanctuary that has hosted all manner of birds (including, yes, owls), feral cats, the dumbest, meanest squirrels I've ever seen, and at least one peacock. Amazon HQ will have full and unfettered access, and with them in the mix, we can probably get a fox or two or maybe the flock of wild parrots will come by.
• I mean, seriously, Dave. Two dudes going back and forth on eBay over a circa-1940s Chesterfield Kings ad with Ted Williams, Stan Musial, and Sid Luckman is not exactly the plot of Gone Girl. I sort of get where it's going.
• Down the block, there is pretty consistently an abandoned shopping cart. They can use that. Lately, there has been a V Bike — aesthetically, essentially a shopping cart — in its place. They can use that, too.
• I hate to keep harping on this, but it's every dang day with the eBay talk. I mean, it would be one thing if he was banging around flea markets and digging through estate sales. But my guy is just on his computer. And not just on his computer — it isn't as if he's even doing much searching there. He's only on eBay. Great. So is my Aunt Paula. Congratulations. You're a 65-year-old white lady who gets too loud after one glass of Chard.
• You know what? I don't want Amazon to come to Lochwood.
Get the D Brief Newsletter
Dallas' most important news stories of the week, delivered to your inbox each Sunday.