Terry Murphy is dead, and I'm having a hard time understanding how that could be possible. He was 6-foot-3 but seemed taller because he was one of the most gregarious, gifted bullshitters this city has ever seen. He accomplished so much in his 77 years, touched so many lives, made so many people laugh, won and lost fortunes, and even tried to write a novel.
That book was how we met. Ten years ago, Terry sent me an email saying he was working on a novel and having some trouble with it. For some reason, he thought I could help. All I knew about Terry at that point was that he had been the publisher of D Magazine when, in 1986, he started a three-on-three basketball tournament called Hoop-D-Do. My high school buddies and I played in that tournament, and we continued to play in it after Terry turned the little homegrown affair into Hoop-It-Up, an international basketball juggernaut that was sponsored by the NBA. Here's a 1992 D Magazine story written by Chris Tucker about how it all happened. So when Terry contacted me, I already thought he was a cool dude. Then I got to meet him, and he became my hero.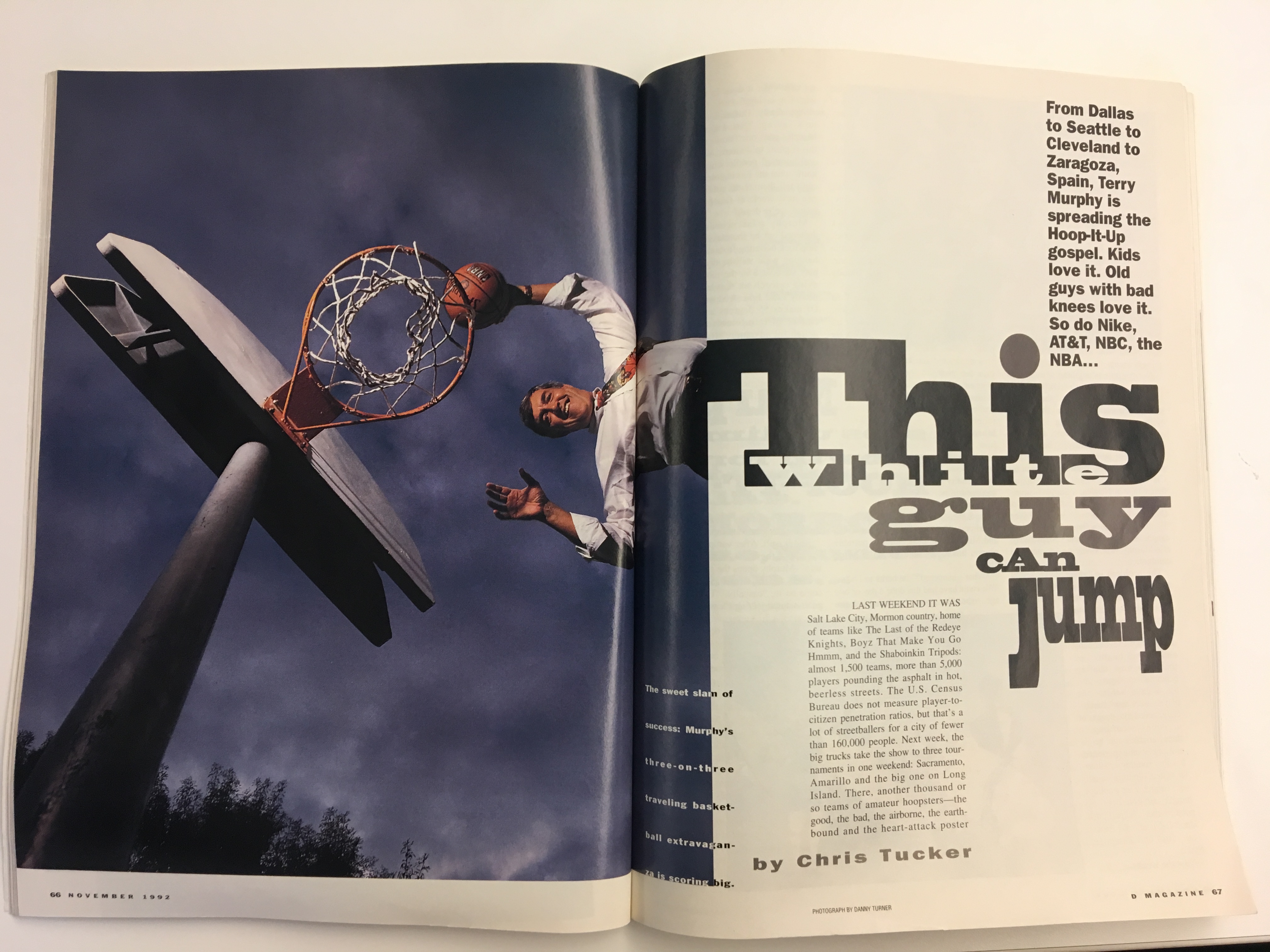 The book, by the way, sounded terrible. I wish I could remember the plot he described to me at the Old Monk during our first meeting. I do remember thinking it was insane and telling Terry something along the lines of: "Terry, that's insane." He was undaunted. That would be my suggestion for his tombstone. "Here lies Terry Murphy. He remains undaunted."
Over the years, we developed a friendship that brought me great joy. It consisted of periodic meetings at the Old Monk whereat Terry would entertain those gathered with tales of his latest failed business venture, his world travels, his infidelities, and his famous friends, many of them NBA greats. He did it with vulgarity and an impish smile that I will miss. Those meetings were too few.
I hasten to add that, unlike many world-class bullshitters, Terry was also a great listener. He wanted to know what was happening in your life. He'd lean in over his beer to give you his full attention. He loved to hear what was going on at the magazine.
That was the other way Terry kept in touch, with emails about the magazine. Terry was a careful observer of what we do here. When we redesigned the magazine a while back, he was quick to offer feedback (he loved it). And he was not shy about suggesting story ideas, most of which were just as bonkers as the book he was trying to write. I spent some time this morning going through my archived email, rereading some of the ideas Terry proposed. Here's one of my favorites:
In the DMN a couple of weeks ago there was a story about a kid who tried to evade arrest by speeding away from police. It will probably cost him a football scholarship to UCLA. What a dumb move.

I have a question: WHY?

Why do people think they can run from police? Every day we read about some clown who sped away and was arrested or had some tragic accident. They never seem to evade successfully. I'd like to see D Magazine ask "Why Does This Happen?" How often do people run, and are they ever successful?

Why do women wear dresses or skirts? Who started this fashion move, and why? I bet all people wore skirts several thousand years ago, then pants, then whatever. Why do women expose their legs? Why don't we all wear garments that cover our legs?

Why do Dallas police shoot to kill? Couldn't they stop the culprit by shooting them in the knee or leg or shoulder?

Why is Friday the 13th considered unlucky? When and how did this start? When did April Fools Day start. How and why? Who are the highest paid people in DFW and why are they worth this sort of money? Why are the rich so rich?

There must be an enormous number of WHY questions. I would enjoy seeing D Magazine ask the question and then provide the answer. What do you think? Discuss it with Wick and your staff and consider it. I think your readers would find it fascinating. (And if you want to invite me to a meeting where you debated the possibilities for WHY questions, I'd love to be there!)

All best regards. Your turn to buy the beer.
It's a good question. Why are the rich so rich?
I learned yesterday that I wasn't the only one in town who got regular feedback from Terry. Ben Rogers of 105.3 The Fan is a buddy of mine. I had no idea that he, too, knew Terry until I saw a mournful tweet from Ben. "He was a mentor to me, and he didn't have to do that," Ben told me. "He gave me confidence when I was feeling bad about how things were going." And then there was the feedback. "He called me once when I was on the air. He said, 'Stop using the word "great."' I said, 'What?' He said, 'There are a lot of other words that mean the same thing as "great." Look em up.'"
I suspect there are people all over Dallas media who got such helpful feedback from Terry. I look forward to meeting some of them on Sunday. A celebration of Terry's life will be held at Gleneagles Country Club from 4 pm to 7 pm. Because the Old Monk isn't big enough to hold all the people who loved the legendary Terry Murphy.
Get the D Brief Newsletter
Dallas' most important news stories of the week, delivered to your inbox each Sunday.