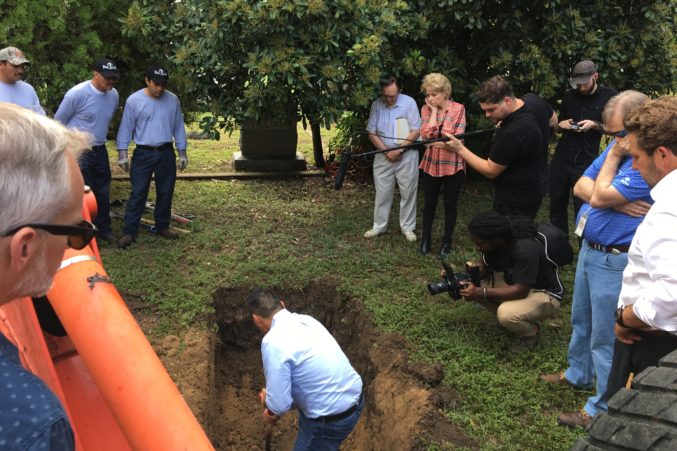 Podcast: Mary Mapes Talks About Exhuming Venice Parker
Yesterday we dug up the remains of a woman who was buried in 1953, searching for proof that the man convicted of murdering her didn't do it.
There isn't anything about Venice Parker's grave that would tip you off to the impact her death had on Dallas, particularly among black activists, attorneys, and judges. She's buried about a hundred or so yards into the Oak Cliff Cemetery, the city's oldest, now a time-warp of a place just east of Interstate 35, off 8th Street. Parker's grave is marked by a simple, single rectangular stone, the last of four plots in a row. It notes her name, birth, and death: April 7, 1922 – September 30, 1953.
There were about 20 of us gathered around that grave yesterday morning: Dallas County Medical Examiner Dr. Jeffrey Barnard and his team, representatives from the Dallas County District Attorney's Office, a funeral director from Fort Worth, cemetery trustees, and journalists from D Magazine. We were there to exhume her body, to look for physical evidence that could exonerate Tommy Lee Walker, the man who'd been sent to the electric chair for her rape and murder.
Mary Mapes made the argument for Walker's innocence in a May 2016 story for D, reporting that, for one thing, Walker's child was born the night of the murder. He was at the hospital. That is just one of many reasons to believe that Wade sent an innocent man to his death.
In this episode of EarBurner, Mary tells the story of Parker's murder and makes the case for Walker's innocence, walking us through the eight-year reporting process that led us to Parker's grave. We'll have more for you on Monday, with video and photos and a report from Mary. Today, enjoy a special edition of EarBurner, with Mapes chatting with Tim and Zac at the Old Monk, reflecting on the project that she and her husband, Mark Wrolstad, have dedicated years to investigating, to find the truth for the Walker and the Parker families. Show notes after the jump.
1. This is Mary's third stop on EarBurner. She popped by in 2015 to talk Truth, the movie about her CBS firing in which she was portrayed by Cate Blanchett, and then again with her former colleague Dan Rather and their interpreter.
2. The Oak Cliff Cemetery, where Venice is buried, is the oldest public cemetery in Dallas. It's quite fascinating: You'll find graves that date back to 1844. Sam Houston's son is buried here. You'll find Dallas legacies like Stemmons and Sprague here. It's worth a trip into East Oak Cliff.
3. If you haven't, stop now and read Mary's fantastic feature on how Henry Wade executed an innocent man from the May 2016 issue.
4. Dr. Jeffrey Barnard has been the county's medical examiner for more than 25 years. Here is a nice Q&A The Dallas Morning News did with him from 2011. Note the discussion about retaining evidence for use in exonerations.
5. Henry Wade is a fascinating and frustrating piece of Dallas history. He hated to lose, a drive that prompted him to reside over law enforcement in a county that was once among the nation's highest conviction reversal rates. You may recall the film The Thin Blue Line, the Errol Morris classic that proved the innocence of a man convicted of murder. Wade's use of Dr. James Grigson, a dubious psychiatrist who would often testify of the likelihood that a suspect would re-offend upon their release, as an expert witness sealed many death penalty verdicts. You can see why Mary got curious about what she could find buried in his caseload.
6. Here's some more information on L.A. Bedford, the county's first black judge.
7. And here's a fairly interesting history of the development of forensic science by the National Institute of Justice, which is the reason we were all gathered at the grave on Thursday morning.