The city of Dallas has hired its first female police chief. Ulysha Renee Hall, a deputy chief with the Detroit Police Department, beat out six other contenders for top cop. She's a near-lifer with Detroit, joining the force in 1999 at the age of 29. Which means she's worked through that city's collapsing pension and bankruptcy mess while working for a department that saw officers flee for safer suburban jobs at the expense of the city. She's overseen community policing in a city with rampant homelessness and loose dogs. Sound familiar?
Dallas, of course, is not Detroit. The Texas Legislature plugged the pension hole before the money was gone and well before bankruptcy became a possibility instead of a bargaining chip. But each of the candidates, in interviews with community leaders and city officials, highlighted leading the department through those challenges. Most significantly, in a city of 1.3 million, how do you hire another 400 cops to reach the national average rate of 3.4 per 1,000 residents? How do you stave off officers who are leaving for safer, better-paying surrounding towns? She'll have to take these on.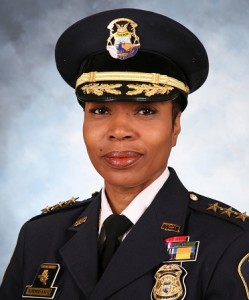 The hire means that the three largest law enforcement agencies in North Texas will be led by women of color: Hall, Dallas County Sheriff Lupe Valdez, and Dallas County District Attorney Faith Johnson.
City Manager T.C. Broadnax made the final call after listening to input from residents as well as findings from those interviews. Hall beat out Dallas cops Malik Aziz and Rick Watson, both deputy chiefs, and Assistant Chief Gary Tittle, perhaps best known as the department's legislative and policy guru. The other candidates were from Seattle, Los Angeles, and Montgomery County, Md.
"I am honored to be chosen to lead the Dallas Police Department at this critical time in its history," read a statement from Hall. "I look forward to building on the successes of the past, preserving community trust and ensuring the safety of our officers and the entire Dallas community."
Hall's father was a cop, too, and was shot and killed in 1971 while serving on a specialized unit to curb prostitution. His killer was never found. She told a local news station in Detroit last year that his murder prompted her return to the city and become an officer. She eventually raised through the ranks to lead the neighborhood policing division, focusing largely on the city's east side. She oversaw police services at six precincts and was responsible for 720 sworn and non-sworn personnel. According to the city, Hall's tenure also came with a 40-year low homicide rate and three years of double-digit crime reductions.
She was big on improving community relations between residents and officers. She oversaw what was coined the Spirit of Service program, which required new recruits and training corporals to spend 40 hours a year volunteering in neighborhoods feeding homeless, helping in schools and senior centers, and aiding in reintegrating inmates into society after prison.
"Most of our police officers don't live in the city they police," she said at City Hall earlier this month. "You cannot police a city you do not understand. This program allows them to get to know who's in their community. The program has helped us to build and mend relationships."
She will lead a department that's been run on an interim basis since October, when Chief David Brown retired. David Pughes, who's running the show until Hall gets in town, did not apply for the permanent position. Here's the press release quote from Broadnax:
"Chief Hall is a proven leader with a stellar background and a passion for public service. These are qualities I believe are critical as we tackle crime to make our city safer while addressing organizational and policy issues within the department."
Her first day is September 5.
Get the D Brief Newsletter
Dallas' most important news stories of the week, delivered to your inbox each Sunday.