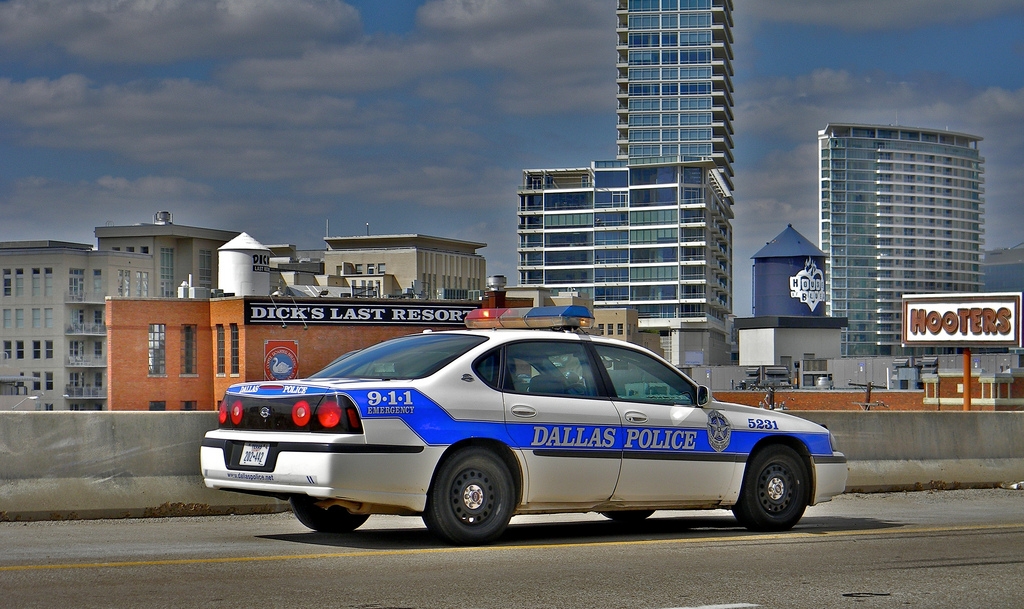 At City Hall, Dallas Residents Question Police Chief Hopefuls
After a day of interviews, the seven men and women vying for the city's top cop faced questions of transparency, safety, and community relations.
By dan singer
Published in FrontBurner
July 12, 2017
2:42 pm
A press conference was wrapping up Tuesday night at City Hall, right before about 50 residents began filing into the second floor foyer to question finalists for the city's top cop. "It's obvious that any one of these candidates could run a big city police department," said John Fullinwider, a co-founder of Mothers Against Police Brutality and one of the community organizers who interviewed candidates earlier in the day. It was the day's last piece of official business for the seven police chief hopefuls, who spent hours in the morning and afternoon talking to six panels of folks like Fullinwider—community activists, faith groups, law enforcement associations.
In many of the interviews, Fullinwider said, the candidates spoke about wanting to be in Dallas because of the challenges working here would pose. "I think that the person selected will probably find it's a greater challenge than they thought," he said.
Those challenges: Plummeting morale, lower pay relative to nearby cities, a shaky but recovering pension, dwindling numbers, and increasing crime rates in some neighborhoods. These are challenges that are perhaps embedded in the fact that a police force of 3,100 keeps watch over a city of 1.3 million. It would have to add about 1,400 officers to reach the national average rate of 3.4 per 1,000 residents, according to data tracked by the FBI.  
The department has been run on an interim basis by Assistant Chief David Pughes since his former boss, David Brown, retired last October. Pughes didn't apply for the permanent position. The seven men and women up for the gig include high-ranking police officials in cities like Los Angeles, Seattle, and Detroit. Another came from Montgomery County, Md, which sports about 300,000 fewer people than Dallas. Three are locals: Deputy Chiefs Malik Aziz and Rick Watson, Assistant Chief Gary Tittle. All of them sat behind tables with their name, portrait, and current position printed on a sign next to them. The room looked like a high school job fair.
Eddie Morgan was one of the first people to arrive. He came from Oak Lawn, where he insisted that he felt police were doing a good job keeping the community safe. His concern was for the officers themselves, who, he worried, were in danger at Jack Evans Police Headquarters. He called for upgrades to be made on the building, where security has been a concern ever since a gunman drove up in an armored vehicle and opened fire in 2015. (No officers were injured, and the attacker was killed hours later after a police chase south of town.) The issue on many of the proposed upgrades is funding, which means implementation depends more on what the City Council decides than on what a police chief wants to do. Regardless the logistics, Morgan wanted someone who would at least keep him updated on what's going on. "Someone who actually has community meetings and doesn't just hide behind a desk," he said.
This was the one demand that every resident, from every neighborhood, shared: transparency. Bouncing between candidates, they based their evaluations not only on the content of what what each said, but equally—and sometimes even more so—on the tone in which they spoke. Were they candid or rehearsed? Did they empathize with concerns or did they jump straight to solutions?
Toward the back of the room, Carmen Best, deputy chief of the Seattle Police Department, was talking to a large crowd. Dylan Foster, a 25-year-old recent college graduate from Richardson, asked her a broad question. He wanted to know how she'd be able to take tough stances on certain crimes while also exercising restraint in situations where force wasn't necessary. Her answer meandered a little. She talked about improving use of force training for police offers. "Are those policies transparent?" someone asked. She said some were.
Foster thanked her and headed over to Luther Reynolds, the assistant chief at the Montgomery County Police Department in Maryland. "Given your background coming from the East Coast," he said, "what is your engagement going to be like in the South?" he asked. He brought up the presence of confederate flags and statues as a controversy Reynolds would have to address for the first time in his career. "The police played a big role in the bad part in what has happened in our history," Reynolds said. "And now we have to play a big role in the healing and taking ownership of that."
Later on, Foster reflected on what Reynolds said. "I think he's honest," Foster said. "The biggest thing for me was that he was like 'I know my history, I know who I am, we've done that, now we need to continue to help.'" As far what he thought of Carmen Best, she could have gone deeper in explaining when force was called for and when it wasn't, he said. "But I could tell that it came off an honest tone. And I could tell that it's been a strain and it doesn't have a simple answer for her." He wouldn't write her off just yet.
Across the room, Charles Mann was questioning Michael Moore, the first assistant chief of the Los Angeles Police Department. "How do you feel about accountability?" he asked. "Do you believe in keeping the Thin Blue Line? 'We take care of our own'? That sort of thing as opposed to letting everybody know what's going on?"
"I don't see them as diametrically opposed," said Moore. It was his job, he said, to take care of the members of his department, to make sure they knew they were well-trained and safe. When it came time to hold them accountable, he said that enforcing standards for policing was in the officers' own interests, not just the public's. "Nobody wants to be a Division 1 team with a weak coaching staff," he said. "High performing organizations have high expectations."
Mann looked skeptical, but he admitted that he liked Moore's idealism. "I think it's excellent if he'll do it," he said. "He seems like a pretty straight-up guy. You have to take him at his word, until he proves otherwise."
City Manager T.C. Broadnax shook hands with all of the candidates on his way out as the event was finishing. "Ironically," he said, "this is the same format they used to select the city manager." As for why he chose to make the candidates available to the public: "Part of it was that I wanted to make them go through what I went through." But for a city official who's been vocal about his own transparency, the decision to ask the same of new hires seems hardly ironic.
It's the type of public-facing business that's starting to be the norm at City Hall.