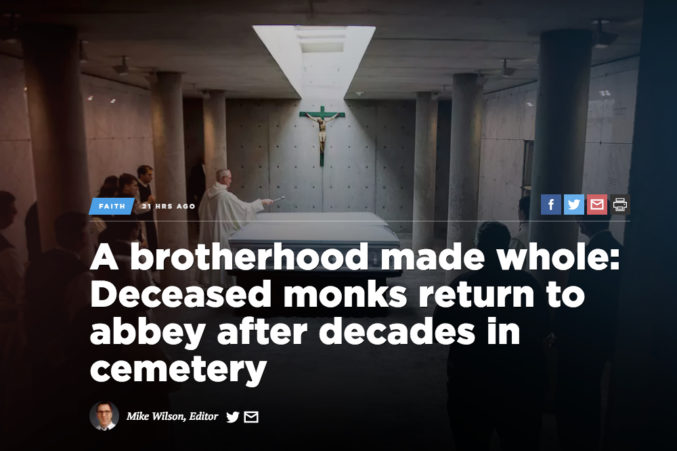 A Story About Cistercian Monks That You Should Read
Hox vobiscum!
As a graduate of Irving's Cistercian Prep, I was happy to see this story in the DMN about a new crypt at the Cistercian abbey and the relocation of the remains of 20 monks. The piece is well-written. You should take the time to read it.
As an editor and sometime media critic, I was curious to see the byline on the story. It was written by Mike Wilson, the editor of the paper. How unusual. Actually, I came to the story because someone in the newsroom brought it to my attention, pointing out how unusual it is that the editor of major metropolitan daily would write such a thing. This isn't a piece about why his paper endorsed Hillary Clinton or how he handled the blowback for the paper's having done so. This is a reported feature about — monks. Without doing the research to back up this claim, I will say that at the 20 largest newspapers in the country, over the past decade, no top editor has written a story like this. Can you imagine Wilson's predecessor, Bob Mong, having done this? Remarkable.
So here is a list of possible explanations for why Wilson wrote this story:
1. As he asks everyone in the newsroom to do more and produce work across multiple platforms, Wilson wanted to show that he, too, can generate some good content.
2. Writing is a discipline that requires you to use the strongest muscle in your body, which some people think is the tongue but is actually the brain, and like every other muscle, it needs to be exercised or it will grow flabby. Wilson wants to stay in shape.
3. He lost a newsroom bet.
4. Wilson is getting ready to look for another job and he needed a fresh clip to send around with his résumé.
5. He recently learned that Jim Moroney, the chairman, president, and CEO of A.H. Belo Corporation, is a huge Cistercian donor and that the school every year gives out an award bearing his name. Wilson is a huge suck-up.
6. One word: Story.