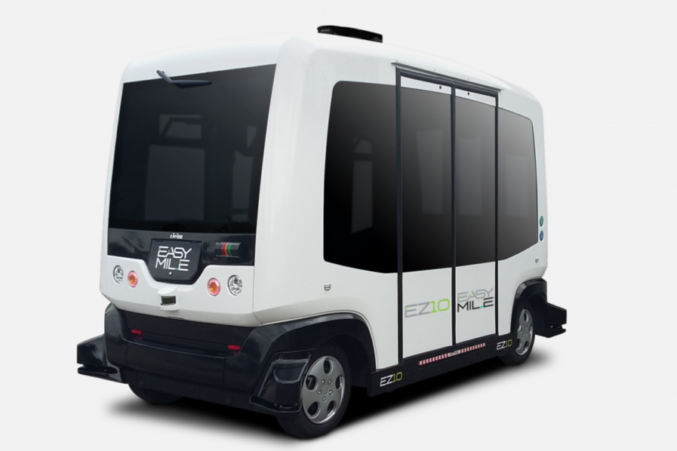 Remember Those Driver-less Euro Shuttles? Arlington Is Already Rolling Them Out.
Next time you go to a Rangers game, you may be able to take a driver-less shuttle from your car to the front gate.
Well, I really missed the lead in this post last week about those goofy-looking driver-less cars that I postulated could change the way Dallas does public transit. As it turns out, European cities aren't the only ones jumping on the new technology. Arlington is already adopting 12-person driver-less shuttles into its long-range transportation plan and rolling out a pilot program that should start this month.
That was fast.
Actually, the Arlington City Council voted on the measure in March, and the driver-less shuttles will run on fixed routes between the suburban city's seas of parking lots and its islands of stadiums and entertainment complexes. The thinking behind the decision to introduce the shuttles sounds a lot like the rationale I cited for opting for new technologies over older public transit modes: they are cheaper and easier to implement than buses and rail.
Although the final transportation plan will include a variety of modes, Mayor Jeff Williams has been clear that he doesn't see big buses and light rail running through the city.

"We have new technology and private companies that are coming forward," Williams said. "I think we will have opportunities to make choices in transportation that will be less expensive and safer."

John Dugan, community development and planning director for the city, said the EasyMile shuttle had no competition in the city's study. "It's the only one in the country right now able to do the kinds of things we want to test."

He said riders will be queried about their experiences to help determine whether to go full-time with the shuttles and whether to expand service to other parts of the city, such as the University of Texas at Arlington and the hotels north of Interstate 30.

"We're not saying this is something we're going to adopt in the future," Dugan said. "But it could play a role in a larger system."
This isn't the first time Arlington has been in the headlines for forward-thinking transportation experimentation. (Whoever thought that sentence would ever be written?) Earlier this year the U.S. Department of Transportation announced that the Mid Cities would serve as a testing ground for driver-less cars. Arlington's role in the driver-less revolution raises an interesting question. Will driver-less cars, buses, shuttle, Uber, and the rest reverse — or perpetuate — urban sprawl? Early experiments in Arlington suggest that, rather than sparking a rethinking of urban form, driver-less technology may be tailor-made for cities like Arlington.