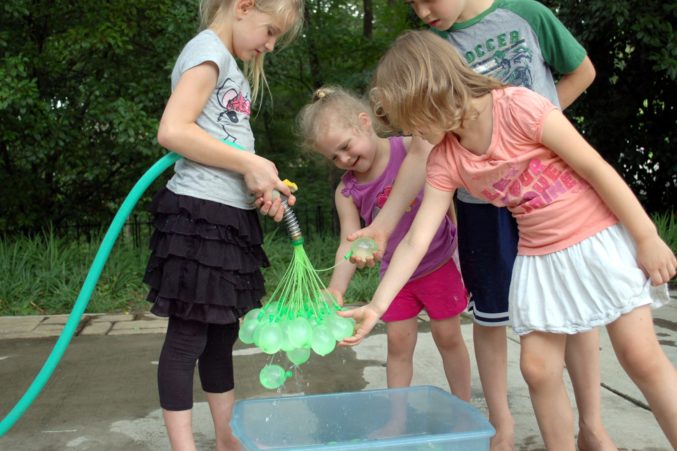 Plano's Tinnus Enterprises is one step further in what's expected to be a long legal battle with New Jersey-based Telebrands over the sale of a water-balloon product that is allegedly a copycat of Tinnus' Bunch O Balloons.
The nearly 3-year-old Plano company, led by inventor Josh Malone, recently won its third preliminary injunction from the U.S. District Court for the Eastern District of Texas against Telebrands. The injunction, if permanently granted, will prevent Bed Bath & Beyond and Telebrands from selling Telebrands' product, Easy Einstein Balloons. The move is the latest step in an ongoing legal battle that started two years ago, when Tinnus first filed suit against Telebrands and Bed Bath & Beyond. Tinnus had been granted two prior injunctions.
"We obtain an injunction that says they can't sell the product anymore," Malone said. "Then, they make a change to the design that they claim doesn't infringe [our] patent, and we have to start the process all over again … They found a loophole to keep it going indefinitely."
A call to Telebrands was not immediately returned.
Tinnus' Bunch O Balloons has generated more than $200 million in retail sales worldwide. The company sells its product, which allows customers to fill 37 self-tying water balloons at a time, in 40 markets including Europe, Australia, New Zealand, South Africa, and Canada. Bunch O Balloons is distributed by Zuru Toys and is Zuru's No.1-selling product.
Although Tinnus has been granted the preliminary injunction, the battle is far from over. Tinnus is still awaiting decisions on three other court matters related to its claims against Telebrands, in addition to the permanent injunction. The first decision will likely come in November in a lawsuit against Telebrands for its second iteration of the product, called Battle Balloons. A trial in another lawsuit, which was originally scheduled for April, is to address Telebrand's first iteration of the product, Balloon Bonanza. That trial was postponed indefinitely after the Patent Trail and Appeal Board ruled in favor of Telebrands' patent challenge and deemed one of Tinnus' patents invalid. The decision is in conflict with the district court and the Court of Appeals for the Federal Circuit, which deemed the patent valid. Malone is appealing the decision. Meanwhile, Telebrands is also challenging two other Tinnus patents. Those trials have not yet been scheduled.
"It's a complete train wreck," Malone said.
To make matters even more complicated for Tinnus, Walmart recently rolled out pallets of Telebrands' Easy Einstein Balloons, Malone said. Walmart is not part of the lawsuit and would have to be addressed separately. Even if Tinnus were to win an injunction against Walmart, the current product likely would not be pulled from shelves by the end of summer, Malone said.
"Once they're out there it's really hard to pull them back," Malone said. "We have to sue the retailers and get an injunction on them. We did this last year and it took us three to four months to get the injunction."
Get the D CEO Newsletter
Stay up to speed on DFW's fast-moving business community with weekly news reports, interviews, and insights.