Yesterday I posted an item about Stream Realty adiosing oak trees in the process of renovating Trammell Crow Center. Stream managing director Ramsey March invited me over this morning to learn more about why they are tearing out the trees and to yell at me for making a mistake in that earlier post.
I'm kidding. March is a nice fellow. He likes trees and says he even reads The Giving Tree to his kiddos. He's such a nice guy that I'm not going to tell you the name of the restaurant that he accidentally told me is going to move into a corner space on the ground floor when the renovations are completed in fall 2018. Nor am I going to tell you the name of of the urban market that is going set up in 3,300 square feet. But I'm not doing that because March is a nice guy. I'm doing that because I don't know the name of the market. He managed to keep his trap shut on that one.
About the mistake I made yesterday: Stream doesn't own Trammell Crow Center; JPMorgan Asset Management does. My apologies.
About the tree removal: I was right about why they're doing it. They want to bring the plaza down to sidewalk level, and the solution they came up with did not accommodate the oak trees. I know at least one city official isn't thrilled, and a Stream employee told me that the tree removal was a bummer that hit close to home. All the oaks at the corner of Ross and Harwood are now gone. The ones at the corner of Ross and Olive will soon meet the same fate. All this, of course, was reviewed and approved by the city and adheres to Arts District regulations. There is a tree mitigation requirement that will be met by Article X standards. The new landscaping plan had been reviewed and approved as required for the Arts District regulations.
The bald cypresses along Harwood are in the right-of-way (aka the sidewalk) and will stand. Stream is planting 43 Allée elms around the property, though there will be a net loss of trees on the Trammell Crow side of Ross. Across the street, where they are building a mixed-used parking garage/residences/restaurants project, they will plant 29 more Allées at street level, plus more trees on the upper level, where you see the pool in this photo of their building model, which I put in my backpack before I left: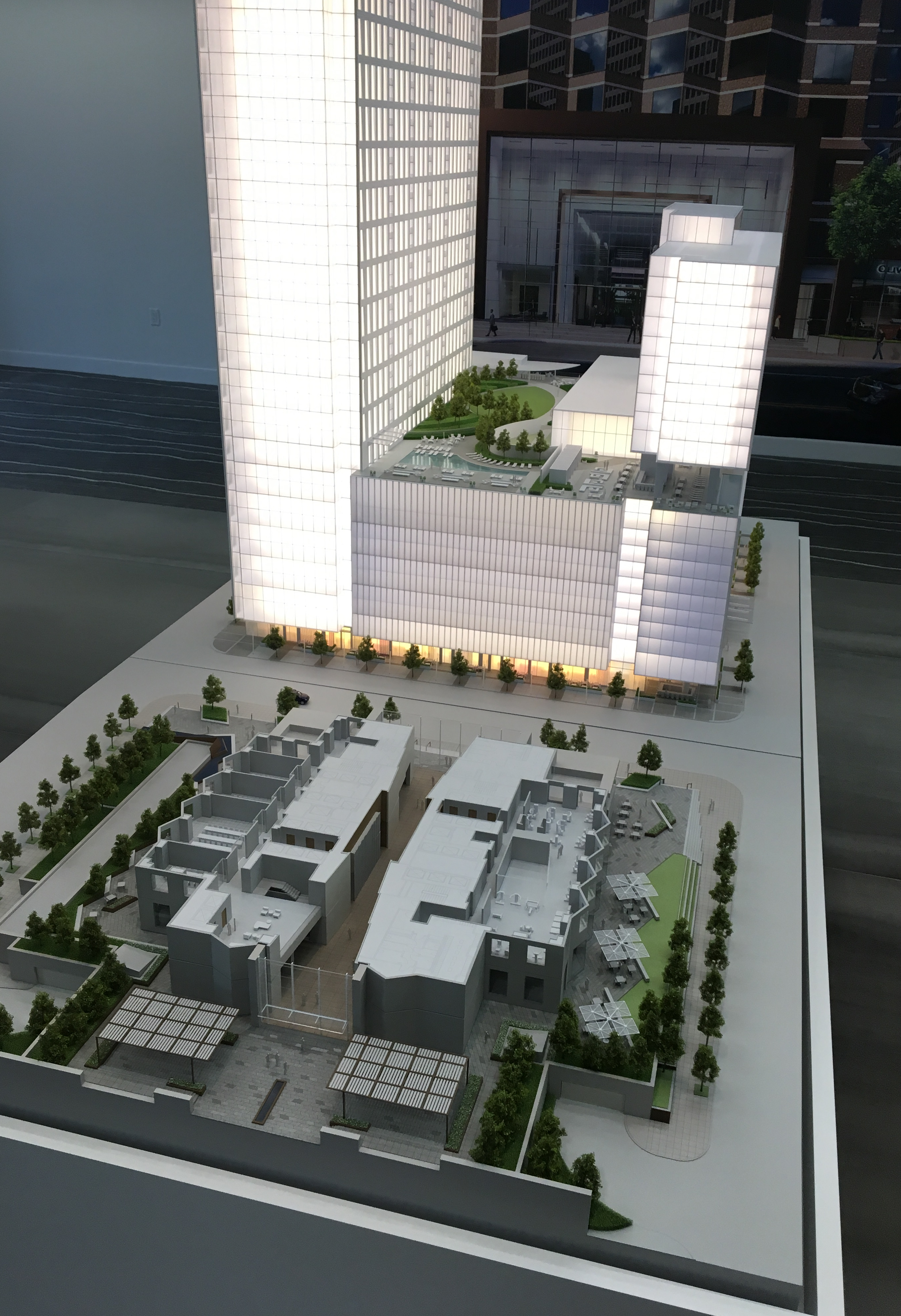 It's an overall $135 million investment in two blocks downtown. I'll miss the oak trees. I wish Stream had found a way to keep them while renovating Trammell Crow Center. But here we are. It's impossible to argue that the future doesn't look better than the past, and I've got this scale building model that I have to live with (kidding, again, as far as you know).
D CEO Real Estate Newsletter
Get weekly updates on breaking commercial real estate news and relevant industry reports.