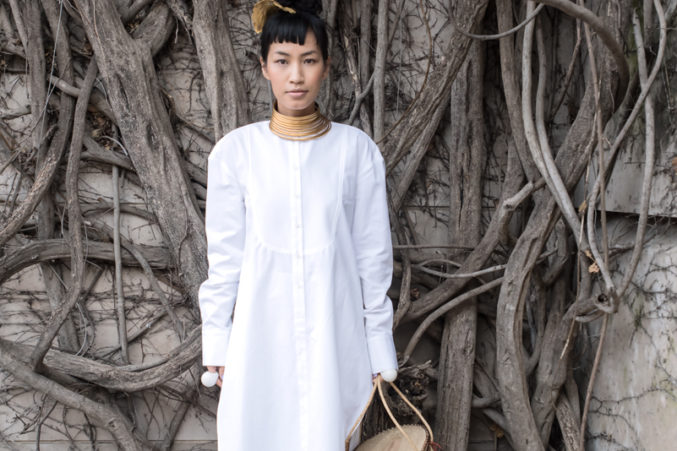 New Podcast: Nini Nguyen on Rihanna's Closet, Refugee Camps, and Sick Style
She schools us on hard work and wide shoes.
For this week's BraBurner, we roped in D Magazine photographer Elizabeth Lavin to chat with stylist Nini Nguyen at Weekend Coffee. It started out with Holland trying to bond about motherhood ("I had a girls' night out once. At Kathy's. We had cocktails. Kids are hard, right?"). But when your guest is jetting off to Joshua Tree to take her 2-year-old to a Rodeo Drive-themed celebrity birthday party, it's kind of hard to relate. Things pick up after that. You can stream the show through the player below or use your favorite podcatcher. The show notes:
1. Nini rocks a bold personal style that mixes vintage and modern and almost always includes a statement hand bauble.
2. She's a fan of Desert Vintage even if, contrary to Elizabeth Lavin's faulty memory, she didn't use any of their stuff in her recent shoot with D Weddings.
3. Rihanna pretty much is the Met Gala. This year she wore a Comme des Garcons creation made of voluminous rosettes. Or wallpaper cutouts. Depending on your point of view.
4. After Vietnam invaded Cambodia in 1978, forcing the Khmer Rouge out of power, tens of thousands of Vietnamese refugees fled by boat to Thailand. The camp leaders were often warlords who controlled access to food and supplies. Additional camps were established in the mid-1980s as military offensives continued, some of which housed as many as 200,000 refugees. Food was rationed and included specific measurements of rice, fish, and vegetables. Little or no education was provided to children.
5. Banana Republic is an international retailer that experienced its heyday in the 1990s and early 2000s. It is also a political term coined by William Sydney Porter, better known as short-story writer O. Henry. In his book, Cabbages and Kings, he described a fictional country based on Honduras as a "banana republic," after the single product the country's entire economy was dependent upon.
6. Sage is Nini's 2-year-old daughter. See her mixing polka dots and feathers and high-low trends here.