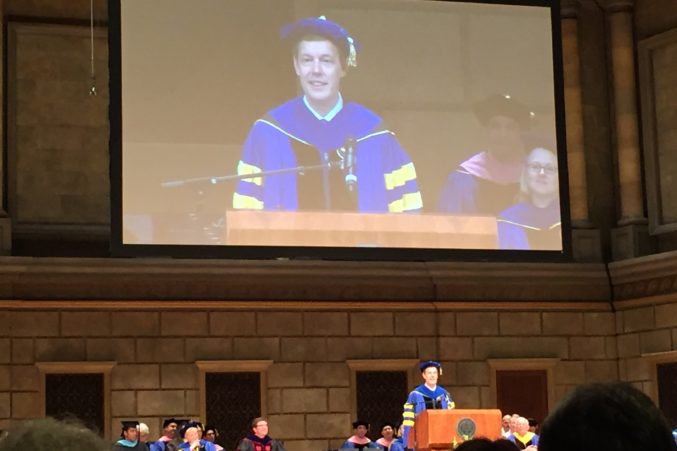 Jake Heggie Wants to Get the Arts Back into Public Schools
The composer, whose opera Moby-Dick debuted in Dallas several years ago, spoke at my sister's Eastman School of Music graduation. It was a great speech.
I was in Rochester, New York, yesterday to see my sister graduate from the Eastman School of Music with a master of music degree in vocal performance. I was already plenty excited to be at the ceremony—to see her walk across the stage, accept her diploma, enter the world of opera hopefuls. But when I was scanning the printed program before it began, I saw that the commencement speaker was a name I recognized: Jake Heggie.
One of the American composer's operas, Moby-Dick, had premiered at The Dallas Opera a few years back. Another, Great Scott, debuted at the Winspear in the fall of 2015. He's sort of an anomaly in the modern opera scene, in that he is successful as a classical composer in 2017. That's pretty much unheard of. Peter Simek wrote about his rise to fame for the magazine two years ago.
In his speech, he talked about things you'd expect to hear from him—how music is essential and essentially optimistic. How he thinks the future of opera and other classical music is brighter than most might assume. How important it is that these students share their talents with the world. He also spoke about how music was his lifeline after his father committed suicide when the kid was just 10 years old.
But he also called for the graduates to help the crusade of getting the arts back into public schools now. Music classes have been cut from core curriculum for some time, and that is hurting education, he said. With a dad who's a pianist and a sister who's an opera singer, I happen to think the arts are pretty darn important for kids to learn and for the world to hear in a society that's so often all doom and gloom.
"Do whatever it takes," Heggie said. "Help those young people find a voice, a chance to make music. Show them what it means to show up for another. You've done the good work—now go out and do the great work."