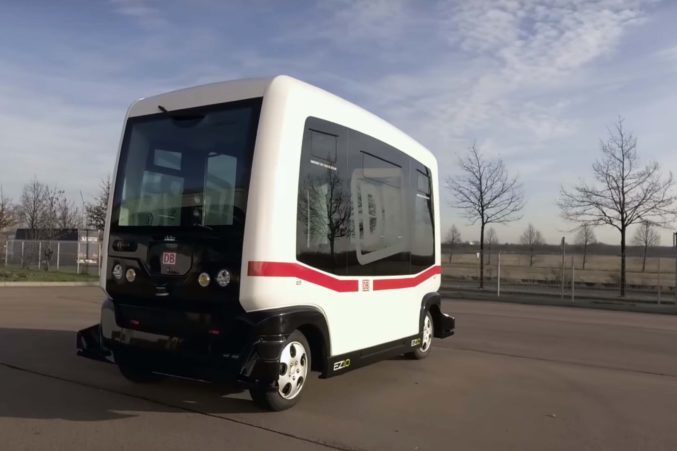 European Researchers Are Reinventing the Rules of Public Transit
Are these small, 12-passenger autonomous shuttles the future of mobility in urban settings?
We've spilled a lot of digital ink in this space going back-and-forth about the future of Dallas transportation and the role public transit may — or may not — play in shaping the future of the city. DART is currently pursuing a menu of projects, including a second downtown Dallas subway alignment and an expanded streetcar system, even as uncertainty looms over whether or not there will be federal funds available to help pay for these projects. But are the decisions we are making today about transit options based on forms of mobility that are on the verge of becoming obsolete? 
I'm not taking (again) about driver-less cars, or at least not about the kinds of driver-less cars that are being tested in Silicon Valley. Those vehicles have the potential of replacing taxis, trucks, and Ubers (possibly putting millions of Americans out of jobs). Rather, there is some intriguing testing being done in Europe that could change the way we think about mobility and public transportation.
The New York Times reports that Deutsche Bahn, Germany's largest train and bus operator, is testing a 12-passenger driver-less shuttles. These vehicles only move 20 miles-per-hour, and they look like big clunky boxes. But they are the first iteration of a driver-less technology that I've seen that doesn't just automate the vehicles we already have, but instead rethinks the form and function of moving vehicles to respond to the potential of new technologies.
In a European setting, you can imagine how this robotic box could revolutionize how people move about. Rather than the big, clunky buses that struggle to navigate through the congested, narrow streets of a European city center, these boxes could offer a transit mode that is more flexible than a bus and yet can carry more people than a taxi.
These kinds of vehicles are being developed all over Europe. Amsterdam is trying to put robot boats on its canals; London has already tested an autonomous electric shuttle on its streets; companies in France and Finland have rolled out multiple prototypes. And unlike the Silicon Valley-vision for driver-less vehicles, which is being funded by some of the world's largest corporations, many of these European projects are being funded by universities and governments that see a future of driver-less vehicles that, as a Deutsche Bahn researcher puts it in the NY Times article, "want to show that autonomous cars don't have to be limited to luxury consumer vehicles, they also have a role in public transit."
While the application of these new technologies to a sprawling metro area like Dallas-Fort Worth may seem less practical, these European autonomous vehicle models could prove useful in offering supplemental solutions that don't require spending decades of planning or billions in tax dollars to some of this city's pressing public transit challenges.
For example, what if, rather than building a new streetcar system, a dozen autonomous shuttles were programed to to follow the routes of the original streetcar system that existed in Dallas a century ago? Or, could autonomous shuttles replace the public transit service's on-demand shuttle service, perhaps making the service more efficient and flexible?  Or, could it allow DART to reduce its bus system coverage by supplementing less-traveled routes with driver-less shuttles, allowing for a reorganization of the bus system to function more like a rubber-wheeled streetcar system with more regular service and more intuitively designed routes? Or, could these shuttles be used to test in a real environment ideas about how different routes or service frequencies could affect ridership?
Regardless of whether or not Dallas preps for the implementation of these kinds of vehicles, the existence of the technology alone suggests that all the rules of mobility and public transit are about to be rewritten. It would seem silly, then, to continue to spend billions on expanding a light rail network further out into the far-flung reaches of the region's sprawl may not be the smartest long-range planning agenda. After all, what many cities like about these new technologies, is that they may be here sooner than we think:
Unlike the driver-less trials from Uber and Alphabet's Waymo, which aim to bring autonomous vehicles to personal transport, a focus on self-driving public transit is a significantly easier challenge. That is because these autonomous vehicles are often limited to operating in the "last mile," to existing public transit, or smaller distances on often well-traveled routes. That reduces the complexity required to make the machines navigate across an entire city.