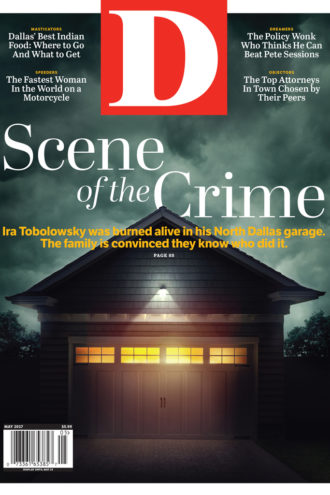 Beginning today, you'll see the May issue of D Magazine rolling out on newsstands. That's it on the left. The name Ira Tobolowsky figures prominently on the cover. I'm willing to bet many of you remember that name. For one, Tobolowsky was a highly regarded attorney who operated for decades out of a small office on Lovers Lane, west of the Tollway. And two, he was burned to death in his North Dallas home just under a year ago, and police have still yet to charge anyone with the crime.
But the family believes they are close: "We are a little bit of evidence short of getting this case taken to a grand jury, getting an indictment, and moving forward with a capital murder trial," says Ira's 28-year-old son, Michael, who now runs his father's practice. "We've been here a couple months or so. The type of information we're looking for we believe someone has out there. We're just trying to reach out and connect with that person."
Michael, along with his siblings and his mother, spent hours with D Magazine writer Jamie Thompson for her cover story, "A Place Where Something Evil Happened." What emerges is a picture of a family driven to get justice, another family torn apart by greed and anger, and an overtaxed police department trying hard to solve a bizarre and unthinkable tragedy but coming up just short. Head to newsstands to read it now. (It'll go online in a few weeks.) But first, I wanted to leave you with how Michael described his father:
"Ira was definitely the type of person who had more personality than you could imagine. He was hands down the smartest person in the room, no matter what room he was in. He was caring, he was affectionate, he was a loving guy. He really was a perfect combination of all the good attributes you would want in a husband, father, friend, everything. He was amazing.

"Dad was actually what I would call an old school lawyer. He was a true councilor, someone who would help you on your business transactions, he'd help you in court, he would help you if you had just a little dispute where you needed some advice. No matter what it was, he was there. After all this happened, I started talking with a bunch of different lawyers. Dad did both transactional and litigation, and I found the transactional attorneys telling me, you know, 'Your dad is a very good transactional attorney, but what he's best at is litigation.' I had the litigators telling me, 'Your dad is really good at litigation but what he was best at was transactional work.' That really made me smile, because it proved he was one of the best at each and every aspect of law that he practiced."
After you pick up the May issue and read Jamie's story, flip one page to learn about the next Floyd Mayweather (minus the ever-mounting legal problems, we pray) under our noses. We'll find out on May 27, when DeSoto native Errol Spence Jr. flies to London to battle International Boxing Federation welterweight champion Kell Brook, who's 36-1. Spence is 21-0, with 18 knockouts, and he's got the eye of people like Mayweather, who had this to say: "The guy that I think that's gonna really make the most noise in boxing is Errol Spence."
Our dining critic, Eve Hill-Agnus, has a pair of important pieces—a review of famed restaurateur Nick Badovinus' opulent temple to beef, Town Hearth; and a guide to the finest regional Indian food in Dallas-Fort Worth, a trip that will take you well beyond biryani and butter chicken. Meanwhile, Michael J. Mooney returns to the pages of D by asking attorneys to explore their most memorable divorce cases. He gets dirt on murder-for-hires, pastor-punchers, stalkers, and more.
In the front of the book, Peter Simek chronicles the troubles of the Fort Worth Opera, and city columnist Eric Celeste has an exclusive profile of the Democrat policy wonk who is convinced that he can knock Pete Sessions from his longstanding congressional seat in District 32.
There's something for everyone. Get to your favorite local newsstand now.
Get the D Brief Newsletter
Dallas' most important news stories of the week, delivered to your inbox each Sunday.