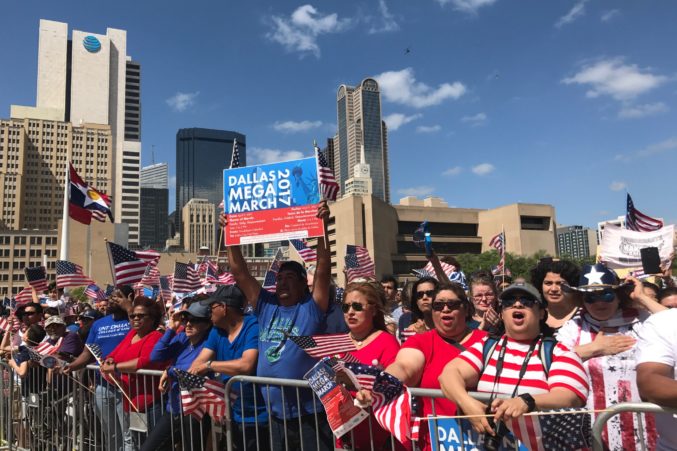 Immigration Reform Leads Thousands Through Downtown Dallas
Organizers anticipated a larger crowd. But the second Mega March made an impact with diversity.
A crowd of a little more than 3,000 made its way through downtown Dallas on Sunday in support of immigrants' rights, more than a decade after the inaugural Mega March brought hundreds of thousands to the city center. Although smaller than anticipated, organizers said they felt the participants were more diverse than 2006's demonstration, with different races and religious background represented.
The 1.5-mile march began at the Cathedral Shrine of the Virgin of Guadalupe around 2 p.m. and ended in front of City Hall, where religious leaders and elected officials addressed the assembled crowd.
Why organize a second march 11 years later? Young people within the community were the incentive, says Rene Martinez, a leader within the League of United Latin American Citizens who helped organize both marches.
"A lot of it had to do with the rhetoric, the fear, the feedback we're getting from kids in schools about the fear that their families face in terms of the issue of immigration, deportation, and separation of families," he says.
LULAC groups have been visiting Dallas ISD high schools to talk about immigrants' rights.
"It's a two-prong attack," he says. "One, we have to demonstrate. The theme of this march is family, unity, and empowerment of rights. What were doing in schools is educating the kids about [their rights.] It's not going to end just with the march."
For Hector Flores, immigration reform should be a natural progression—not a continually contested political issue. The former national president of LULAC sees a benefit to the American—and Texan—economy in keeping American-raised and –educated children here.
"Congress needs to do better; the president needs to do better, and we should all be working together to find a solution to the immigration problem," he says. "There's nobody [who is] native to this country except American Indians," he says. "Everybody came here as an immigrant. But we forget our history; Americans are bad about history."
For some, Mega March 2017 was an extenuation of 2006's march, which drew hundreds of thousands of people.
Freshman state Rep. Victoria Neave, a Democrat of Dallas, was part of that first crowd. Neave, who had recently graduated from college and was about to start law school, marched with her then-undocumented father and mother.
"The issue of immigration is very close to my heart," Neave says. "My dad came over as an undocumented immigrant from a small town in Mexico. He came over with a sixth grade education and a dream, and I feel like that story is similar to millions of others.
"When I hear about the anti-immigrant rhetoric and the attacks on the community, I think people overlook [the fact] that these are human beings."
"I hope that people will think about the type of future we want for our state and our country, and do we want to go down a path that is filled with divisiveness and hate? Or do we want to have a society where we are inclusive and welcoming?"

State Rep. Victoria Neave
Eleven years later, Neave now represents portions of East Dallas and Mesquite in House District 107 and spoke at the march.
"Going back 11 years later, trying to fight a lot of the issues we dealt with back then, I feel a great deal of responsibility to spotlight these issues," she says. "I hope that people will think about the type of future we want for our state and our country, and do we want to go down a path that is filled with divisiveness and hate? Or do we want to have a society where we are inclusive and welcoming?"
Throughout the crowd, there were hundreds of stories of immigration struggles, desires to assimilate into American society, and families grappling to stay together.
Others were there in an effort to show sympathy, encouragement, and support.
Stephanie Coppinger, of Tyler, and Jacci Abbett, of Bedford, were part of Everybody Love Everybody, a Facebook-bred movement that encourages acts of kindness. Founder Chris Bailey started the group after the July 7 ambush in downtown Dallas that left five police officers dead.
Along the route, protestors chanted "The people united will never be divided" and "si se puede," which translates to "Yes, we can."
Dallas police, some on bike and others on horse, were a constant presence throughout the march. Along the route, some officers paused to talk with participants and take the occasional selfie. The American Civil Liberties Union was also present with representatives on hand to watch the interactions between officers and protestors.
Toward the route's end, there were a handful of counter-protestors, proudly holding their American and pro-Tump flags.
But the crowd didn't seem to care, purposefully marching toward City Hall Plaza against the strong bursts of wind.
There, they were met with brief speeches from elected officials and religious leaders such as Omar Suleiman, U.S. Rep. Beto O'Rourke, Dallas County Judge Clay Jenkins, and Martin Luther King III.
As he did in the aftermath of July's ambush on police officers during a Black Lives Matter protest, Suleiman offered memorable parting words.
"I love this land just as much as anyone else, and I love the people of this land even when they don't view me as their equal," he says. "But my American-ness will not allow me to condone or whitewash America's foreign policy. And my humanity will not allow me to empathize only with American tragedy. […] It is only when we embrace the mosaic of a multiracial, multicultural, multi-faith society that we can come to a place of understanding together."