We're told that Ross Perot Sr. is on a call, but suddenly there he is, bounding out of his office with the shrunken ceiling, shaking all of our hands as we stand in some sort of room that doubles as a museum entrance and secretary's office.
"It's sure nice of you to come by, thank you!" he says, introducing himself by his full name to all seven of us. Perot is 86 now, and he still makes his way to the office around 8 a.m. and does rounds, bathing in all the sunlight that pours into the new Perot headquarters. And despite these shiny Turtle Creek digs—a three-story marvel of glass and natural light that houses all of the Perot Co.'s business excursions, from real estate to energy to investments and acquisitions—the elder Perot wanted his office the same as it was in Plano. Exactly. Which meant the ceilings had to be dropped.
"It's identical to what he had," says his son and Hillwood CEO, H. Ross Perot Jr.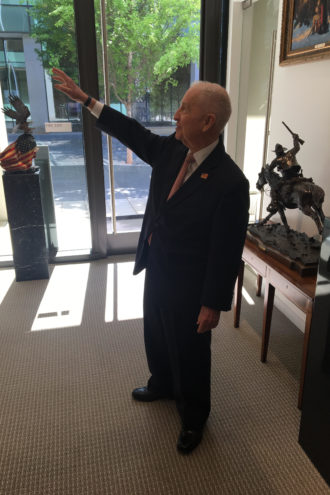 After walking into his office from the connecting room where his longtime secretary holds court, we're asked not to take photos here. But it's almost overflowing with ephemera from Perot's life and the lives of his family members and friends. There is a portrait of George Washington painted by Gilbert Stewart, which you can see more readily on the $1 bill. He keeps a wallet-sized photo of his dear friend Margaret McDermott under glass on his desk: "World War II war correspondent, can you believe that?" There's a framed check for $1,000 that was used to start Electronic Data Systems, which he sold for a couple billion to General Motors in the mid-eighties. "That was a nice investment," Perot jokes. There is a hat that he gave to his father. He tells us the first Bible ever printed in the U.S. is "somewhere out there."
"Somewhere out there" is in the expansive museum that lies just beyond Perot's private office. It is as much a history of the family as it is a history of how he navigated through American culture, leaving his mark on the military and on politics, education and criminal justice. And it is equally reflective of the influence that history has had on him. The presence of the Magna Carta—a copy, mind you—is a reminder of the last remaining edition from the 13th Century, which he bought out of the fear that the British government would sell it to someone unwilling to preserve it. (He sold it for $13 million in 2007, and it is now displayed in the National Archives.)
There is an impressive flag from the U.S.S. Constitution hanging prominently across from the double door entrance, within view of the brass sculptures of all the Perot children. There are military busts, smaller versions of the iconic memorials found in D.C. There is even a small area dedicated to the elder Perot's presence on Saturday Night Live; press a button, and watch Dana Carvey skits for a few minutes.
Anyway—it's not open to the public, and security is a beast (ID's get handed over to a stern looking guard, but they stop short of asking for your social.) So here's the next best thing: a few high-res photos (where we could; Ross Sr.'s office was off-limits) with context verbatim from the father and son Perot.
H. Ross Perot Jr: "This is one of the original flags from the U.S.S. Constitution, 19 stars. A guy called me and a family in Philadelphia had all this memorabilia and they put it out to auction. I bought it and gave it to dad for his birthday. I'm not sure it's leaving this museum for a while. It's found a good home."
Ross Perot Sr.: "That's Col. Arthur Simons, who was the founder of the Special Forces. He's the man who put together the team from my company and went into Iran to rescue the team. The Shah asked us to put a big group of people into Iran to redo their computer systems, then they threw the Shah out and they put my two senior leaders in prison with the stipulation that if the others left, they'd shoot them. Of course the others stayed, but our government would do nothing.
So I called Arthur Simons who'd retired. He came in and picked his team members, some of them had medals of honor. These are guys who fought in a lot of combat. He put them in training, took them over there, and did the largest prison break in history. About 3,000 prisoners got out, our two men got out, but at the last minute he called me from over there and said now, 'Perot, I want you to get a big airplane over here and put it in Turkey. That's 540 miles away. Then I want you to come up here and I want you to go into the prison and tell the guys what we're going to do.'
So I got there, got everything in place, went through the airport there in Tehran, no problem. So I'm sitting there in the prison waiting to see the Shah and a guy named (former U.S. Attorney General) Ramsey Clark, he was over there talking to a guy that ran the prison. But he saw me and started talking to him and pointing to me. I said, 'Oh, hell.' But the guy came over and couldn't have been nicer, I didn't ask him anything. To make a long story short, they did the jail break, the two men got out and they all got back to Turkey, they'd sent me ahead to get the plane ready. They all got home safely, thanks to him.
Ross Jr.: Ramsey Clark thought Dad was Frank Borman the astronaut.
Ross Sr.: He thought I was Frank Borman. Now, Frank Borman is a West Pointer, I'm a Naval Academy guy. But Frank Borman called me after he came home and he says, 'Perot, I gotta meet you. Everywhere I go people stop me and say, 'aren't you Ross Perot?''
H. Ross Perot Jr.: "Through the Depression, my grandmother's house in Texarkana, the hobos—homeless today, hobos then—they'd come by every day and she'd feed them. Then a man said, 'ma'am do you know why we're all here? She says, no I don't.' He said, 'well you're a mark. We've marked your house.' They'd marked an 'X' on her curb saying you'll be fed here. That's why they've all been coming. He asked if she wanted him to rub it off. She said, 'no, these are people down on their luck. I want to take care of them.' That's why we've been involved in food banks. My aunt Betty was one of the founders of the food  bank in North Texas and my sister (Katherine Perot Reeves) is now on the board of the food bank."
Ross Perot is a graduate of the U.S. Naval Academy. He's fiercely proud of his service to his country, and has plenty of memorabilia to show it.
Perot Sr.: "The commandant of the Marine Corps came to see me. I didn't know why he was coming, but they made me an honorary Marine. Hopefully they don't put me in action!"
Perot Sr.: "Oh, I'll never run out of room for these."
In the 90s, Perot's presidential runs reverberated well beyond his home state of Texas. In his museum, you can see handmade clothing and trinkets made by his supporters, watch his quirky infomercials, and see Dana Carvey play him in Saturday Night Live.
Get the D CEO Newsletter
Stay up to speed on DFW's fast-moving business community with weekly news reports, interviews, and insights.