After a year of debate over how and where to build the much-needed second downtown Dallas DART light rail alignment, there is a chance that any dreams of downtown subway will have to wait for a new presidential administration. That's because the preliminary budget the Trump administration presented Congress includes some blanket language that wholesale precludes the federal government from implementing any new infrastructure funding—a problem for DART since the billion-dollar D2 project is contingent on receiving federal funds from an Obama-era "Core Capacity" transit grant program.
Nonetheless, at  a stakeholder meeting yesterday, DART officials said they would continue to move ahead with the plans for D2 presuming that once the raw meat of Trump's budget gets filtered through Congress, the sausage that comes out the other end will include pork for subway building.
Let's hope so. DART's future is contingent on getting the second downtown line built. Currently, it has reached operational capacity as all of its many miles of light rail track run through a bottle-necked transit corridor along Pacific Avenue downtown. You may remember that DART initially attempted to alleviate this bottleneck by attempting to ram through a plan to add a second at-grade alignment through the south of downtown. Community and political opposition resulted in a city of Dallas mandate to put the second line underground. A subway, as opposed to a street-level line, won't disrupt the downtown street grid, inhibit walkability, or impede downtown's continued development.
But, as always, there's a snag. DART's light rail lines mostly run above ground, and so to get into a downtown subway line, they'll have to get underground at some point. DART planners are in the middle stages of figuring out how to make that work, and at yesterday's stakeholders meeting they revealed some rough plans that show where the trains would drop below ground—plans that made some stakeholders uneasy.
That link to DART's plans points to a 113-page PDF. There's a lot of detail in there, but I'll stay away from the technical nitty gritty, the bits about soil ecology, historic sensitivity, rider accessibility, and the other considerations that led DART to narrow their focus on these handful of alignments. Instead, let's just look at two key details.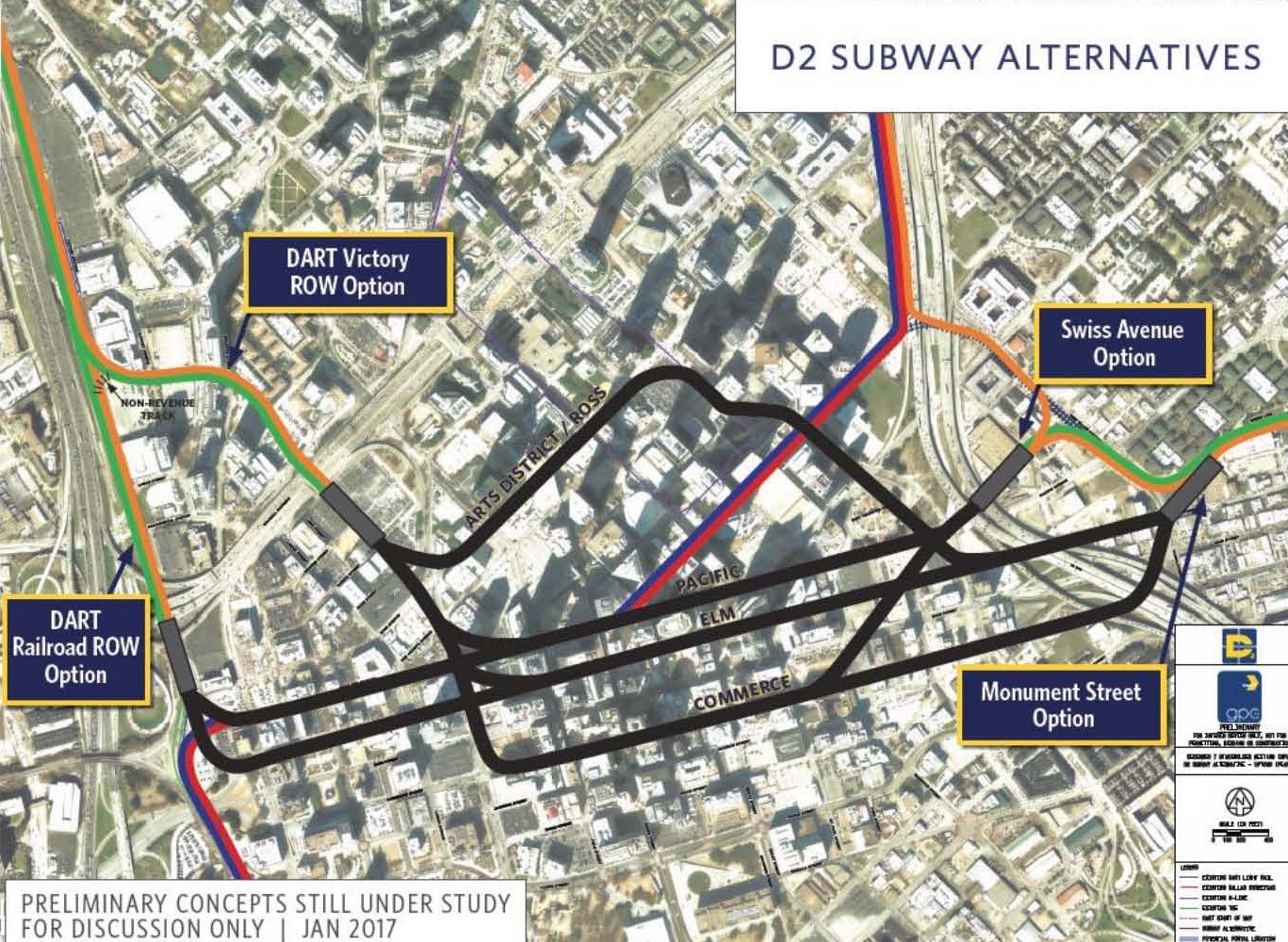 Click on the link and go to page 5 of the PDF. That page shows a map that includes the four corridors that have made the final round of DART's downtown alignment planning process, and it also shows how the transit agency hopes to design the transition points for the rail to get underground. On the west side of downtown, a desire to avoid the sensitive historic area around Dealey Plaza (a spot that is also geologically complicated, which is not surprising since it is near the original river bed of the Trinity) has led DART planners to make the transition from above- to below-grade just south of Woodall Rodgers Freeway near the Perot Museum.
More significant for downtown Dallas, however, are the plans for the underground "portals" on the east side of town.
In the map you'll see that there are three options to take the light rail cars underground in Deep Ellum. DART planners prefer a design that has the rail cars slip into the underground at a spot that currently runs underneath I-345, the "Swiss Avenue Option." This allows DART to construct a "Y" link which they say offers the greatest operational flexibility for the light rail system. The less-preferred routing option creates two portals slightly further east. At the meeting, DART officials said the two portals were not ideal from an operational perspective, and it would cause years of disruption in Deep Ellum during their construction.
Why does this all matter? Well, D2 is not happening in a vacuum. There are currently three major transit-planning processes underway in Dallas. The first is DART's plans for D2. The second is TxDOT's CityMAP program, which includes a comprehensive look at how to route the interstates through Dallas, and downtown in particular. And the third is the city of Dallas' expansion of the streetcar network with a new downtown circulator route. In other words, the D2 planning process interacts with, influences, and could potentially interfere with these other significant transit projects.
When you look at DART's Swiss Avenue portal, it appears to be in direct conflict with any plan to bury or boulevard I-345, an elevated highway that currently serves as a barrier between downtown and Deep Ellum and is a major impediment to downtown's growth. And when you look at the potential alignments of the D2 line, they do not seem to adequately consider how they may complement the potential route of a future streetcar. DART officials spoke of a desire to sit down with TxDOT and coordinate the design of D2 with the scenarios for boulevarding or trenching I-345. They said they wanted D2 to work with the streetcar line. They assured stakeholders they would create a more detailed analysis of how a "Swiss Avenue Portal" would affect future plans to boulevard I-345.
That's all well and good. But what was lacking was a sense that all three projects were being designed in tandem; that the needs and requirements of each were being considered in relationship with the other. In fact, at yesterday's meeting, a stakeholder questioned DART's attitude that the billion-dollar D2 project should "drive" the planning of central Dallas' transit future because of its scale and potential impact. This attitude—prioritizing projects based on scale rather than prioritizing the goals and demands of creating a holistic, multi-modal transit plan for central Dallas—seems to get to the heart of why Dallas' current city plan can feel haphazard, disjointed, and inefficient.
The question is why aren't these three major plans—D2, CityMAP, and the streetcar network expansion—being evaluated, planned, and designed together? The answer is simple: the need for stronger leadership on transit issues.
Each of these individual projects are being driven by separate entities: DART, TxDOT, and the city of Dallas, respectively. Given this, it seems like the only person who is in a position to get out in front of the planning process is the Dallas mayor. What Mayor Mike Rawlings needs to do is to set up a process by which each of these individual projects are coordinated and designed in such a way that they best serve the needs and goals of Dallas mobility, and not the aims of the individual agencies.
Taken together, these projects will shape Dallas for the next 100 years. They are all vitally important for this city's future. History offers too many examples in which this city's leadership failed to get out in front of such major planning decisions and instead allowed important transit policy plans to be driven by city and agency staff whose values and goals do not necessary align with the best interests of Dallas' future. That can't happen this time. If there is any hope in saving DART—that is, in making sure that Dallas realizes its three-decade-old dream of good public transit, of expanded mobility, of all the economic opportunity that come with equitable access to transit—then Dallas needs to get these three projects right.
Get the D Brief Newsletter
Dallas' most important news stories of the week, delivered to your inbox each Sunday.