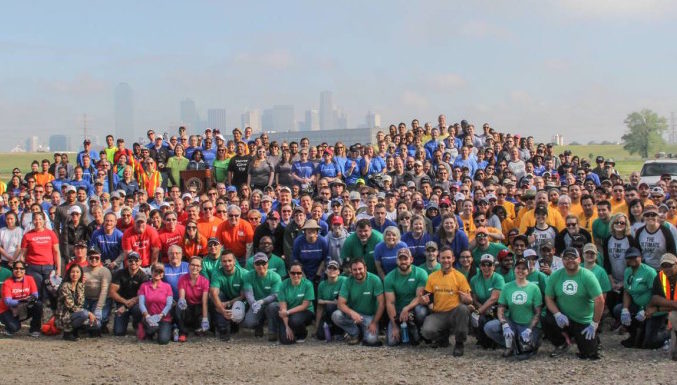 Help Clean Up the Trinity
Get your gloves. Get outside.
Earlier this month, D Magazine held a symposium to talk about re-wilding the Trinity River floodplain and why the latest fantasy "plan" for the river (drawn by Van Valkenburgh) shouldn't lead us to throw away the actual plan that the Army Corps has already approved (the Balanced Vision Plan). Several people at the conclusion of that symposium asked what they could do. How could they make a difference now?
Here's one very direct, very hands-on way to help with the Trinity: the Trinity River Conservation Corps' Corporate Day of Service, which this year falls on April 7. Educate yourself about the issues. Vote in the City Council elections on May 6. Yes, all of that. But you can also pick up trash. More details below. You can sign up here.
The Trinity River Conservation Corps' Corporate Day of Service is April 7, and already more than 100 volunteers have signed up to participate. The day of service will take place within the Trinity River Corridor along the river and Cedar Crest Creek. Corporate leaders, organizations and individuals will remove invasive species, plant native grasses, help pick up trash and participate in a "bio-blitz," which will capture inventory of the biodiversity in the area using an app.

The Trinity River Conservation Corps began in 2013 with a gift from Southwest Airlines to the Trinity Park Conservancy – formerly The Trinity Trust Foundation – to create a volunteer program in the Trinity corridor. Last year's Corporate Day of Service resulted in more than 400 participants and 42 companies and organizations that collected 10,000 pounds of trash and invasive species and made thousands of seed balls to disburse in the corridor.