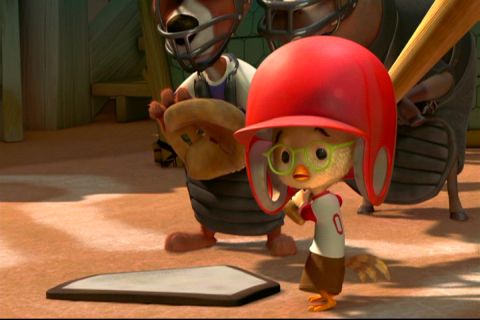 I'm not entirely sure how I ended up down the chicken baseball rabbit hole. I was on UNT's Portal to Texas History, a cool site with more than 800,000 rare and historical items that have been digitized, looking up something Dallas-related. Somehow my search yielded the following result: a news script from WBAP-TV in Fort Worth for an "educated chicken baseball game" that was being unveiled at the State Fair of Texas in 1953. Here is how the "game" was described:
"It's an educated chicken baseball game and the eight educated hens that perform from time to time play strictly for chicken feed. The birds work in a cage next to a miniature baseball diamond. There's a worm on the end of the bat and when the chicken plucks at it, the bat hits a baseball. The bat is powered electrically."
Apparently the trick—aside from educating chickens—was that the bird would only get the chicken feed if the ball hit one of the outfield walls. But the most bizarre bit may be the announcer's take on the attitude of the fowl ballplayers.
"The chicken is optimistic everytime she hits the ball but you notice she doesn't go to the feed trough unless she sees the ball hit the outfield fence. The chicken show has become one of the biggest single attractions at the fair."
Get the D Brief Newsletter
Dallas' most important news stories of the week, delivered to your inbox each Sunday.