By day, 25-year-old Brandon Warman is the co-owner of Handground coffee grinders. By night, he's toiling away making miniature replicas of city skylines to scale—specifically, every inch of the figure equals 500 feet IRL. The SMU grad started by modeling downtown Dallas and produces the 2.25-inch-tall figures with a 3D printer in his Farmers Market District apartment.
I asked Warman for all the geeky details and this is what he wrote:
There are 76 structures in the Dallas model. It took me about two months to build the skyline working at night. Probably a total of 50 working hours. Each 3D printed skyline then takes approximately 10 hours to print. Right now I print with a bioplastic made from a number of plant products including corn, potatoes, and sugar-beets. It is environmentally friendly and can be composted at commercial compost facilities. I am also experimenting with some metal and carbon fiber-infused plastics that I think will be really popular.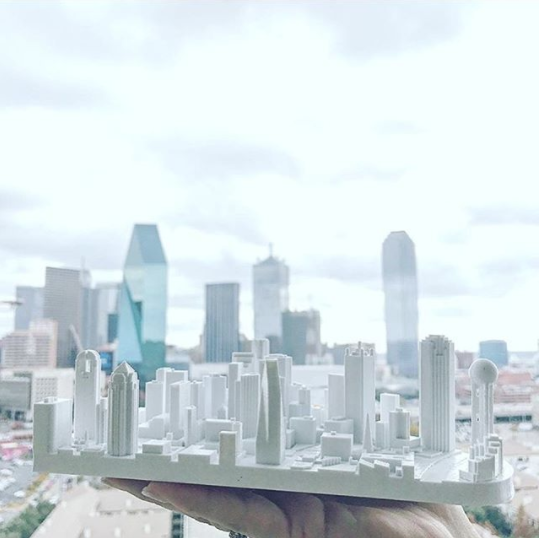 Warman started the project last year purely for fun and posted a picture on the Dallas Reddit. "It got so much attention that I had to create an Etsy listing to make it easier to handle the incoming requests," he says. He has since created a Fort Worth model and sells both skylines for $33. A survey on his website will determine which city he and his recently-hired team of four interns tackle next.
So if you've been wondering what to get you're city-loving beau for V-Day, it's now an Easy D.
[Update: You can also check out Warman's skylines in person at the uber-awesome DMA gift shop, where they are sold for $35.]
Get the D Brief Newsletter
Dallas' most important news stories of the week, delivered to your inbox each Sunday.