The Trinity Project: The Gravel Belt
Essay 4 of 10
By Laray Polk
Published in FrontBurner
October 13, 2016
8:25 am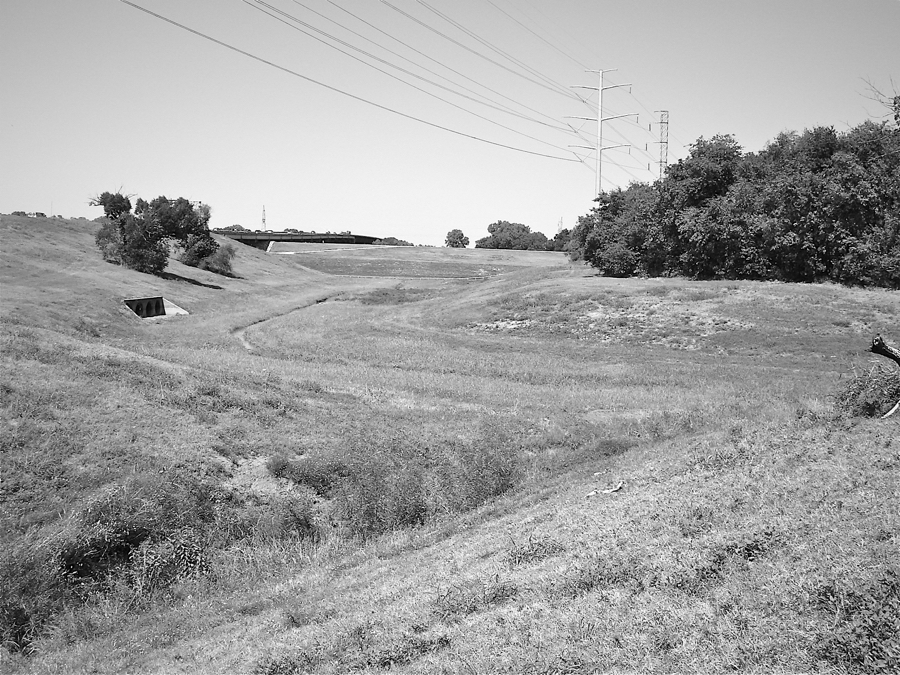 "Dealers report they have all the business they can care for and all gravel pits in the vicinity of Dallas are being worked to full capacity," trade journal Pit and Quarry reported in 1921. That year, the city was constructing 30 miles of hard-surfaced highway called "the belt line," meant to encircle the city and join all the cardinal highways "as the spokes of a wheel from a hub." The cost: $6,000 a mile.
The original Belt Line Road is a bargain when compared to the cost of the proposed Trinity toll road. The 9-mile stretch is projected to cost $167 million a mile. While the two projects are separated by almost 100 years, they tell a similar story about the hidden costs of building a modern city.
A city requires infrastructure to meet the demands of a growing population, and to build the physical aspects of infrastructure requires raw ingredients, such as a variety of rock. While rock can always be mined and transported from other places, it can also be mined close at hand if a city or county has that sort of endowment. (Dallas County has bedrock and alluvium in large measure.)
A city also needs another type of infrastructure, the kind that is invisible to the senses; a system for disposing all of the daily waste. In Dallas, these two types of infrastructure — roads and waste disposal — have been on a collision course for some time. The only hope for a clean city and a decent river is to begin to understand the area's natural endowments (geology, hydrology) as well as the history of waste disposal practices in Dallas. A good place to begin is near the beginning, when Dallas was a sea floor, and marine waters were rising and falling.
Some 90 million to 70 million years ago, sediments were deposited that would eventually form the city's bedrock. The Eagle Ford shales came first, as layers of mud settled in waters about 600 feet deep. Next came the Austin Chalk­­, calcareous rock formed from broken pieces of older rock, mollusks, bivalves, sea urchins,­ and clay­. Locally, outcrops of Austin Chalk are often referred to as "White Rock."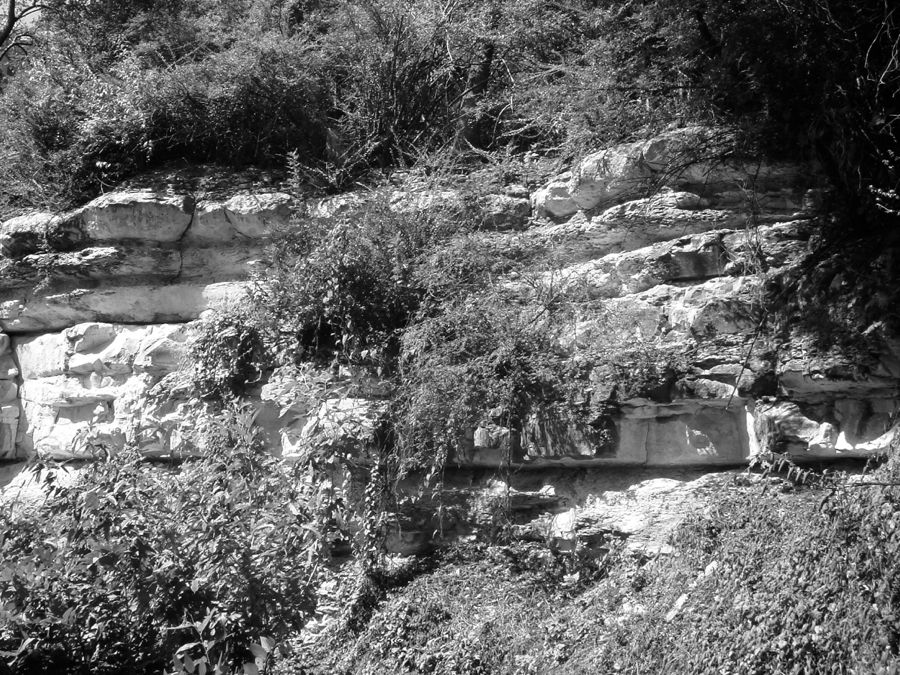 Next came stream deposits, called alluvium, as the sea retreated and temperatures warmed during the Cenozoic era. Deposits of silt, clay, sand, and gravel were left by flowing streams when water levels were high. The process of water pounding rock as it moved downstream formed rounded, nearly identical pebbles of sand and gravel.
Caches of alluvium found along rivers and deltas are indicators of ancient floodplains, and in Dallas County, deposits are found along the Trinity River and its tributaries in wide belts ranging from 1 to 5 miles in width. With each successive flood event, an alluvial terrace was created. Bob Slaughter put the number of terraces in Dallas County at five (T-0 through T-5). He found the fossils of the Moore pit fauna at T-2.
"Almost one-sixth of the area of Dallas County is covered by stream deposits," Ellis W. Shuler wrote in 1918. Shuler — the SMU academic interested in fossil elephants — thought the alluvium could be turned into beneficial "economic products." To that end, his geological maps and surveys of Dallas County told commercial interests exactly where to mine.
The years that followed are best summarized by the title of a thesis from 1971: "Reclamation of Sand and Gravel Mines in Dallas and Tarrant Counties, Texas, For Recreational Use." According to the paper's author, M. Tylor Probasco, "Texas leads the nation in lands disturbed for sand and gravel production" and the "need for reclamation of mined lands in Texas is obvious." Ideally, wrote Probasco, reclamation should happen in tandem with extraction operations or soon after they had stopped because "depleted mine sites often invite the non-regulated dumping of garbage, construction materials, junked cars, and so forth. Such misuse endangers public health and safety, as well as promoting a condition of ugliness."
Dallas partially went that route, that is, turning pits into parks. But the journey to reclamation — which is still ongoing — has been a long, costly one because of an arrangement the city made with property owners in the 1950s. Details of the arrangement can be found in a 1973 report conducted on behalf of the U.S. Department of Commerce titled "Dallas' Municipal Solid Waste Management System: A Case Study." In the report, 10 landfills are named that legally operated under the city's state-issued permit.
All 10 landfill sites, as aerial photos attest, were former sand and gravel operations. Nine of the 10 sites are located in close proximity to the Trinity River, referred to in the report as Walnut Hill, South Loop, Second Avenue, Pinnel, Kiest, Elam, Davis City, W. Dallas, and Linfield. The report also mentions the arrangement the city had with owners: "All sites are located on private property, usually at no cost to the city, because most owners desire the fill. All disposal operations, however, are the responsibility of the [city] Disposal Division."
The landfills might have operated under a municipal solid waste license issued by the Texas Health Department, but everything went into the holes carved out by commercial mining. A short list includes: tires; demolition debris; insulation; asphalt shingles; abandoned automobiles; jugs and bottles labeled "sulfuric acid" and "nitric acid"; 55-gallon drums; syringes and other medical waste; RCRA-8 metals (arsenic, barium, cadmium, chromium, lead, mercury, selenium, silver); thallium and beryllium.
Between 1965 and the late 1970s, federal laws for proper waste disposal practices were being written and amended, such as the Solid Waste Disposal Act of 1965 and the Resource Conservation and Recovery Act of 1979. At least at the federal level, politicians and agencies understood that the Industrial Revolution had come at a price. Waste disposal practices had to change; and Dallas was slow to adapt.
To make matters worse, liners weren't consistently used. As a result, leachate from waste infiltrates soil and water resources (these conditions have been partially mitigated at some sites). And contrary to the 1973 report that describes the arrangement with private property owners as coming "at no cost to the city," taxpayers continue to pay in a variety of ways.
First, there's the city's purchase of degraded landfill sites from present owners at an inflated price. As one example, in 2008 the city paid Weir Brothers Partnership $2.6 million for the Linfield site. The total market price on tax rolls for the 111-acre site years prior to the sale had been a steady $47,330.
The city also shoulders the costs of environmental cleanup, most often because it's mandated at a federal or state-level and/or necessary to bring a site out of the 100-year frequency floodplain. With the Elam and South Loop landfills, the city entered a voluntary program after receiving a Notice of Violation from the Texas Commission on Environmental Quality in 2006. The cleanup of both landfills is estimated to cost $12 million, with an additional $6.2 million spent on acquiring property from the estate of Metropolitan Sand and Gravel. Next fall, the Elam and South Loop sites will open as the Trinity Forest Golf Club.
Finally, there are the costs associated with remaking the larger sites into profit-making municipal assets managed as public-private partnerships (the golf club is a public-private partnership, but the city has said it's only paying for the remediation). The Walnut Hill landfill, now known as the MoneyGram Soccer Park at Elm Fork, cost a total of $33.2 million: $18.1 million for land acquisition and $15.1 million for environmental cleanup, design, and development.
When asked for a larger cultural context of trash disposal practices in the 1970s, University of Houston history professor Martin Melosi said in an email there wasn't much of "a national hubbub over hazardous/toxic waste until Love Canal in 1978." He said there were big debates over available landfill space then, and late in the decade "serious questioning of the value of waste-to-energy incinerators." "Were cities always being smart about disposal practices? The answer is no, but linking disposal to hazardous waste issues was much more intense in the 1980s."
The McCommas Bluff landfill, presently the city's largest dumpsite, didn't begin operations until 1980, though development of the site began in the 1970s — all signs the city knew it had to initiate a plan for increased disposal capacity as well as establishing better controls on what went in the holes. McCommas Bluff, like the other nine landfills named in the 1973 report, is a former gravel pit in close proximity to the Trinity River, and it was also acquired from Metro Sand and Gravel. The city paid $2 million for the site through forced proceedings four years after it was clear the barge canal would not be built.
[Editor's note: an explanation of the Trinity Project can be found here.]