When you see the world's best golfers grabbing a snack between holes at the Ryder Cup this week, chances are they'll be munching on granola made by Dallas entrepreneur Julie Fox. At the PGA's request, Fox and her husband, Mike, hauled a carload of her cinnamon-vanilla bean and cacao-coconut treats up to Hazeltine National Golf Club, in Chaska, Minn., a suburb of Minneapolis, to stock the Team USA locker rooms, family room, team room, and hotel. It has been a dream come true for the Foxes, who are big-time golf fans. "When you find out all these guys you're a fan of are fans of what you do, it's the coolest thing," Julie says.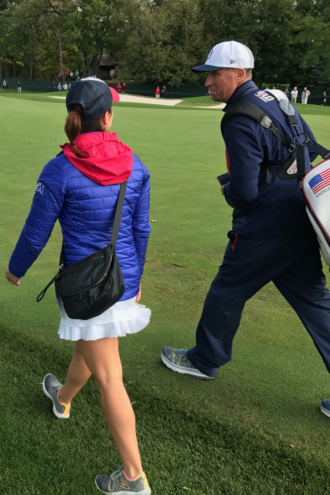 For those who don't know, the Ryder Cup is a golf tournament between 12-man teams from the U.S. and Europe. It's held every two years, alternating between American and European courses. The 2016 tournament kicks off tomorrow at Hazeltine with more than 250,000 people expected to attend.
I caught up with the Foxes on the course yesterday to get their story. Julie began making the granola after Mike was diagnosed with Barrett's Esophagus, a pre-cancerous condition, last December. "We just started looking into what causes it and what you can do on a daily basis to make sure it doesn't progress into something worse," Julie says. "We found that diet change is a big part of it. So we gave up grains, dairy, processed foods, refined sugars, and went Paleo."
They had a hard time finding snacks that fit the "caveman" eating plan. "When you start looking at labels and analyzing what's in a lot of things on the store shelves, there's really not a lot of 'clean' food — especially snacks," Mike says.
Julie didn't want her husband to feel like he was on a diet for the rest of his life, so she began making nut butters and grain-free granolas at home. Mike encouraged her to try to start selling the snacks. She began packaging them and came up with the Julie's Real brand.
"We just started giving it to people to try, and some of the first people we gave it to were the trainers at AMPD," says Julie, referring to the Dallas-based golf fitness center. After giving them a try, AMPD founder and CEO Damon Goddard, who trains Jordan Spieth, reached out to Julie on Instagram. "He told us it was the type of thing he wanted his players eating, because it's clean and gives them sustained energy during a round of golf," she says. "That's kind of where this whole PGA thing started."
Getting Spieth on board was key; the Byron Nelson golf tournament was a big deal, too. The Foxes got the Julie's Real snacks in the locker rooms, tour vans, and other places where they thought the golfers might give the granola a try. One day on the putting green, Jimmy Walker's caddy, Andy Sanders, asked Julie what her "Julie's Real" T-shirt meant. He said he followed a Paleo diet, too, and asked for some of the grain-free granola. "Jimmy was standing there, and I asked him if he wanted to try it, too, and they told us they thought it was amazing," Julie says. "Jimmy Instagrammed about it that night. A few days later, we saw them again at the Colonial, and Jimmy said, 'We have to have this stuff in our bag every week.' Now Andy has my logo on his collar, which is so cool."
When the PGA asked the Team USA players what they wanted to eat during the week of the Ryder Cup, so many of the guys requested Julie's Real products that the PGA got in touch with Fox and asked her to stock the facilities.
Closer to home, Julie's Real products are available at Royal Blue Grocery at Highland Park Village and other specialty shops, juice bars, and coffee shops. They're also available at the Four Seasons in Las Colinas and at Grayhawk Golf Club in Scottsdale, Arizona. And they're sold online. The granolas go for $4.95 a pack and are also available by the case. The nut butters (four flavors) sell for $14 to $15.75 a jar. They'll soon be available at local Whole Foods stores.
Julie makes the products out of a commercial facility in Dallas. With demand taking off, she's scaling up production and recently left her job as a speech pathologist to concentrate on Julie's Real full time.
Having the backing of the PGA pros has been huge. "They've been so encouraging and supportive," she says. "I feel so fortunate to be in this spot."
Get the D CEO Newsletter
Stay up to speed on DFW's fast-moving business community with weekly news reports, interviews, and insights.