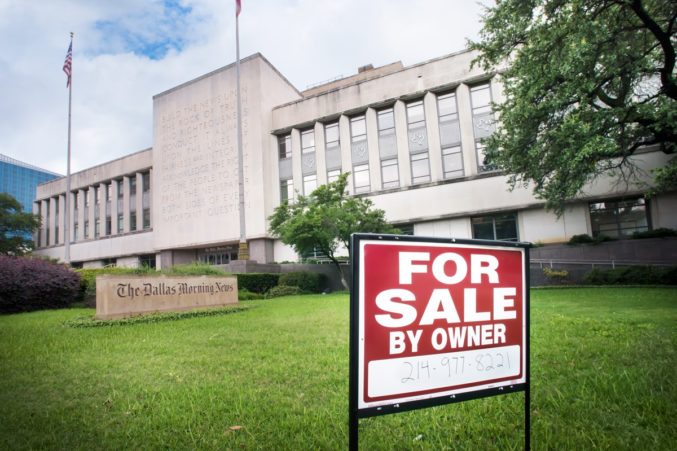 I Still Wonder If the Dallas Morning News Is For Sale
Because some investors have made it known they really, really hope it's currently on the market
This has nothing to do with the paper endorsing Hillary Clinton, which seems to be all anyone wants to talk about in my social media stream today. That fact is surprising only to those who don't pay attention to the turnover on the editorial board, which is decidedly more liberal than it's been in decades.
No, I'm still interested in the paper's efforts to move offices, sell its building, and possibly even sell the paper itself.
Last month, the Dallas Morning News held an earnings call with analysts to discuss the paper's second-quarter results — which were pretty okay, if you're a fan of marketing services. In other words, the paper's marketing companies showed growth, revenue for the paper from print advertisers was basically flat, and revenue from people wanting copies of the paper continued to decline, surprising no one.
Poynter breathlessly suggested that the paper's second-quarter results were evidence that Jim Moroney's plan — diversify the revenue streams, sell off extraneous assets, focus on digital, de-emphasize print, cut costs — was working. I don't disagree, and have said so for a long time. This plan is solid. But I said in a recent column that I think the plan has done about all the good it can do, and that it's time he and other-majority-shareholder Robert Decherd think about selling the paper.
To that end, I'd like to ask Moroney a few questions that analysts did not during the August earnings call (which I could do via call or email, but it's more fun — nay, MORE DIGITAL! — this way):
• What did you think about the letter that some investors sent to the A.H. Belo board of directors prior to said earnings call? That letter, as I'm sure you're aware, questioned whether being a public company made any sense given that you can't really grow a one-property newspaper company. Do you agree with that contention — and isn't that, for all intents and purposes, a strong request to sell?
• Also, do you agree with another central point of the letter: That the way A.H. Belo reports its earnings — i.e., not giving investors enough fine detail — doesn't allow said investors to really know the value of the paper in a marketplace that is rapidly consolidating?
• Given that you have said that the paper is not in acquisition mode right now, is it safe to assume that you are aligned with these same investors who asked the board not to approve any more digital-company acquisitions until stockholders could get their arms around the business as it was currently configured?
• Do you agree with the idea that, as one investor told me, the paper's sale should not be predicated on the ongoing efforts to sell the DMN's building? Do you agree that this is because, as it was explained to me, "the company is never going to be as valuable as it is today; it loses value every day." Meaning, again, that you should be working to sell the paper right now, right?
• Speaking of that property sale and a potential move to new offices: I'd heard that of the three office buildings being reviewed (story broken by Candace Carlisle at Dallas Business Journal), Thanksgiving Tower is very much the leader in the clubhouse. Is that true? And wouldn't it be fair to say that none of these choices reflect the stated desire to move into a more modern, hipper joint, the better to attract young smart cool urban kids to the profession. (The other candidates, according to Carlisle, are One Main Place and Bank of America Plaza.) And do these rather obvious, boring options reflect what I'm told is your frustration that the board isn't green-lighting the money you think would be needed to create that modern, hip digital workplace in a cool, hip building/environment?
I have other questions, but that's enough for today.