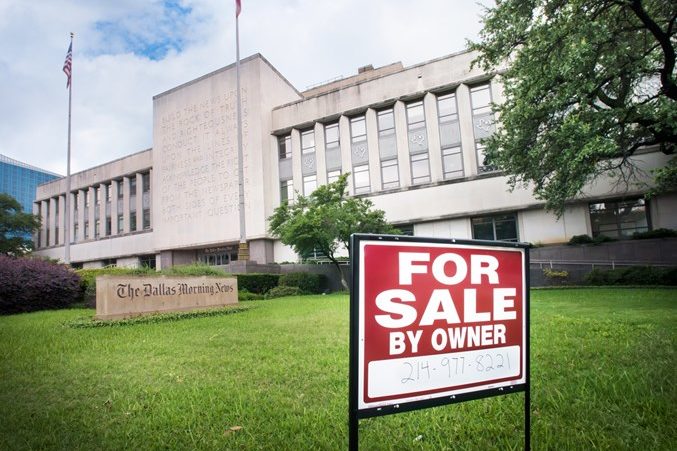 Gannett Wants to Buy the Dallas Morning News
The country's biggest chain would take over our locally-owned newspaper.
The New York Post is reporting that Gannett, the publisher of USA Today and the largest newspaper chain in the country, might want to add the Dallas Morning News to its portfolio by buying A.H. Belo:
In July, Gannett — America's biggest newspaper publisher — continued to get bigger, buying the Bergen Record for around $40 million. Part of Gannett's strategy calls for inserting a smaller edition of the USA Today in many midsize city papers.

Gannett has scheduled a special board meeting next week, a source said, who did not know what was on the agenda.

A.H. Belo Chairman and Chief Executive James Moroney, who has been publisher of the Dallas Morning News since 2001, would like to sell, the source said.

He recently received interest in buying A.H. Belo's 8 acres of Dallas real estate, but did not want to sell, the source said, indicating a larger deal may be in the works.
"A bid is certainly in the realm of possibility," a Wall Street newspaper expert said.

"The person Gannett would need to convince is not Jim Moroney, but his cousin Robert Decker, who owns twice as much stock. Another pillar of Dallas, Decker's sister Dealey Herndon is on the board and would also have to be amenable to a sale," the expert said.
Should we question the Post's reporting because they can't get Robert Decherd's name right? Regardless, I seem to remember reading somewhere that the Dallas Morning News owners are preparing themselves for a sale.
If Gannett is the lucky suitor, I guess maybe we have more full-color graphics, shorter stories, and emoji commentary on front-page stories to look forward to. Of course the most significant aspect of this is Dallas losing local ownership of its daily newspaper.