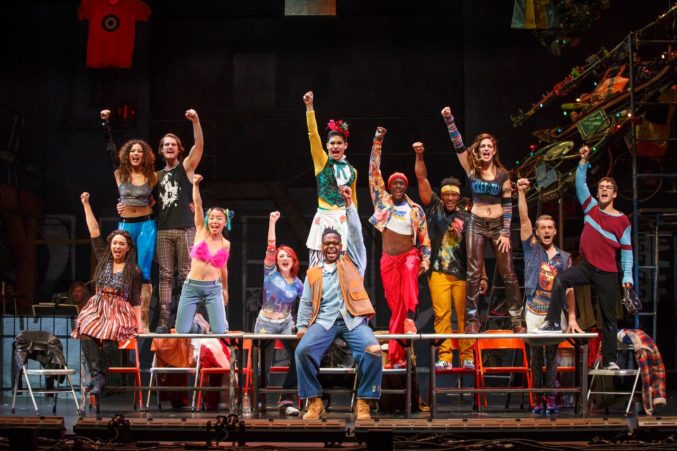 10,519,200 Minutes
Rent is in Dallas on its 20th anniversary tour. I remember its first season of love.
Jonathan Larson's Tony-winning musical, Rent, opened on Broadway in 1996. I was a legal intern at the NOW Legal Defense and Education Fund in New York City at the time. It was pretty much before the internet and email and smartphones. I would walk from the Tribeca office to the New York Law School Library on West Broadway to do research, with a pocketful of dimes to make copies of case law. I'd overhear the receptionist phoning Judith Lichtman, the director, to let her know that "Hillary" was on the phone, and listen to Judith ask her about how Chelsea was doing in school.
I had a public interest stipend of $1,000, so I would have been in a tenement for the summer if it weren't for The Webster Apartments on West 34th, one of the most ingenious gifts ever given to young working women. Charles and Josiah Webster, cousins of Roland H. Macy, the founder of Macy's, sunk a portion of their fortunes in a nonprofit apartment building intended to provide food and cheap, safe lodging to single women coming to New York City in the 1920s to make their way as sales clerks. They funded it well; it still exists, in exactly the same form, with exactly the same purpose. There's a gorgeous "Green Room" overlooking a manicured back garden, a library, a dining hall, and private receiving rooms where ladies can entertain male guests, who are still not allowed past the front hallway.
I didn't have a cell phone, so I'd have to wait for one of the public phones in the lobby to call my girlfriend, Melissa, at her sister's house in the evening. But mostly, to save money, I wrote her letters. Every day.
That summer, Rent was already getting a fair bit of buzz, but I managed to score a couple of discount seats in the farthest corner of the topmost row, and I convinced Melissa to leave her firm job early on a Friday to fly out for the weekend. I figured I could sneak her upstairs to my room.
It's hard to describe what the show was like then. This was before Will and Grace, before the episode of Friends with the lesbian wedding, before Ellen DeGeneres came out. It was before Glee and Enchanted, before anyone knew who Jonathan Larsen or Idina Menzel were. It was before 9/11, before YouTube, before Snapchat, before Airbnb. It was before gentrification cleaned up Alphabet City. It was when craft breweries, yoga, yogurt, and huevos rancheros were still counterculture enough to be part of the lyrics of "La Vie Boheme."
I have tickets to the show at the AT&T Performing Arts Center on Thursday. It has been just over 20 years since I saw Rent for the first time. My girlfriend is now my wife. We got married at the City Clerk's office in New York City because at the time, in 2013, we couldn't legally do it in Dallas. But when we had the after-party at our Oak Cliff bungalow, catered by Easy Slider, a friend sang "Seasons of Love." Melissa sang along to every word. On Thursday night, I'm sure she'll do the same.