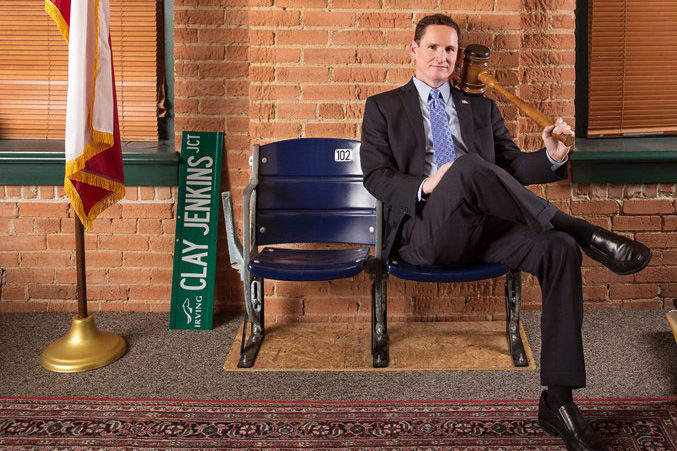 Judge Clay Jenkins Wants to Lower Your Taxes
The county judge says the middle class is getting hit hard.
I got a bit of a shock this year when I received my valuation from the Dallas Central Appraisal District. If you live within DCAD's boundaries, you probably felt the same thing. Lots of valuations went up. The DMN did a great job analyzing how those increases hit hardest the middle class.
So I was interested to see an email from Judge Clay Jenkins, Dallas County's chief executive. He's a liberal Democrat. Always trying to use government to help the less fortunate, often at the expense of taxpayers. I mean, it wasn't that long ago that Jenkins wanted Dallas County to house and care for child immigrants. Yet here's this email going around in which Jenkins is making the case to lower our taxes. Or, rather, lower Dallas County's tax rate. Same difference.
Here's the email from Jenkins. You should read it. And then you should send your commissioner an email and let him or her know that you read it. 
The real estate market is hot in Dallas County, and appraised values have risen over 10%. These are signs of a strengthening and growing economy, but unless local government cuts the tax rate, this year will be the largest tax burden increase in our county's history! The steep increases in valuation are putting tremendous pressure on renters and homeowners. Average monthly rent on a two-bedroom apartment in Dallas County rose from $967 to $1,101 this year. Unlike past years, the highest percentage appraisal increases are hitting homes valued at $250,000 or less!

Fortunately, we can fully fund our budget priorities AND give meaningful tax relief. If tax relief is important to you, the members of Commissioners Court need to hear from you.

The Commissioners' contact information is below:
District 1 Dr. Theresa Daniel [email protected]
District 2 Mike Cantrell [email protected]
County Judge Clay Jenkins [email protected]
District 3 John Wiley Price [email protected]
District 4 Dr. Elba Garcia [email protected]

The first of two required public hearings on the tax rates will be held next Tuesday, August 16 at 9 am at 411 Elm Dallas Texas 75202. In order to speak, you must register by 4:00 pm on Monday, August 15 by calling (214)653-7165 or signing up online at http://www.dallascounty.org/department/comcrt/speakers.php. Your opinions are respected and important.

I hope community leaders will contact the commissioners with their thoughts before the August 16 hearing and sign up a spokesperson(s) to attend the hearing. The second required public hearing is September 6, 2016.

Below is more detailed information and my proposal for tax relief.

Tax values went up 10.07% in Dallas County. This is the largest valuation increase ever. Without tax relief, it will be the largest tax burden increase ever.

COUNTY TAX RATE

I'm proposing the county tax rate be set at the effective rate, which would effectively generate the same amount of tax payment from each taxpayer on average as last year (0% increase). The new county rate would be 22.638 per $100 valuation, down from the current 24.31.

The effective rate fully funds all budgeted items and provides a 3% structure raise to county employees. This pay increase is possible due to new construction being added to the tax rolls. The Commissioners Court has five members. Commissioner Mike Cantrell supports the effective rate; however, a third vote is needed for tax relief.

PARKLAND TAX RATE

Because of changes in state and federal funding and obligations to bondholders on the new Parkland Hospital, it is unlikely the Commissioners Court will take Parkland to the effective rate. We can fund Parkland's budget and provide tax relief by reducing Parkland's rate from 28.6 cents per $100 valuation to 27.94 to capture the budgeted amount before the unexpected property valuations were released. This is the same percentage the City of Dallas is proposing in their tax reduction effort.

If we are going to fund our priorities and pass property tax relief, we are going to have to work together. I hope you will make your voice heard.

Thank you for the opportunity to serve and for any help you can give to pass meaningful local tax relief this year!

Sincerely,

Clay Lewis Jenkins
Dallas County Judge