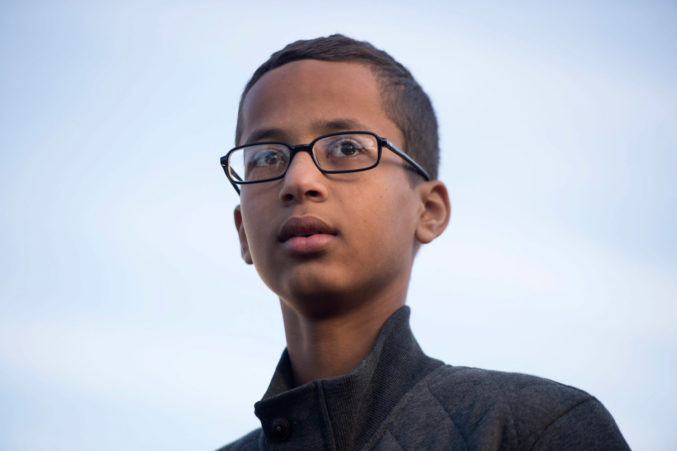 'Clock Boy' Ahmed Mohamed Files Lawsuit, Shows Off His Clock
His family alleges federal civil rights violations.
You'll no doubt remember Ahmed Mohamed, the Irving high school student who was arrested for bringing a bomb to school even though he'd only brought a clock to school. The incident last year spawned a hashtag — #IStandWithAhmed — and resulted in a slew of media appearances by Ahmed and his relocating to Qatar.
Today his family filed a federal lawsuit against the school district, MacArthur High School principal Daniel Cummings, and the city. The suit is a civil rights claim alleging that school and city officials' actions were motivated by anti-Muslim sentiment that's especially strong in Irving.  (There have been other incidents to support such a claim about the community.)

I guess as part of a promotional tour for the lawsuit, the Mohamed family was meeting with media this morning. Ahmed showed off his clock:
Ahmed showing off the clock he brought to school – and how he made it. @CBSDFW pic.twitter.com/qAKdFmlPDI

— Jennifer Lindgren (@JLindgrenCBS11) August 8, 2016
Seeing Ahmed's device again, I'm reminded that he probably didn't make a clock so much as take the innards out of one and put them together in a different box. Still, didn't deserve to get handcuffed.