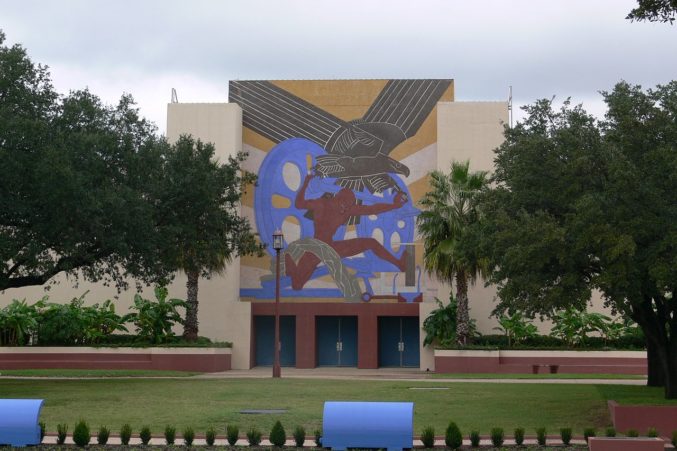 Here's What Don Williams Thinks of Walt Humann's Plan for Fair Park
Short version: he doesn't think it is very good.
A couple of days ago, Wylie H. Dallas put up a post on FrontBurner titled "How Walt Humann's Fair Park Plan Looks Like a 'Scam.' " There's some context for that word "scam" appearing in the headline. Wylie had gotten into it on Twitter with DMN writer Michael Lindenberger, and the word in our headline was calling back to that exchange.
Let's move beyond that word and get to the substance of this debate. Last month Robert Wilonsky wrote a good piece about Humann and a guy named Don Williams, an old friend of Humann's and the most prominent critic of his Fair Park plan. You should read it for context. Humann and Williams both have a long track record of civic involvement in southern Dallas. Yesterday, before five members of the Parks Board walked out of a meeting to prevent a vote on Humann's plan, Williams delivered a devastating speech to the board, laying bare the shortcomings of his friend's work. Here is the full text:
***
Thank you Mr. Chairman and board members for the time you have invested in Fair Park, particularly at this "late stage'' before you vote. I appreciate and respect all the hours you have spent trying to be good stewards of the public trust. But it's evident that despite that work, many issues remain unsettled — as examples:
No assurance about a signature "community'' park.
No assurance about real engagement with or economic development in the neighborhoods outside the park.
No assurance that the State Fair will adopt reforms, both those called for in the City audit and others required to make Fair Park a vital, year around park and community gathering place
In preview, we are asking the Park Board to take the time to fully study and deliberate those issues and ask you not to vote until you do. As recent tragic events made clear, Dallas is at a crossroads, and the world is paying attention to how inclusive and collaborative our city will become. But the proposed Fair Park Foundation management plan is neither inclusive nor collaborative. It is top-down. It was developed behind closed doors and this outdated, high-handed process threatens not only the future of Fair Park, but also the delicate political, social and civic balance in the Dallas of 2016.
From our foundation's work of research, advocacy, and community engagement work in Southern Dallas for more than 20 years, I believe Dallas needs a new story, a better path forward for our city, one that holds the power to unite us as Dallas citizens around the common good and call forth creative solutions — on-the-ground substantive solutions — for our city's healing and for a balancing of the opportunities, justice, and equity for our city's future. I believe revitalizing Fair Park and its blighted surrounding neighborhoods offers that opportunity, with inclusion, full transparency, and accountability — everyone at the table.
The UTA Graduate Architecture and Urban Planning School's study is an illustration of one way such solutions can be organized. There are many more — which should be arrived at by a robust community engagement process for an updated vision and redevelopment plan for Fair Park. And the sequencing of these actions is of utmost importance:
First, a great signature community park that connects and serves all of Dallas — an 80- to 110-acre park, not a tiny 5- to 8-acre postage stamp park set in the midst of a heat island of 200 acres of asphalt, as now proposed in the Humann plan.
Second, real estate 101, you don't fix up empty buildings until you have a tenant and know its needs. Once a world-class park is built, people and activities will fill Fair Park year around. This will enable renovation, the repurposing, and activation of the more than 1 million square feet of vacant and deteriorating historical buildings, with park-compatible tenants that can fix up and operate the buildings with their own funds.
Third, unfortunately, the major obstacle to such a vision and revitalization is the current operations and footprint of the State Fair. The City currently loses about $20 million per year on Fair Park (including bond amortization). The State Fair contributes little or no financial benefit to Dallas or the Park, as documented in the Baylor University Economic Impact Study. Rather, in its current condition, Fair Park further costs the city in lost opportunity, i.e. what could Fair Park be and do for its neighborhoods and the city. Lost opportunity costs today are estimated at well more than $1 billion, thousands of good year-round jobs and over $100 million in recurring tax revenues. That's the cost of the status quo. This derelict condition of Fair Park, and adverse effect on the city's financial condition, is caused by what seems like the State Fair's strip-mining and profiteering of a public asset at public expense for private benefit. This can and must change before Fair Park can be revitalized. The Park Board should restructure the State Fair lease so as to constructively coexist with both present and future tenants — and with the neighborhoods before turning over governance to the Fair Park Foundation. Such a reprogramming of Fair Park is eminently possible and workable, and would actually improve operations and profits of the Fair, as illustrated in the UTA study and the Ash+Lime study — at your table.
Fourth, and perhaps most importantly, engage, connect, and enhance the surrounding neighborhoods so as to add value, instead of ignoring the neighbors and damaging value to their homes, as the Baylor study reveals.
Let's be clear about what is at stake: As some of the Park Board members around this table have spoken out — and as others in the community agree — the proposed Walt Humann plan, even with modest revisions, delivers a disappointing message to Fair Park residents and unfortunate financial consequences to all Dallas taxpayers. It says "trust us,'' even though we have violated that trust numerous times in the past. It says "trust us,'' even though we will operate behind closed doors. It says "trust us,'' even though there is little community engagement. It says "trust us'' to build a community park, even though we do not guarantee we will do so. It says "trust us,'' even though we make no commitment to adopt the reforms called for in a recent city audit of Fair Park and other known problems. It says "trust us,'' even though the State Fair has repeatedly inflated and misrepresented its attendance and economic impact numbers, and has used that misinformation with you and the City Council to obtain public bond funding that primarily benefits only them. It says "trust us,'' even though the proposed head of the foundation does not live in Dallas.
For those reasons and more, I respectfully urge the Park Board to revise the proposed agreement to:
First, embrace a "Great Signature Community Park First" strategy vs. a "Fix-up empty buildings first" strategy. Great parks, as the history of cities throughout the world show, are game changers for good — for cities and neighborhoods.
Second, insist that qualifications for board membership not only assure diversity and inclusiveness, but also attract the top leaders who will put Dallas first and not be compromised by conflicts of interest.
Third, hire a best-in-class CEO and initiate a robust public and community process to build a new vision/redevelopment process for Fair Park — update your current but never implemented Hargreaves 2003 plan and the Mayor's Task Force.
Fourth, assure public inclusiveness, transparency, and accountability of the new Foundation.
This can all be done so that Dallas becomes a beacon for success — for all its citizens — and contributes to reconnecting the various pieces of our fragmented city. Let's come together to restore the mission and grandeur of Fair Park for today and future times and constituencies. We should not be bound by anachronistic nostalgia for a by-gone era. But rather, better serve the public purposes and benefits of Fair Park, as well as helping the fragile fiscal integrity of Dallas and its broken and strained social structures.
Thank you.