I don't know if I can do justice to the speakers — a mix of city and state officials and men of faith — who stood in the noonday sun for an hour at Thanks-Giving Square and sought to make something out of the nothingness of last night.
"You see a bunch of people arrayed before you who are used to speaking, but none of us know what to say," Rabbi David Stern of Temple Emanu-El said at one point. But he couldn't have been more wrong. They knew exactly what to say.
Imam Omar Suleiman may have put it best, asking the above question early on in his remarks to a mix of races, ages, and religions. The sweet woman next to me murmured, "Mmm, he's preaching," and he was, stacking rhetorical questions, immediately drawing the packed crowd into his rhythm. Suleiman quickly built to his point: "Look around — this is the America we want."
The helicopters circling overhead and law enforcement surrounding the park were a reminder of what happened last night. But mostly people wanted to talk about where we go from here. Where we could go. Where we can go.
"We refuse to hate each other," said Pastor Bryan Carter from Concord Church. "We refuse to let one event define our city."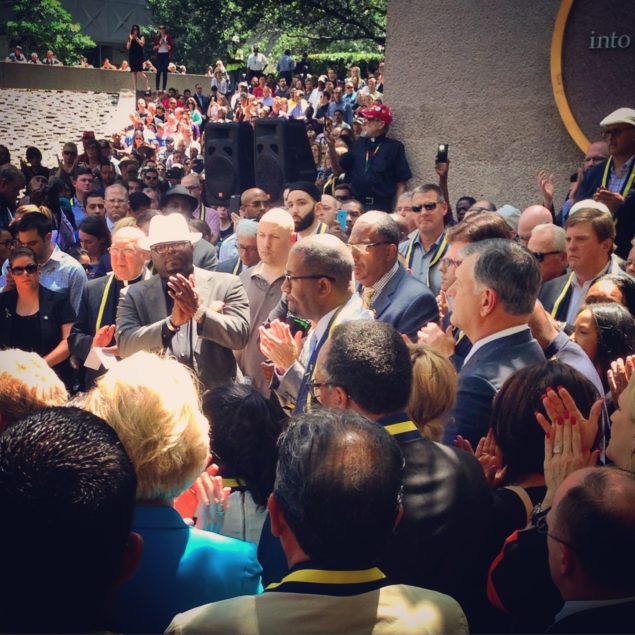 "Our generation must now step up, stop talking the talk, and walk the walk," said Sen. Royce West. "We must put our differences aside, starting with our political parties."
Mayor Mike Rawlings began by mentioning that modern Dallas was born out of the tragedy following the JFK assassination, which made me reflexively flinch. It's been five decades, and we are still defined by that moment. Would Pastor Carter be proven wrong? Will July 7 re-up our City of Hate status for another 50 years?
But Rawlings' brief words were a roadmap to why it doesn't have to. Race and how it's festered, he said, was on the shoulders of his generation of leaders. We have to change, he said, or the "cancer of  separatism will kill this body." We are now forced to meet our challenges head on. "I believe the city will see better days because of the lives lost last night."
Bishop TD Jakes picked up on Rawlings' thread: We must "reinvigorate ourselves in such a way that we come out better than before."
"Many of us do not recognize pain until it is on our front porch," Bishop Jakes said. "The tragedy we ignore today will be on our doorstep tomorrow."
Jakes then launched into a sermon that I chose to experience rather than try to write down, which would have been difficult because I was holding hands with my neighbors. I won't bother with a recap or any sort of re-creation. I'll just say Bishop Jakes didn't build a giant congregation by accident.
When it was over, I looked around again. This is the America I want, and it still has a chance, if we let it. If we stop getting in the way. If moments like this can happen without someone almost literally holding a gun to our heads. Suleiman was right: why does it always take hatred to force us to love?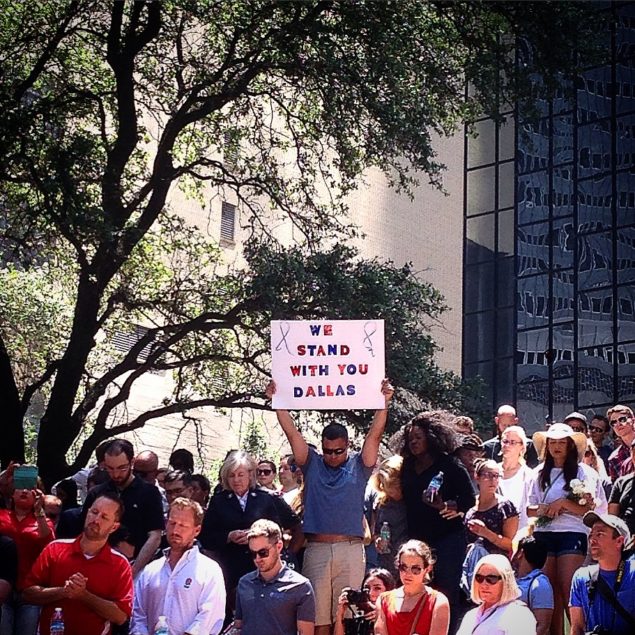 Save
Save
Get the D Brief Newsletter
Dallas' most important news stories of the week, delivered to your inbox each Sunday.