The North Richland Hills startup that two months ago challenged developers to make improvements to its application, which served as the main calendar for Dallas Startup Week, has hired two team members as a result of the competition.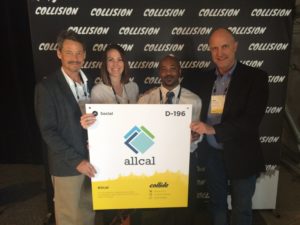 Allcal's initial plan was to pick the strongest designer who showed up during the challenge at Dallas Startup Week and award $6,000 for enhancements that would improve the user experience. But the mobile calendar company said four strong competitors impressed them with their work, and two of them deserved a spot on the team. Stefanie Orozco, who runs her own web development firm, Boost Stream LLC, and Monish Kumar, a computer science graduate student finishing his master's degree at the University of Texas at Dallas, are now part of the Allcal team. All four designers won $1,000 each.
"We had a registration tool, but it wasn't ready for prime time," said Danielle Cocanougher, vice president of Allcal and daughter of founder and CEO Daniel Cocanougher. "The server was overloaded at the beginning … so it just wasn't working."
About 3,000 people used the application for Dallas Startup Week. Allcal's misstep caused some confusion and frustration with attendees, many of which took to Twitter to voice their opinions on the matter.
Instead of throwing in the towel, the team quickly began making adjustments, and challenged the outspoken community to bring its ideas to the table. Each designer submitted a white paper and discussed possible solutions with the team.
Now, the developments of Orozco, who has more than 14 years of experience in front-end web development, and Kumar will be tested and considered for implementation. The startup expects to release some of the improvements by early August. User experience improvements will continue throughout the year, targeting a completion date of early 2017.
"It was disappointing to feel we didn't live up to expectations," said Danielle Cocanougher, who served as the main point of contact for startup week. "But we've just had out heads down working on feedback."
"The results were enlightening, surprising, and full of opportunities for us to improve the product," Daniel Cocanougher said in a released statement.
Allcal began work on its calendar app about three years ago. The idea was to create a mobile application that would allow users to share calendars and events with each other as well as receive real-time updates on changes. The company just started generating revenue from the service fee it charges for customer service it offers for special events.
Following Dallas Startup Week, the company landed DragCon, RuPaul's convention in Los Angeles that brought 2,000 users to the Allcal application.
Get the D CEO Newsletter
Stay up to speed on DFW's fast-moving business community with weekly news reports, interviews, and insights.