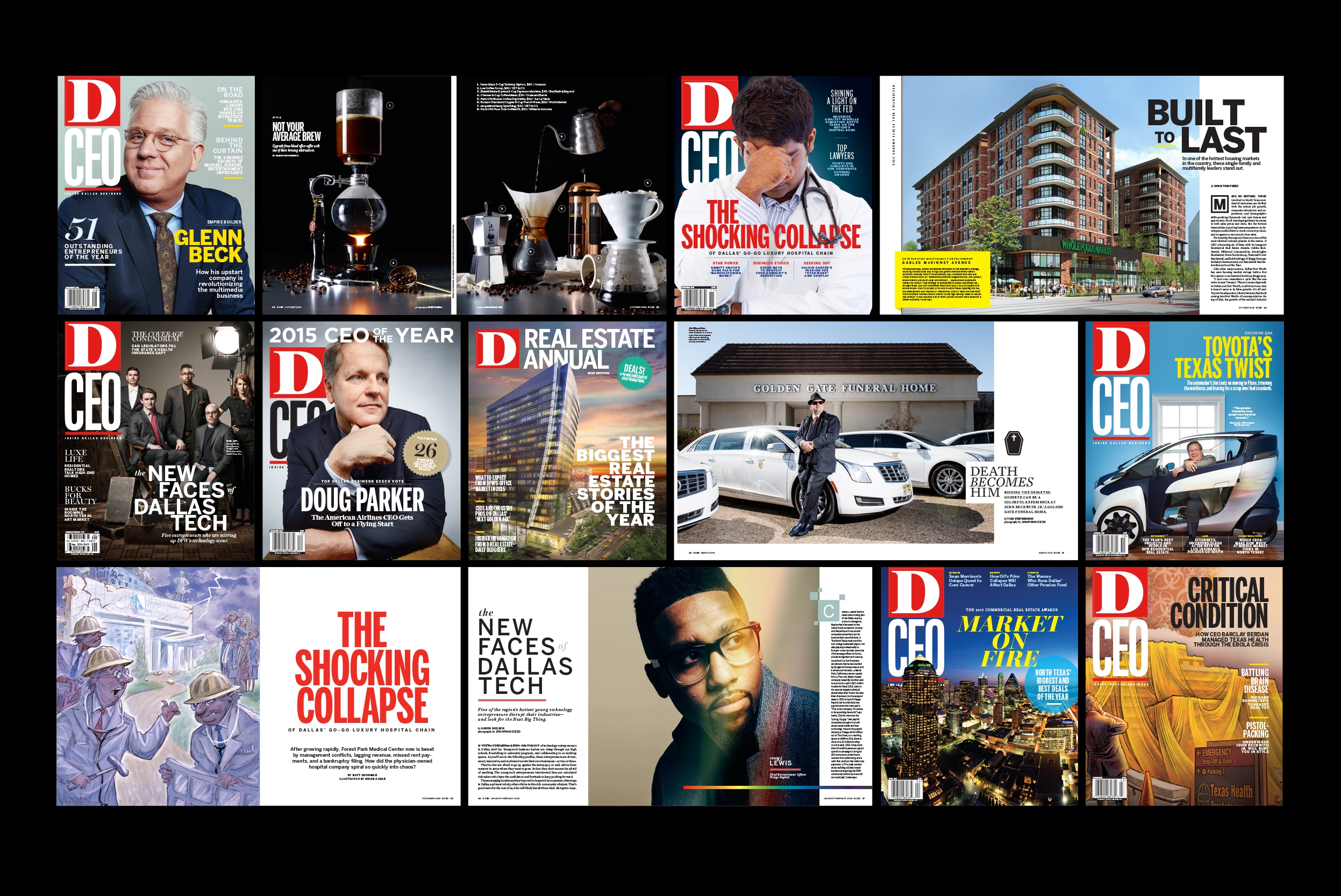 D CEO Named Best Regional Business Magazine for Fourth Straight Year
Publication snags 10 Editorial Excellence awards, including a record nine first-place spots.
The Alliance of Area Business Publishers presented D CEO Magazine with 10 Editorial Excellence awards Saturday, including a record nine gold (or first-place) awards. One of the nine awards was for best magazine, marking the fourth straight year that D CEO has won the top magazine honor. The annual competition recognizes excellence in journalism, photography and design achieved by regional business publications. The 2016 competition drew nearly 650 entries from newspaper and magazine business periodicals in the United States, Canada, and Australia. It was judged by faculty members from the University of Missouri School of Journalism.
Three of D CEO's gold awards came in the Design category, for best cover, best use of photography/illustrations, and best overall design. Under Art Director Hamilton Hedrick, the judges said "D CEO does it all. Typography and decks are sophisticated, and designers seamlessly and consistently integrate illustrations, graphics and photography throughout the magazine. Art and data are combined well in the many strong infographics. Portraits are fun …"
In the Journalism category, the judges gave gold awards to Senior Editor Matt Goodman for best investigative reporting and best explanatory journalism for his articles about the collapse of Forest Park Medical Center and the Ebola outbreak in Dallas, respectively. Goodman also snagged a gold award for best body of work by a single writer—the judges said his "authoritative, engaging reporting … informs and entertains"—as well as a bronze award in the Online category for D Healthcare Daily, which he edits.
Other gold awards went to Steve Kaskovich, whose Bottom Line column won for best recurring feature, and to Hedrick and Executive Editor Christine Perez, whose Real Estate Annual was named the best ancillary publication. The gold award for best magazine went to Editor Glenn Hunter, Perez, Hedrick, Goodman, and former editors Hilary Lau and Lauren DeLozier. Said the judges: "The unexpected visuals and compelling stories of D CEO make for a strong magazine that is smartly edited and has a solid sense of place. This is a clean, attractive publication with a great balance of personality-based stories and in-depth features."