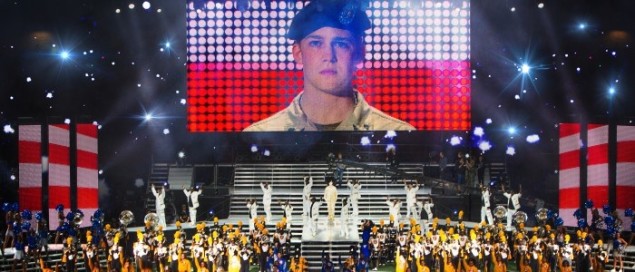 Is it just me? Does it seem like there's dissonance between the book and the trailer below? No, it's not just me. From the A.V. Club: "The trailer — how to put this delicately — makes it look like a higher-budget version of one of those Christian-marketed films, all pomp and circumstance and serious as a heart attack. Which seems faintly ridiculous, given the multiple shots of the hoary over-the-top football halftime show that supposedly constitutes the story's centerpiece."
From Alex over on FrontRow:
The trailer feels overly sentimental, missing the satire that makes Billy Lynn's Long Halftime Walk such a great book. (Try not to roll your eyes at the choir version of David Bowie's "Heroes.") The novel certainly has its emotional gut-punches, but it also has a sense of humor. This is, however, just a two-minute preview that tells us very little about the movie — Ang Lee certainly has a decent track record, and he's working with some wonderful source material. We're going to continue to qualify our expectations as cautiously optimistic.
[d-embed][/d-embed]
Get the FrontRow Newsletter
Get a front row seat to the best shows, arts, and things to do across North Texas. Never miss a beat.