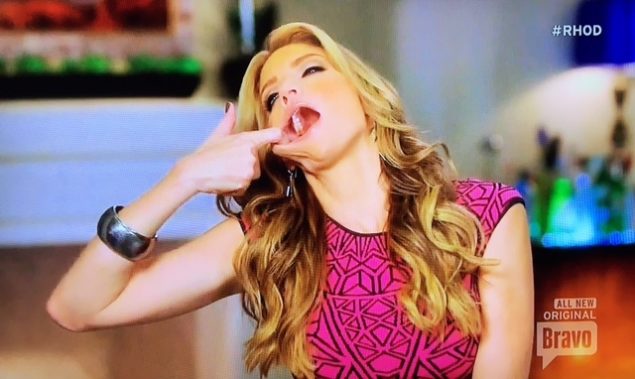 Yesterday, to celebrate Memorial Day, I played golf. I shot a 40 on the front nine at Tenison Highlands. Pretty good little start to the day. But after that, everything went to hell. I shot a 48 on the back nine and then used a digital image of my scorecard to try to pick a Twitter fight with Ed Bark because the day previous he'd declared that Jordan Spieth had finished the Dean & DeLuca Invitational with the best three-hole stretch of his career, which was patently ridiculous. But Bark is a Marine Corps vet. I shouldn't have been hassling him on Twitter. After my round, I went back to the house and threw out my back while cleaning my gutters. Karma. Plus, I had a reaction, I think, to all the catkins in the gutters and started feeling sick. Then, while my wife went to have dinner with a bunch of our friends, I had to stay home and watch The Real Housewives of Dallas. Episode 8 was titled "Hollman Holiday." It did not cheer me up.
We open at Stephanie's house, where the Hollmans discuss the planning of husband Travis' birthday party. Stephanie and Brandi are going to scout party locations, and Travis encourages his wife to enlist the help of his personal assistant, Courtney. Stephanie in a confessional: "She's kind of like my sister wife, but she doesn't sleep with my husband." Probably true.
Cut to the Deuber surgical center, where we see Mark and Cary wrapping up a boob job. A patient lies unconscious on the operating table, her breasts looking like two halves of a Nerf football. They are only slightly blurred out. You can see the sutures and everything as Cary wipes them down. They say something about planning a birthday party for their 3-year-old daughter, Zuri, but I'm too traumatized by the post-surgical Nerf boobs to take notes.
To The Mitchell we go. It's a bar on Main Street next door to City Tavern, where I eat lunch about once a week. Somehow this makes me feel violated, like watching security-camera footage of a burglar in your own house. It's weird. Anyway, Stephanie, Brandi, and Courtney the assistant, who looks like she's 16, check the place out to determine if it's suitable for Travis' party. Stephanie laughs that irritating laugh. Nothing happens.
Cut to True Food Kitchen, where LeeAnne and boyfriend Rich have lunch. LeeAnne talks about the keynote she will deliver at a luncheon for the Grace Project, a conference for women who are HIV positive. She tells Rich, "This is what I love to do." Stephanie will attend, she says, so it'll be good for her to see another side of LeeAnne.
Back to The Mitchell. The three girls talk about the wisdom of inviting LeeAnne to Travis' party. Stephanie frets that Travis' night must go smoothly. "The day he was born was a very precious gift that God gave the world," she says. "Nothing can go wrong." But she cackles in a way that suggests Travis is not a precious gift from God.
Back to LeeAnne and Rich eating lunch. LeeAnne says something about being tired of fighting with everyone. I kind of zone out as the show goes to commercial break.
What the heck is happening to me? Normally I sit down on Monday nights to watch this show with a heavy heart. If you haven't yet gathered, it is not a chore I enjoy. I watch the show listlessly, with little interest. But then something really stupid will happen, and it will shake me from my stupor. "This must be mocked!" I will tell whoever is watching the show with me, which is usually no one.
Last night, I make it to the first commercial break without seeing anything like that. Is this an indication that I'm becoming inured to idiocy? You know how it's possible to go "nose blind" to a certain stench if you are exposed to it for too long? I worry that my body's defense mechanism has kicked in, and I've gone nose blind to The Real Housewives of Dallas.
After commercials, we go to a conference room at the Westin, where LeeAnne delivers her keynote to the women who are HIV positive. She talks about how society labels people and the labels she carried after being abandoned at the age of 3, then being molested as a young girl, and nearly being killed by a fiancé. I see nothing to mock, and it's hardly worth pointing out that she told Rich she'd be talking to 600 women, but the audience, by my count, looks to be about 450 people shy of that estimate.
Stephanie says in a confessional: "I'm impressed. I felt her connection with these women. And I also saw these women embrace who they are and their circumstance because of her. It was really cool." As she says this, we see footage of LeeAnne hugging Sheriff Lupe Valdez, who I do not think is HIV positive.
At this point, my wife comes home from dinner and puts on the Warriors-Thunder game in the other room, just to taunt me. No way could she name more than three players from both teams combined. If you told her the Splash Brothers ran a pool-cleaning company, she'd buy it. Prediction: she will deny this on Facebook and, in so doing, get back at me with a better joke than my Splash Brothers joke.
Let's go to the Hollman house, where Stephanie and Travis discuss his birthday at the dinner table with their two boys, Chance, 6, and Cruz, 4. Travis tells his boys that for his birthday he hopes Mommy will jump out of a cake wearing a bikini. I would like to give Travis a label. It is "dad who is trying to raise two sexists." Stephanie asks the boys what presents they should get for Daddy, and Cruz suggests "poo poo." Even though Cruz has delivered the line without any sense of timing, Stephanie laughs anyway. Then she asks what kind of cake she should get Daddy, Cruz says she should get him "poo poo cake." Stephanie loses her mind with laughter, and Travis makes the boys go to bed because sexualizing Mom is fine, but making poop jokes crosses a line.
Cut to Brandi's house. She gets a call from Stephanie, who relays the poo-poo story in all its hilarity. Then she tells Brandi that she has invited LeeAnne to Travis' birthday party. But not to worry. "If she, like, makes you mad," Stephanie says, "I will just fart in her face, and she'll leave." I would mock this statement and say something about how a good hostess would never fart in a guest's face, but, like I say, I've gone nose blind to Stephanie's fart jokes, if not the farts proper. [spends next 15 minutes searching in vain for a quip about a hostess with proper farts, before realizing that he is now operating on Cruz's level, only difference being that Cruz doesn't have login and password to WordPress]
Now back to Stephanie and Travis' dinner table, where they talk about plans for his birthday party. He suggests that she pop out of a cake topless and sing him happy birthday. At least Chance and Cruz aren't at the table, so that's good. Stephanie tells her husband, "Here's the deal [pronounced "dill"]. I love you. But sometimes I feel like you try to micromanage me, and you don't know where to stop your business and the home life begins. I feel like you treat me like a child." Travis wears a look on his face like he's being patient with a child. Travis might be a meathead and a sexist and a bad example to his boys, but I feel for him.
Anyway, Travis admits he has problem with making too many lists, and he says he understands her point of view and that he'll try to relax a little. He tells his wife, "They say opposites attract, and we're living proof." At this Stephanie laughs her irritating laugh so uproariously that it makes me yearn to hear LeeAnne give another speech to women who are HIV positive.
Commercials.
To Brandi's house. She calls LeeAnne, and we see that Brandi has her programmed in her phone as "Loud Mouth." She asks LeeAnne to lunch so that they can clear the air, and LeeAnne accepts. They hang up without setting a place or time to meet.
Cut to the Deuber house. Zuri has birthday cake and opens presents. She's a cutie. Some, though not all, of the art hanging on the walls of Cary and Mark's house is blurred out like the patient's breasts on the operating table. Presumably this is because it's gross.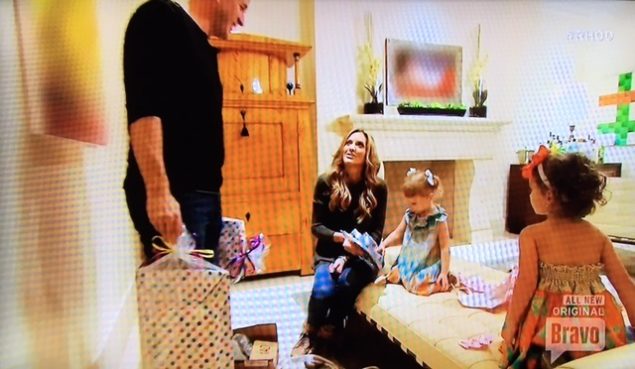 I've stopped commenting on the interstitial shots. But I feel compelled to point out that every time they use a shot of the Trinity River, it is flooded. They got a few shots back whenever they taped the show, and they just keep reusing the same four or five. I imagine a first-time visitor to our fair city, a Real Housewives fan. I'm sorry, visitor.
Cut to Sissy's Southern Kitchen, where LeeAnne and Brandi meet for lunch. Brandi apologizes for having an immature sense of humor and for pushing LeeAnne's buttons. LeeAnne responds, "Actually, Brandi, I've been waiting for this moment. Every time that I've sat down with you — I'll be honest, you know, I didn't respond in my best manner. And you're right. You pushed buttons in me that no one's pushed in a long time. I know I have that side of me. That's not a pretty side. It's not a side that I like to show. But it's not who I am."
We all have such "sides" to our personalities. Me, for example. A couple weeks ago, I found a woman's purse in an empty shopping cart in a grocery-store parking lot. I brought the purse to the store manager, and then, because I'd seen the woman's name on a loose credit card while waiting for that manager, I looked up the woman's address and drove over to tell her where she could find her purse. I can be a nice guy. On the other hand, I tried to pick a fight with a Marine Corps vet on Memorial Day. I can also be a jerk. That's not a pretty side of me. But it is who I am. If anyone would like me to keynote their meeting, I can be had for a very reasonable honorarium.
Anyway, in a confessional, Brandi points out that LeeAnne didn't really apologize, which is a good observation. My own observation is that during this lunch scene, Brandi has two different looks in her confessional. One side of me hates the other side for caring enough to take pictures of the screen so that I can show you Bravo's slipshod editing.
Cut to WhatchamaCallit Boutique, which has the most irritating camel-capped name in Dallas. It should be WhatChaMaCallIt, right? Am I wrong about this? Stephanie and Brandi shop for dresses for Travis' party. Brandi asks her friend, "Are you going to pop out of the cake?" Stephanie says, "God, no. Are you serious?" Brandi says, "That's like his life-long dream." Stephanie says, "I would rather just give him a lot of sex." Then Stephanie feels herself up while trying on a dress.
Commercials.
We get a quick scene with Brandi and her 4-year-old daughter, Brinkley, eating lunch at their kitchen counter. Brandi asks Brinkley if she likes boys. She says that she does not. Brandi asks how boys and girls are different. Brinkley says that boys have tails. Then she says that she has seen Daddy's tail. This is what's known as a "teaching moment." Brandi chooses to ignore it. No judgment. Every parent has been there. My 17-year-old son still thinks Mommy lost her tail because she was running with scissors.
Commercials.
Brandi goes over to Stephanie's house to get ready for the party that seems like it will never happen. Stephanie in a confessional: "I'm nervous about Travis' birthday party. I may be poop-your-pants nervous. Not quite. Like, I haven't pooped my pants yet, but, like, it's a turtle." Why does Travis treat her like a child?! I don't understand it.
There are a bunch of edits here, as we jump back and forth from Stephanie's house to Cary's house, and everyone gets ready for the party. Mark points out that his shoes came from Florence. Stephanie says she hopes the party will be fun and drama free. Steph Curry has the best three-shot stretch of his career.
Finally! The party! At The Mitchell, Stephanie and Brandi do tequila shots as they wait for guests to arrive. Oh, we think, this is going to be a train wreck. Before the night is over, someone's Charityworld is going down the toilet. Shoes are coming off. The trolley doesn't run down Main Street, in front of The Mitchell, but if it did, it would get slapped. Efrog best watch out!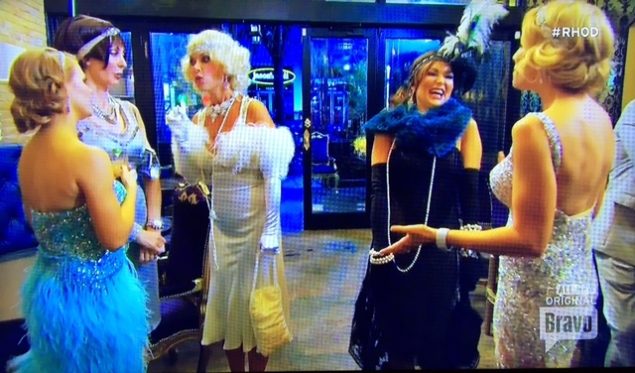 You know what happens, though? Nothing happens. I almost feel bad for the Bravo editors, they have so little to work with. Everyone just tells everyone else that she looks gorgeous. Oh, they get plenty drunk. But instead of fighting, Brandi and LeeAnne bond over bathroom humor. LeeAnne tells a story about when she used to live with Tiffany in their younger days and, after eating pepperoni pizza with jalapeños, they would retreat to their respective bathrooms and seek relief from ice cubes. In return, Brandi says, "Stephanie farts all the time. It's like her lethal weapon. Just beware. If we go on a trip, she rips ass the entire time we're on an airplane." They all cackle, and Brandi adds, "I'm really starting to like you ladies." The party, by the way, has a "Great Gatsby" theme. I don't recall Gatsby ever "ripping ass."
Travis hugs Bryan. Brandi proposes a girls trip to Austin, which feels like it could start conflict because Cary says in a confessional that she doesn't want to go to Austin with LeeAnne, but then Travis is hugging his wife and telling her what a great job she did with the party. Perhaps because they felt bad about the show having no ending, the Bravo editors threw in one final scene.
Post party at the Hollman house, Stephanie does acquiesce and pop out of a cake for Travis. It is not a poo-poo cake. She sings "Happy Birthday" to him. It's awkward. Then he helps her out of the cake, and we see nearly all of her posterior because she's wearing party panties. Her bottom is not blurred out, though, so it must be better than the art hanging at the Deubers' house.
Happy birthday, Travis. I hope your tail was shown the attention it deserves.
Get the FrontRow Newsletter
Get a front row seat to the best shows, arts, and things to do across North Texas. Never miss a beat.