Let me set the scene for you. Last night, as The Real Housewives of Dallas got underway, my dog began to retch. I don't think this was a reaction to the show. My wife let her out into the backyard, where she began eating grass "like a cow," according to my wife. A vigil was begun. My son was forced to stop shooting things on his Xbox and watch the dog to ensure that she didn't try to eat her own vomit. All this commotion was happening mere feet away from me, as I was trying to watch the show and take notes on Episode 7, titled "Black and Blues." Then a bunch of drunken colleagues at a magazine conference in Denver sent me about 56 texts. My point: if this recap seems like it was written by a distracted middle-aged man with a manageable case of plantar fibromatosis, that's because it was.
The show opens with Tiffany and LeeAnne brunching at Toulouse. Heidi Dillon shows up wearing a ridiculous outfit. It's a black t-shirt with "MOSCHINO" in gold letters across the front. To accessorize, she adds a thick gold chain with a dollar sign pendant. I know that Heidi is all about being outrageous and doing her own thing. A few days ago, she Instagrammed the following message: "My only regret is that I didn't tell enough people to fuck off." She is very punk, this Heidi. But it is difficult to be punk and rich. Showing up for brunch at Toulouse dressed like Ghostface Killah suggests Heidi hasn't quite figured out how to strike that balance.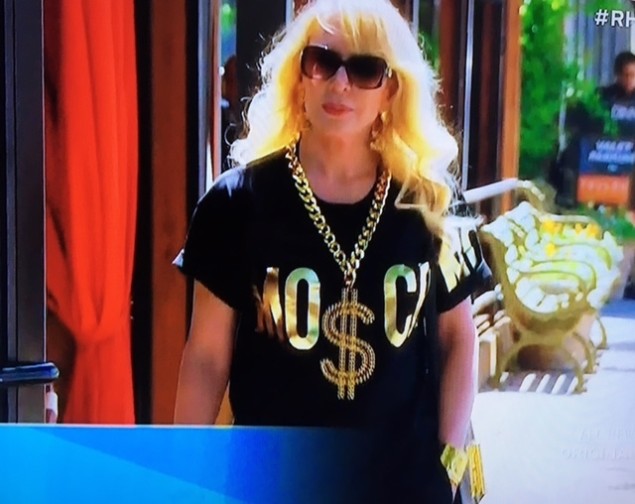 Tiffany apparently doesn't share my opinion. In a confessional, she says, "Bow down, bitches. It's Heidi effin Dillon." Heidi gives them each a black t-shirt that she bedazzled at Jo-Ann Fabric with #skanksofdallas. If you have bad taste, you can buy one of the shirts on Heidi's site. Tiffany invites Heidi to an Aaron Hendra Project show that will raise money so that African children can have better accent lighting or something.
The girls then discuss whom Heidi should invite to her house party. Heidi tells the ladies, "There's a lot of stories in Dallas. Cause, like, most of the women in Dallas got their rich husbands because at one point they were on their knees, under his desk. Right? That's what I know of Cary." First, that is a really rude thing to say about Cary. Second, Heidi's husband, Bill, is a marketing professor at SMU. I'd love know what he thinks of the way his wife markets herself. Tiffany declares that she and LeeAnne have had a "power lunch with Heidi effin Dillon." I don't think she knows what "power lunch" means.
Cut to the Deuber surgery center, where Mark performs plastic surgery while Cary assists, standing. She and the other assistants are wearing scrubs and surgical masks. Mark and Cary banter about their anniversary and how he expects some sex as a present. Pretty sure one of the other assistants has a good "hostile workplace" case here. Cary tells a confessional camera: "Men are simple. You fuck them and you feed them. And he feeds himself. So all I have to do is the No. 1." In the surgery suite, they wrap up their work as an employee dumps blood into a Tupperware container or something. The Deubers kiss through their masks. If my dog could see this, she would definitely vomit.
Now we go to Brandi, driving in her car, talking to her mom on speaker. We learn that Brandi's younger brother, Michael, fought in Afghanistan and now struggles with PTSD. He recently tried to commit suicide. You see what has happened here, right? Brandi has just put up an impenetrable force field against mockery. No way am I going to make fun of a woman whose little brother just tried to commit suicide. She goes to Stephanie's house and tells her about Michael's suicide attempt. I hope Michael gave everyone permission to talk about this. I mean, mental health issues aren't anything to be embarrassed about. We should talk about them more. I'm just not sure The Real Housewives of Dallas is the best forum.
Commercials.
Tiffany and LeeAnne shop for clothes for the big Aaron Hendra Project show. Tiffany says she is worried because this will be the first time since Marie's cocktail party that all the girls will see each other. LeeAnne says she is cool with everyone, but she can't get past Brandi. At which point Tiffany tells her about the suicidal-brother force field that Brandi has erected around herself. LeeAnne tells the confessional camera: "To hear this, just really takes all of my focus that Brandi is a snot-nosed little kid, to Brandi is a human." Yup. Force field.
Cut to the Deuber house for anniversary night. A dude named Taylor Cooley shows up. He is Mark's personal shopper at Roberto Cavalli, and he comes bearing a dress. Cary puts it on, and Mark says it cost more than his first car. (My first car was a Ford Tempo.) Then Cary gives Mark his present. It's a card. He reads it aloud: "I love you with all my heart, body, and soul. Thank you for being an amazing man." It's not how much a gift costs, right? It's the thought that matters. But I hope Mark asked his doctor if his heart is healthy enough for sex. Because he got screwed.
To Whiskey Cake we go, where Brandi and Bryan try to patch up their marriage. She tells Bryan about her brother Michael and how he's recovering from a suicide attempt. She says, "He expressed how alone he felt when he was on tour and how it's hard when you're struggling when there's nobody there. And for me, like, I felt like I can kinda compare myself to that. I'm always alone." Hang on! I just found a way to break through her force field! Because Brandi just compared herself to a soldier fighting a war. All mockery is once again allowed. She has a husband who travels a lot, forcing her to make dinner all by herself and try to keep her daughters off the marble countertops. That's comparable to going down range and watching your buddies get killed? I think Brandi needs to watch The Hurt Locker for some perspective. Or even Starship Troopers.
Anyway, Bryan apologizes insincerely for his behavior in the last episode at Texas de Brazil, and I finally figure out who he looks like. He looks like Wallace from Wallace and Gromit.
Commercials.
Now we go to Lavendou Bistro, where LeeAnne and Stephanie are having lunch to clear the air. LeeAnne blames her bad behavior — throwing a champagne glass, slapping a trolley, etc. — on her tough childhood. That's her force field. But she quickly ruins its effectiveness by telling Stephanie, "You know the old saying? God only gives you what He knows you can handle? You know, He's right. He was right to give those burdens to me." LeeAnne has thought long and hard about it, and she has decided that God was right.
Cut to the Aaron Hendra Project, who has an appointment with a barber. Hairstylist. Whatever. Yes! Finally! The guy is going to get a haircut. But no. Some lady named Heather just uses what looks like a mini George Foreman Grill to iron the Aaron Hendra Project's hair. He confesses to Tiffany that a waiter recently told him he looks like a rockstar. You want to hate him for being so cocky, but then he offers the punchline: the waiter said he looks like Billy Ray Cyrus. You want to like him for making an attempt at self-deprecation, but then he says, "I usually get Keith Urban." And you go back to hating him.
Soon enough it is time for the big Aaron Hendra Project show at the House of Blues. I am disappointed to see that they didn't give him the main stage, instead relegating him to the much smaller Foundation Room. I am also disappointed to see the Aaron Hendra Project wearing a trilby. Why all the fuss over the hair if he was just going to wear a hat? How is he ever going to get mistaken for Keith Urban?
Nonetheless, Tiffany and LeeAnne cheer wildly at the show. Then the Aaron Hendra Project tries his best to repair Brandi's suicidal-brother force field, dedicating a song to her brother. He addresses Michael by name, even though Michael isn't present, but no one seems to think that's weird. LeeAnne tells the confessional camera, "To see Brandi's heart and how she's affected by this, and it's like, okay, we need to move beyond the drama. We need to stop being stupid." This, of course, would not serve to improve the show, so we needn't fear that LeeAnne will follow through on her threat to stop being stupid.
Commercials.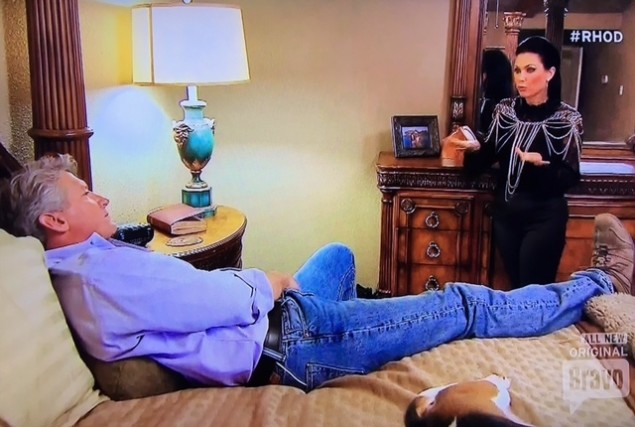 To LeeAnne's house, where she dons chain mail, preparing for Heidi's party, whose theme is "Gothic State Fair," which includes Frito chili pie and corn dogs. As LeeAnne gets dressed, her boyfriend, Rich, reclines on a bed and listens to his girlfriend being stupid and not moving beyond the drama. She tells him, "I'm not the only person in the Charityworld who is not a fan of [Cary]. The way she got her husband was not right. Everybody in this town knows that Mark was married when they met." Rich says, "Hey, that's gossip." Again, dude is trying to kill the show.
Thankfully, at Heidi's big house, the drama and stupidity continue unabated. Brandi shows up in a Dia de los Muertos-style skirt. She says in a confessional: "A Gothic State Fair. I don't even know if that is something. But I thought I would be a dead-rose girl." I think she means it that way, with the hyphen. She doesn't look like a dead girl. In either case, that is definitely not something.
She meets Heidi's labradoodle, Ralph, and says, "This is a like a dog from The Land Before Time. I want to ride it." She gets points for this line.
A bunch of gay dudes show up, including Taylor, the trouble starter from Marie's cocktail party, and Steve Kemble, who this morning emailed me pictures of himself from the Gothic State Fair party, along with a note that read, in part, "OMG! I got no less than 5 messages last night saying Tim is going to get you in FrontBurner for that outfit!" No, I'm not, Steve. I'm going to get you for something else.
Cary shows up late with a friend. She apparently spends too much time fawning over Ralph the labradoodle. Heidi complains to LeeAnne that Cary gave her the cold shoulder. LeeAnne says in a confessional that Cary played with Ralph for 10 minutes. Cary confesses, "I'm a yogi. Like, I just can feel negative energy? And I could just feel right way, there's kind of like a negative tension energy." This is called editing.
But then some serious B.S. does, indeed, go down. All the girls are crammed together on two couches, facing each other, when Brandi walks over to join them. Heidi calls her "the cutest girl in Texas" (agree to disagree) and then says, "Cary was just saying how she was going to give a demonstration on the corn dog." She says this like she's being playful, but it's clearly intended to be mean. Cary, as you know, is a yogi. So she feels the negative tension energy.
"I don't do corn dogs down my throat," she says, smiling.
"For demonstration purposes, you must," Heidi says. "Come on, some of us need a refresher."
I don't know what Miss Manners might have to say about this scenario. But me, if I ask a guest in my house to fellate a corn dog, all it takes is for that guest to politely decline just once. I'll stop asking.
Cary says, "I only demo with the real thing, and my husband's not here." Then they clink glasses and Cary says, "Thank you for having us over." I don't think she really means it.
Commercials.
When we return, LeeAnne tells a confessional camera that Heidi is friends with Mark's ex-wife. Oh! Wouldn't that have been helpful to know before Heidi tried to make Cary fellate a corn dog? What the heck?
Things continue to be stupid and dramatic and awkward. Heidi says, "I don't get it. Why isn't everyone mingling at my party?" Stephanie in a confession: "I feel like there is something going on in this room, and like I'm the village idiot that doesn't get it." Uh-huh.
And then the show ends with a twist. Cary, who should be angry with Heidi, fires a shot at LeeAnne for reasons I don't understand. Cary tells a confessional camera: "If LeeAnne has a problem with me, that's her problem, not my problem. I think LeeAnne is jealous I've been married three times, and she can't quite get there. Ever."
Not only do I not understand her choice in target, but I don't get the insult. I mean, I get part of it. LeeAnne can't convince Rich to marry her. That's a total burn. A real mean one. But Cary kind of burns herself in the process, does she not?
In the end, no food gets fellated, and my dog never vomited.
Get the FrontRow Newsletter
Get a front row seat to the best shows, arts, and things to do across North Texas. Never miss a beat.