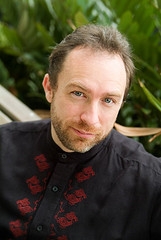 As the founder of Wikipedia, Jimmy Wales created what has become the modern day encyclopedia for a generation of Millennials. While it attracts billions of visitors every month and has become the fifth most visited website in the world, there's one thing it's not.
"As a business, it's a pretty terrible," Wales said, adding that the site is financially backed by the nonprofit the Wikimedia Foundation. "It exists based on donations."
There's a reason Wales chooses to keep commerce out of Wikipedia's blueprints, he told guests a BBVA Compass client event Wednesday in Dallas. It's meant to to serve as charity service to the community providing a comfortable space similar to a family dinner table. And that is not a place for commerce, he said.
So how did Wales build an online resource with more than 35 million articles in 288 languages that attracts contributors and readers from around the world?
First, he bootstrapped.
Wales initially founded Nupedia, the predecessor to Wikipedia, in 1999 with profits he made on Bomis, an online search engine he co-founded in 1996. Part of Bomis' popularity traces back to its adult content geared toward male audiences. Bomis, which made its profits via advertisements on its site, is now defunct, and Nupedia, which required that each article complete expert review before publication, morphed into the lesser stringent Wikipedia.
With the seed funding covered and an open contributor process, Wikipedia quickly began to grow—and so did its financial needs.
"Two out of three servers crashed on Christmas day," Wales recalled from Wikipedia's early years.
The demand led Wales to launch a fundraising campaign to purchase more servers.
"We were hoping to raise $20,000 in a few months," Wales said. "Instead, we raised $30,000 in a few weeks.
"That's when I realized, 'hey this could actually work with that funding model.'"
Thus, the Wikimedia Foundation formed in 2003. The vast majority of its funds come from small donors, with the average donation coming in at $25. The bulk of donations range between $50 and $100.
Initially the fundraising process was unrefined, with Wikipedia plastering donation asks on every page at the end of every year. But as the years past, its campaigns have evolved into a banner that pops up temporarily on the first Wikipedia page the user visits. If the user chooses to do nothing, the banner disappears and Wikipedia browsing experience is uninterrupted from then on. The campaigns run five times a year.
"That brings in more money," Wales said. "It's become a lot less obtrusive."
But since it functions like a nonprofit, Wikipedia only raises the money it needs to meet budget. It doesn't seek additional revenue, Wales said.
For San Francisco-based Wikipedia, the model works. The company is expected to raise around $70 million this year from donors. But the setup is not for every startup out there.
"It depends on what you're trying to do," Wales said. "Wikipedia has a goal that is clearly a charitable goal. It just makes sense there."
But it didn't make sense for Wikia, Wales' for-profit website comprising 40 million pages of content that primarily focuses on entertainment fans. That site has become the 15th most popular website in the U.S., Wales said, and that's without the complicated framework of a nonprofit.
For companies trying to raise capital to fund future developments, the nonprofit designation will only make things more difficult. Wales instead suggests hybrid models as an alternative for companies that have a charitable goal. A benefit corporation is a company that is designated as a for-profit business with the goal of creating a greater positive impact.
"The idea here is you have an organization that will be a for-profit organization, but the social mission will be written into founding documents so that the goal is a fundamentally part of what you're trying to accomplish," Wales said. "I think that's quite clever."
He also suggests that entrepreneurs and startup communities stay away from trying to replicate Silicon Valley. Instead, leverage the strength of what that community has to offer to build something unique. Once that is done, the idea is that angel money, later stage growth capital, and a culture of startups and entrepreneurs working together through their failures and successes will follow.
"The local strength could be … the kind of talent around," he said.
When it comes down to it, leaning on the strength of individual communities is exactly how Wikipedia has found its success. By allowing contributors to create, edit and suggest removal of entries, the organization is taking one step at a time to accomplishing Wales' original vision: Creating the ability for every person to have free access to the sum of all human knowledge in the world.
Get the D CEO Newsletter
Stay up to speed on DFW's fast-moving business community with weekly news reports, interviews, and insights.