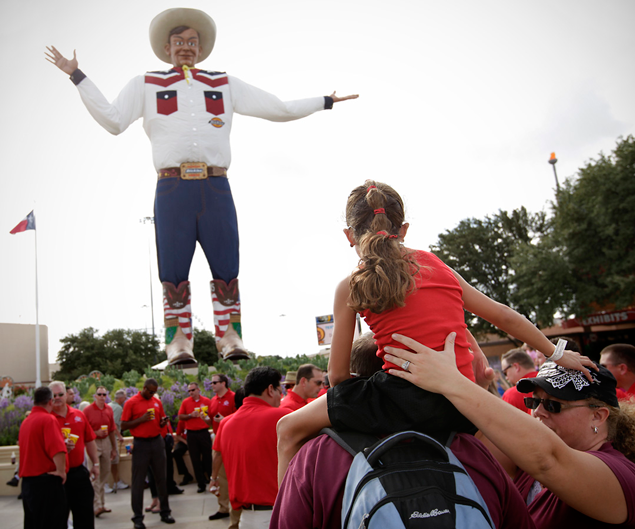 The Morning News has taken a closer look at the "fuzzy math" that the nonprofit State Fair of Texas uses to assure Dallas that it remains a tremendous boon to the local economy. Numbers ranging from $200 million to $600 million have been thrown around, but all of them are pretty much meaningless because the fair doesn't track its attendance:
As a private organization, the fair can use whatever measures of success it prefers, [State Fair president Mitchell] Glieber said. Estimating attendance is too difficult, he said, noting that not every gate has turnstiles and some admit carloads of people.

"Accounting for the accurate number of people is not critical to us," he said. "If somebody wants to say it's 2.3 million or if someone wants to say it's 3 million, it doesn't really impact us."

Fair officials say they are considering a new electronic ticketing system to keep better track of things like attendance.

But for now, coupon sales are a more accurate measure of the fair's performance, Glieber said. Those sales hit $53.6 million last year, he said, up from $21.4 million in 2001.

Part of the rise comes from higher prices for things like cotton candy and carousel rides, Glieber acknowledged. But he says attendance remains strong.

"I think it's gradually grown," he said. "I don't think I've ever seen as many people here as we had this past year."
Ah, yes. The tried-and-true look-around-there-sure-do-seem-like-there-are-a-lot-people-here method of economic impact analysis.
The Morning News piece reinforces the picture of the fair as an arrogant, unaccountable organization that Eric Celeste likewise painted in last September's issue of D Magazine. He wrote:
The State Fair's footprint of 277 acres is enormous and outsize compared to similar fairs around the country. Leasing the park's buildings year-round instead of emptying them every fall for the State Fair could help Fair Park make money and reimagine the educational and business functions of the entire area. It could reconnect the neighborhoods to the newly created green spaces of Fair Park and offer a chance for desperately needed amenities to improve quality of life. Expected development in this surrounding area would benefit the State Fair by turning it into a nonprofit whose cause is not simply generating cash to perpetuate itself, but to become integrated with the area and city in which it operates.

But the State Fair doesn't care about that. Like all powerful, fossilized organizations, it wants to be left alone to do things the way it has always done them. Largely, as I said, that's because the board is populated with a who's who from the Dallas oligarchy. It is chaired by former Dallas city manager Richard Knight Jr., a longtime member of the Dallas Citizens Council. Before Knight, former city councilman Alan Walne was chair. Chairman of the board's finance and auditing committee is Citizens Council member and Trinity River tollway overlord John Scovell. Dallas Morning News publisher James Moroney sits on the board, as does private citizen Mary Suhm. …

Now, the State Fair can do what it wants. It's not breaking any laws. It's just a simple nonprofit, one that sucks the life out of one of the city's greatest assets; one that only discloses "what is required to be made public by law, and no more," as the State Fair's PR person charmingly put it last year in response to [KRLD reporter L.P. Phillips'] findings; one that is run with minimal oversight from the city. If that all sounds kosher to you, then just ignore calls for change, and enjoy your corny dog.
Get the FrontRow Newsletter
Get a front row seat to the best shows, arts, and things to do across North Texas. Never miss a beat.