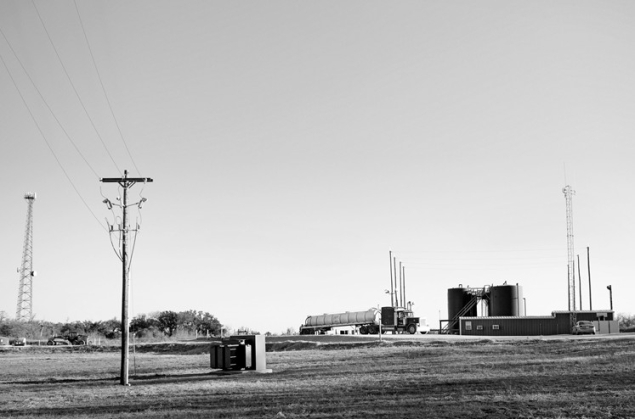 The Star-Telegram reported on natural-gas industry data that shows that there are no active rigs drilling anywhere in the two-dozen county region of North Texas under which the Barnett Shale formation sits. A decade ago, there were nearly 200:
Plummeting oil and gas prices, along with the seductive lure of bigger payouts in other parts of Texas and across the country, have brought exploration in North Texas to a halt. In March of last year, the count dropped to one rig for a week, then stayed under 10 since then.

Things have gotten so bad that the Powell Shale Digest in Fort Worth, once a must-read for those following industry activity in the Barnett, is publishing its last edition on Tuesday.

"Wouldn't you know that the report now says we are down to nothing, nada," in drilling rigs, said Will Brackett, managing editor of the Powell Shale Digest, who has worked for the newsletter since it started in 2007. "For us to go out with the Barnett Shale at zero, it is almost appropriate."

"It was certainly no surprise to me whatsoever," he said.

The Barnett's heyday was in 2008. In June of that year, the average monthly price of gas was $12.78 per million British thermal units (Btu), stirring up so much interest that by September there were 194 rigs in the field, the highest recorded by RigData, according to the Powell Shale Digest.
I guess we don't have to be quite as concerned about the further potential for air pollution, water pollution, and earthquakes that came along with the drilling? So has the free hand of the free market saved us from ourselves? Temporarily, anyway.
UPDATE: A city-column-writing FrontBurnervian notes that the Star-T left out a bit of context regarding the Powell Shale Digest shutting down. In part the reason for the closure has nothing do with the lack of local natural gas drilling. Gene Powell, founder of the pub, is battling cancer.
Get the D CEO Newsletter
Stay up to speed on DFW's fast-moving business community with weekly news reports, interviews, and insights.