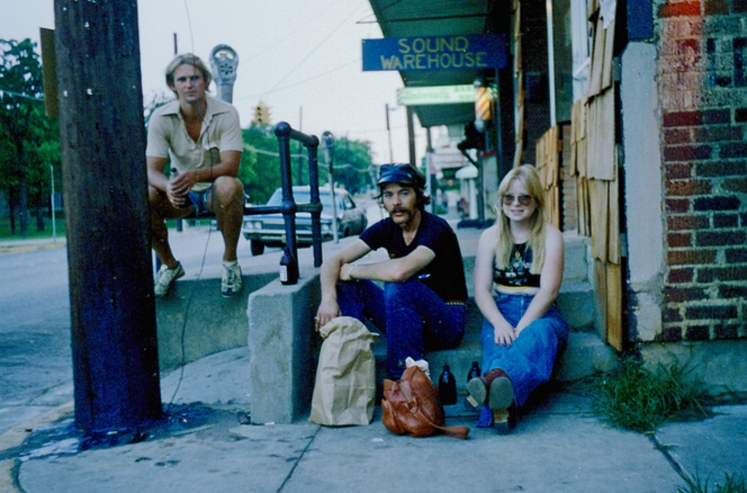 This weekend, the fifth installment of the music festival currently called 35 Denton will take over the "little Austin" north of Dallas. In many ways, the growth of the festival has mirrored the growth of the reputation of the town, which has even attracted its first celebrity relocation in Jason Lee. But the music hub and home to the University of North Texas has long fostered its own particular and peculiar culture. If you remember Denton before the Fry Street Fire, then these old photos uploaded to Alec Williams' Flickr account will more than prick your nostalgia. Taken between 1977 and 1986, the images of high school marching bands, crumbling buildings, cavorting college kids, interiors of shops, old store fronts and more are accompanied by extended captions that set the images in a particular place and time. For example, here's the one he includes for the image above:
Here are some nice folks posing for me on the steps that led to the high ground on West Hickory. The camera is looking due west. The steps are by Strawberry Fields, and you can see the Sound Warehouse sign in the background. Walking due west would take you past Reader's World, Voertman's, and on up the hill to Jack in the Box. To the right is the entrance to Benny's Jazz Club.
Get the FrontRow Newsletter
Get a front row seat to the best shows, arts, and things to do across North Texas. Never miss a beat.