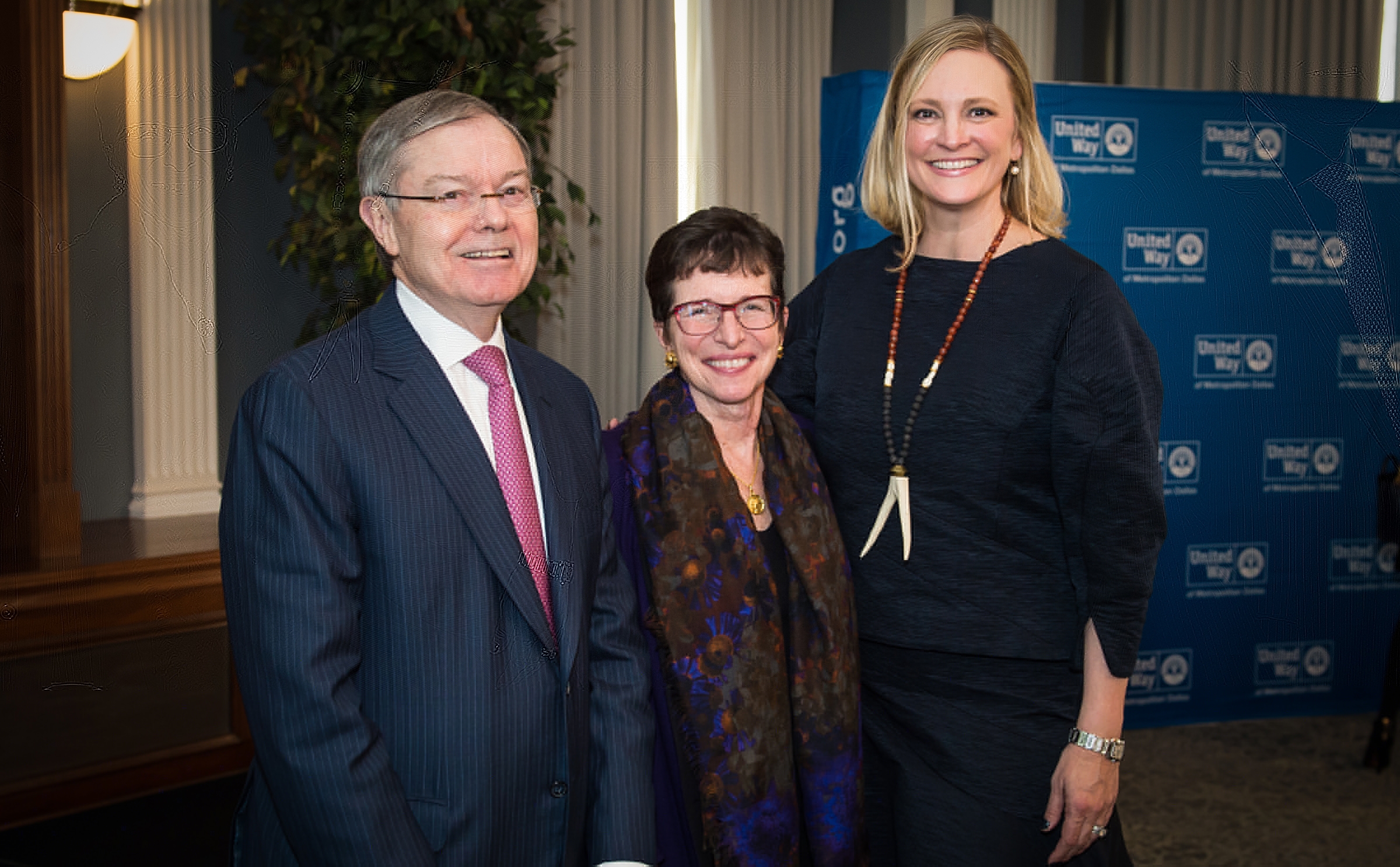 Laughter, Good Works Mix at Tocqueville Event
Entertaining luncheon celebrates $5M gift to the United Way Foundation of Metropolitan Dallas.
Besides announcing good works and bringing together some of the heaviest-hitting business people in North Texas, the monthly Second Tuesday luncheons of the local United Way's Tocqueville Society are, in contrast to some nonprofit gatherings, as entertaining as they are informative. And today's, held at the AT&T headquarters building in downtown Dallas, was no exception.
With 162 attending—the most in the luncheon's history—a stellar cast of characters involved with the United Way's 90th anniversary gala last February was reunited to celebrate a red-letter donation to the agency by Dallas philanthropists Diane and Hal Brierley. The Brierleys, it was announced, have committed a $5 million gift to the United Way Foundation of Metropolitan Dallas, marking the couple's biggest donation ever to a social service organization.
The gift was part of the Unite Forever Campaign, which was launched in February 2015 to raise $100 million for the foundation. The Brierleys' commitment includes a $2 million gift to endow the couple's $100,000 Tocqueville Society gift, making them the newest members of the Tocqueville Legacy Circle. (That's a group of society donors who've funded their annual gift in perpetuity.) The other $3 million is a bequest earmarked partly to support United Way's Social Innovation Fund, which supports programs like Cafe Momentum.
The entertaining part of the program came before the big announcement. Four associated with the 90th were to introduce the Brierleys: Charlotte Jones Anderson of the Dallas Cowboys with former Cowboys quarterback Troy Aikman, and civic leader Ruth Altshuler with ex-'Boys QB Roger Staubach. Aikman had a conflict, though, so broadcaster (and one-time Cowboys backup quarterback) Babe Laufenberg subbed in for him. "How many are bored with Troy?" Laufenberg asked the audience. "I roomed with him for two years. And let me tell you, ladies, seeing Troy walking around naked was no treat. Not all it's cracked up to be."
Anderson quipped that the last time Laufenberg substituted for Aikman on the field, "it was not a great memory," either.
Then it was Altshuler's and Staubach's turn. The latter waited patiently while Altshuler called the Brierleys "such good givers," and made a joke about Staubach having two lines—and two lines only—from the script to read. "When do you come in?" Altshuler said at last. "We forgot you. You're never going to say your two lines!" Leaning nonchalantly on her shoulder, Staubach cracked, "If my wife ever runs off with her trainer, I'm marrying this gal here."
When Hal Brierley finally made his way to the stage, he remarked that he had a tough act to follow, then joked: "While Diane doesn't like me to go off-script, I'll have to say [this buildup] encourages anonymous giving." The Brierleys, who've been members of the Tocqueville Society for more than 20 years, served as dinner co-chairs for the 90th gala. Hal, the founder of Brierley & Partners, which pioneered customer loyalty programs, serves on the board of the United Way Foundation of Metropolitan Dallas and is vice chair of the Unite Forever Campaign Committee, which has raised $35 million so far. Diane is a community volunteer with a deep passion for the arts, education, and wildlife conservation.
At one point during the luncheon, Jennifer Sampson, president and CEO of the United Way of Metropolitan Dallas, admitted to the crowd that she has a "girl crush" on Anderson. Then the luncheon keynoter, AT&T CFO John Stephens, hinted with a smile that while he might have a crush on Anderson, too, he would refrain from saying so for the sake of his long and happy marriage. During his talk, Stephens, who's board chair of the local United Way, recounted AT&T's positive impact on the community, including donating $2.5 million to the United Way here last year and supporting local education by paying $28 million in property taxes.