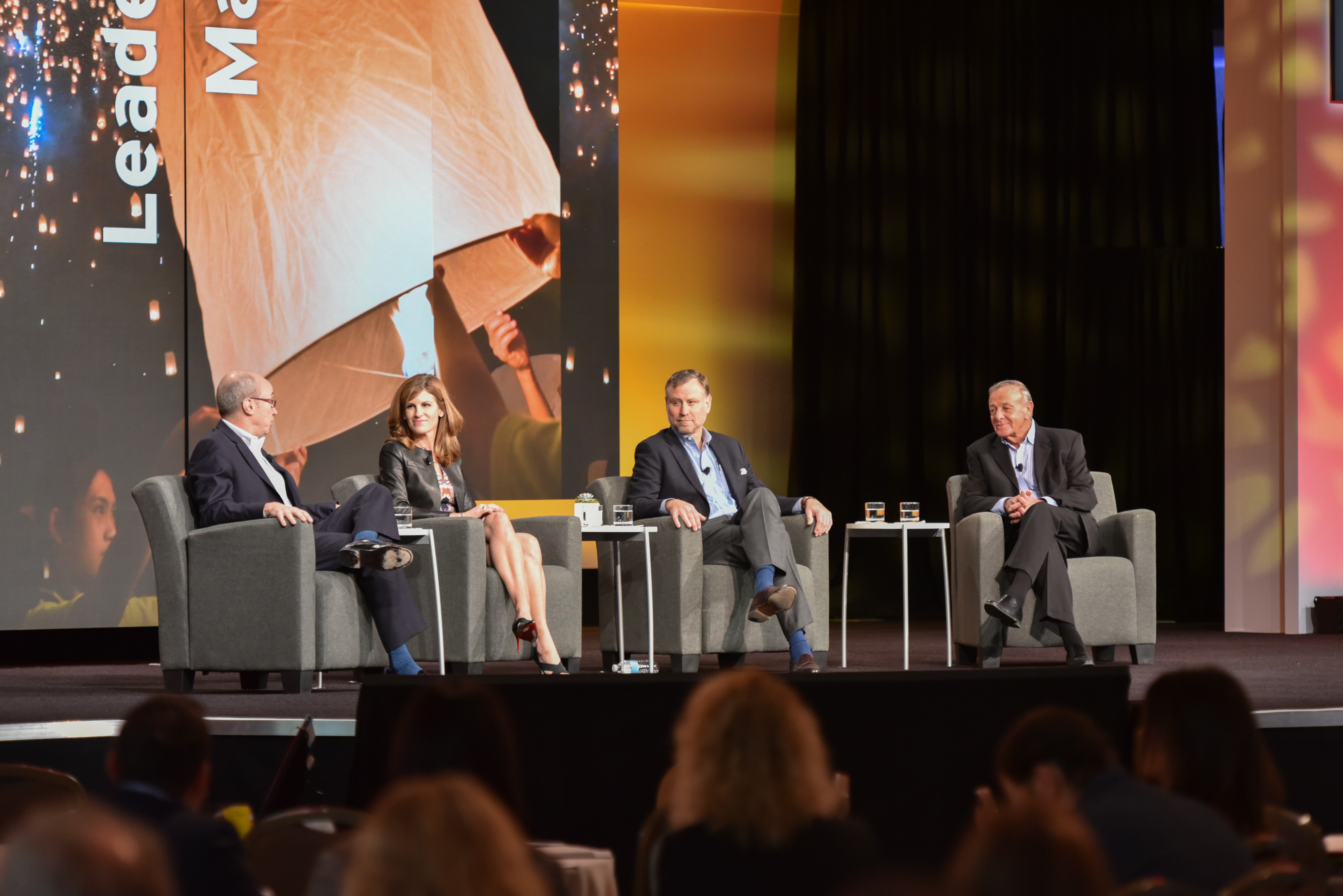 Millennials, Rapid Technological Change On The Minds of CEOs at Business Forum
Says one: 'Things have never moved as fast as they are now, and they'll never move as slow again.'
For Jennifer Morgan of SAP America, it's "executing" in the face of rapid change. For Paul Grangaard of Allen Edmonds Corp., it's the pace of change specifically in online retailing. And for Fedele Bauccio of Bon Appetit Management Co., it's the "broken model" in agribusiness, which isn't moving fast enough toward ecological sustainability.
These are the things that keep them up at night, the three corporate executives revealed during a conversation Thursday with Fortune's Alan Murray at the EY Strategic Growth Forum in Palm Springs, California. About 130 business people from EY's Southwest Area North Region are attending the forum this week—about 75 of them from Dallas—including 12 of the region's EY Entrepreneur of The Year 2015 award recipients.
During a panel discussion called "Leadership Matters: What's On The Minds of Leading CEOs," what's on their minds seems mainly to be the pace of technological change. "Things have never moved as fast as they are now, and they'll never move as slow again," said Morgan, president-North America of SAP America Inc.
Grangaard, president and CEO of Allen Edmonds, who said his company now sells 40 percent to 45 percent of its shoes via the Internet, noted the "complexity" of staying on top in a competitive online retailing market.
When moderator Murray quoted former JCPenney CEO Mike Ullman on change—"The only human being that likes change is a baby with a wet diaper"—Grangaard disagreed, saying that idea was outmoded. While consumers today want a "kernel" of authenticity to stay the same, "they want change," he said. "There's a lot of push for change" and doing things faster and better.
Much of the discussion also centered around the millennial work force. Bauccio, the Bon Appetit CEO, said millennials "believe in self-expression and purpose in their work, asking, 'How do I help change the world?'" As a result, a top-down management style has become passe, the panelists agreed. It's being replaced by a more authentic, communicative, collaborative approach that provides employees with the context for decisions that are made.
"I think of an organization today as a series of interlocking circles, instead of top-down," Grangaard said. "If I lose the hearts and minds of the people I work with, I'm done!"
Murray concluded the panel by asking the executives what they expected to see in their industries a decade from now.
Bauccio predicted healthier, more plant-based diets. Grangaard foresaw consumers visiting brick-and-mortar stores to see their offerings, but actually buying what they see later online. And, while Morgan predicted more technological advances in the "sharing" economy, she added that "10 years is a lifetime." Reliable predictions are difficult to make, she said, because new businesses will emerge.