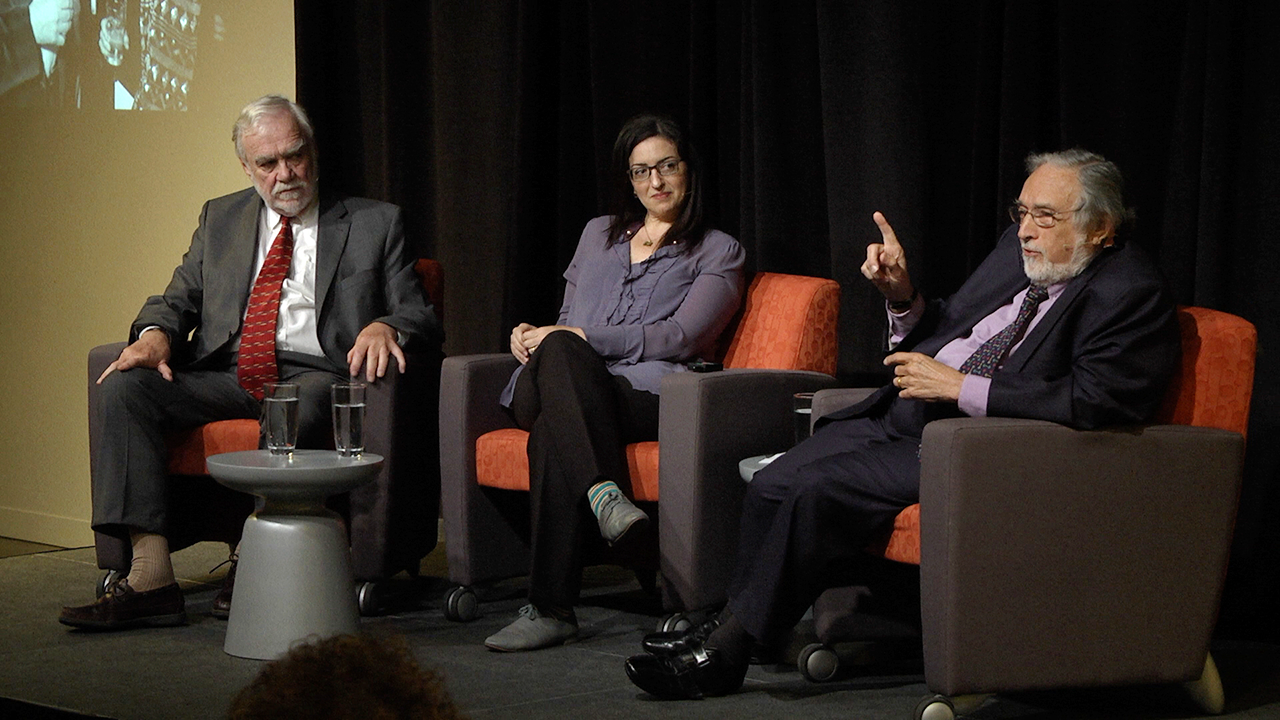 Mailer Colleagues Recall His Journalism, JFK, and Oswald At a Sixth Floor Event
Lawrence Schiller, J. Michael Lennon remember a famous writer and one of his most important works.
Chatting during a reception before an event at The Sixth Floor Museum at Dealey Plaza last week, a couple of heavyweight literati had some friendly advice for Nicola Longford, the museum's executive director. It would help to add exhibits here—a la The Newseum in Washington, D.C.—aimed at putting the John F. Kennedy assassination more into the context of its times, Lawrence Schiller and J. Michael Lennon suggested.
For example, Schiller said, one good addition might be a description of the foreign travels of Lee Harvey Oswald, the president's accused assassin: Finland, the Soviet Union, Mexico. When Longford lightly protested, citing the museum's space constraints, Schiller and Lennon waved off the objection, insisting that "one panel" would do it.
The two men are sort of experts on these things. Schiller (who introduced himself to me saying, "Hello, I'm the big bad wolf") is a photographer, author, and filmmaker who photographed the Kennedys for major publications and worked for nearly 35 years with the late writer Norman Mailer on such books as "Oswald's Tale." Lennon is Mailer's archivist and authorized biographer ("Norman Mailer: A Double Life").
The pair were at the Sixth Floor for a discussion of the book "JFK: Superman Comes to the Supermarket." The big coffee-table tome, which includes Mailer's groundbreaking 1960 "Superman" essay for Esquire magazine, as well as other Mailer writings and campaign photos from Kennedy's race against Richard Nixon that year, was published in 2014 by Germany's Taschen Books. Lennon wrote the introduction for the book, which was "conceived" of by Schiller, whose photos are included. Taschen's Nina Wiener, who moderated the Sixth Floor discussion, handled the book's editing.
During the Thursday-night conversation before an audience of only about 30 people, Lennon recalled how Mailer saw Kennedy as a "revolutionary" candidate—as an exciting "movie star" and existential hero who was bold and courageous, in contrast to Nixon's staid narrow-mindedness. Mailer's personalized essay, which he admitted writing as a piece of propaganda to help elect JFK, broke the mold of political journalism as it was practiced at the time, Lennon said. "Superman" has been called a notable example of the New Journalism, he went on, a form of "creative nonfiction" that also was pioneered during that era by the likes of Tom Wolfe, Gay Talese, Joan Didion, and Truman Capote.
At one point Lennon recalled the notoriously irreverant Mailer driving to Hyannis, Mass., to interview Kennedy for the first time for the Esquire essay, which Mailer only had two or three weeks to produce: "He was nervous as a Marine who needs a good fight or else he's going to do something awful."
Schiller added his own behind-the-scenes observations during the discussion, remembering how JFK's brother Bobby traveled with his own lighting person for news photography (both Kennedys "knew how to portray themselves," he said), and how Schiller had flown to Dallas from California for The Saturday Evening Post as soon as he heard about the 1963 assassination of JFK. Upon landing he made his way to Dallas police headquarters, where he hired an off-duty cop to escort him around town for five days. "I needed a corner man," Schiller said.
Here, he met Abraham Zapruder and was taking photos in the basement of the police headquarters—"You could get very close to Oswald," Schiller said—the Sunday Oswald was shot by Dallas nightclub owner Jack Ruby. Schiller later interviewed Ruby as well as Oswald's wife Marina and worked closely with Mailer on books including "Marilyn" and "The Executioner's Song," for which Schiller did much of the legwork. (In the end, by the way, Mailer came to believe that Oswald acted alone. Said Schiller: Oswald "accomplished what he wanted—to be known or accepted or acknowledged for something.")
Wrapping up the program, Schiller recalled the irony of Oswald's earlier, unsuccessful attempt on the life of retired Army Major Gen. Edwin Walker at Walker's Dallas home, which Mailer wrote about in "Oswald's Tale." If Oswald had succeeded in shooting the right-wing Walker, Schiller said, Kennedy would have lived.
"It's been interesting coming back here to see Dallas and coming back to see the [Sixth Floor] museum surviving," Schiller concluded. "I'm very happy to be here and see that it's alive and well and still kicking. Someday we'll come back and talk about Oswald."
And, maybe, enjoy that new panel about the assassin's foreign travels?