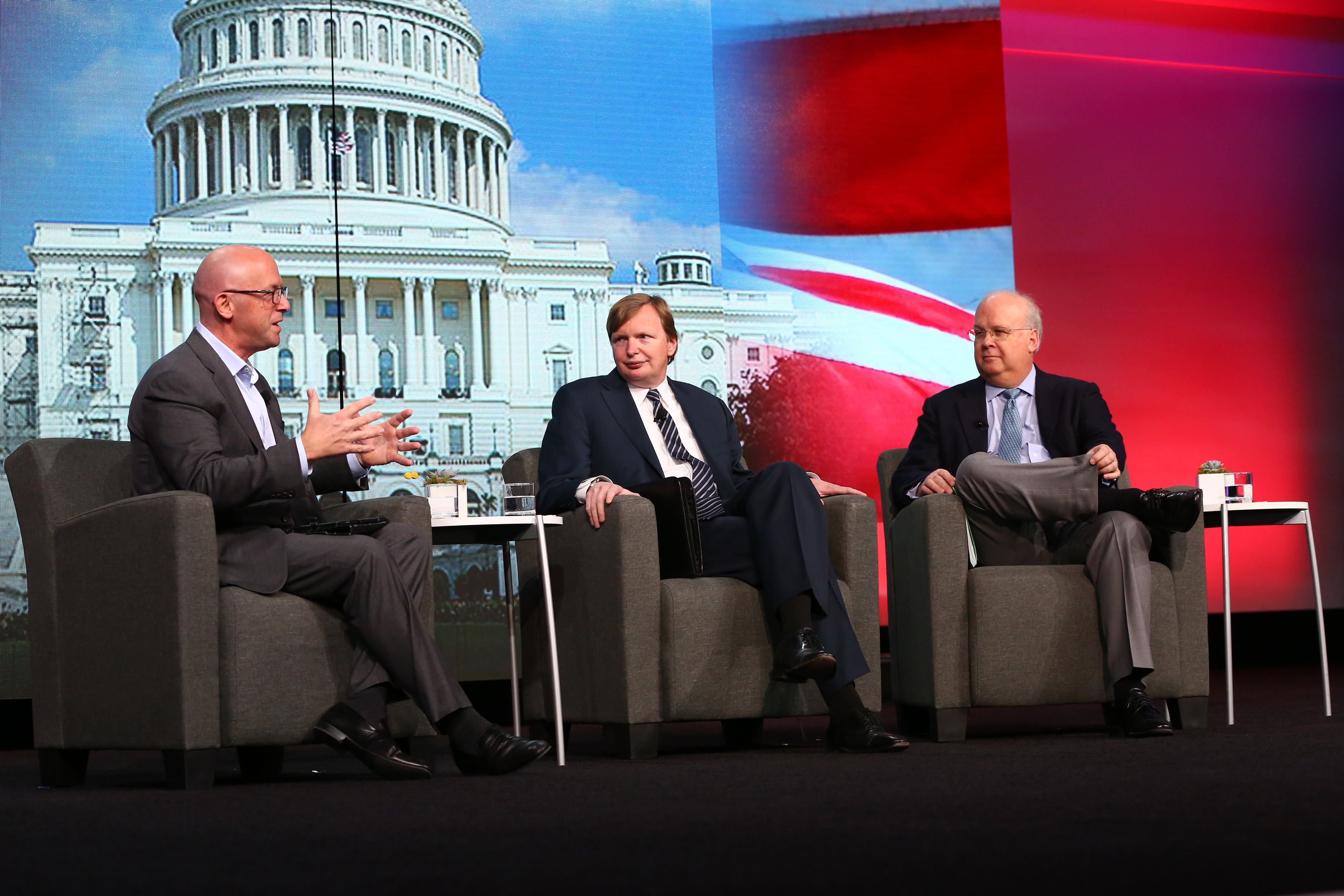 Karl Rove, Jim Messina Agree: Donald Trump Won't Be the GOP Nominee
After Trump rips Rove as 'biased dope,' GOP guru calls on billionaire to 'stop tossing out childish insults.'
Political gurus Jim Messina, a Democrat, and Karl Rove, a Republican, concur that next year's presidential race will be close—and that candidate Donald Trump won't be the GOP nominee.
"Karl and I agree that neither one is going to be president," Messina said Friday, referring to Trump and Ben Carson, another Republican "outsider" candidate.
Messina, a former deputy chief of staff for President Barack Obama, said the billionaire New York businessman isn't doing the day-to-day "blocking and tackling" that's necessary to win a presidential race.
Rove, who's been in a Twitter fight recently with Trump over the candidate's statements on trade during the last GOP debate, said, "I'm not willing to say like Jim that [Trump] won't be president, but I don't think he will be."
In their recent Twitter spat Trump called Rove a "biased dope," while Rove said Trump should "get facts straight" and "develop thick skin."
The Republican electorate is angry right now, Rove conceded, and "they want someone to come along and pick up a brick and throw it through the window." Trump, he added, is the candidate who will throw it.
A former deputy chief of staff to President George W. Bush, Rove called on Trump to "stop tossing out these childish insults. … He's not going to get elected." But if he did, Rove went on, imagine a President Trump's pronouncements from the White House: "Angela Merkel is a loser! Putin is my best pal. We've got a yu-uu-ge relationship!"
As for the Democrats, Messina said Vermont Sen. Bernie Sanders cannot win the presidential nomination against former Secretary of State Hillary Clinton. "The primary's over," Messina said. "Hillary is going to be the nominee."
While both Sen. Marco Rubio and former Gov. Jeb Bush "would present some challenges" for Clinton in the general election, Messina predicted, the Democrat will win the 2016 popular vote narrowly and the Electoral College by a wider margin.
Asked for his forecast, Rove said: "I'm making the assumption that we will end up with a sane candidate for the Republican Party. I think [the race] will be very close, but I think at the end of the day the Republican will win."
Rove and Messina made their comments at the EY Strategic Growth Forum 2015 in Palm Springs, California.